In 1879, the Oxford University Press appointed Professor James Murray as editor of the challenging 'big dictionary project', aimed to supplant Samuel Johnson's groundbreaking, but in many respects incomplete, A Dictionary of the English Language (1755). Murray's first step was to publish "An Appeal to the English-speaking and English-reading Public in Great Britain, America and the Colonies" to find volunteers to trawl through the world's English-language literature not only for words but also illustrative quotations to trace their history and use.
Murray viewed English as a nucleus of words whose 'Anglicity' was unquestioned. This nucleus, he believed, was surrounded by a periphery of dialectical, slang, technical, scientific and foreign terms - the last now grouped into varieties of English such as Aboriginal and Nigerian. Foreign terms included many from the Indian subcontinent, collectively referred to as Anglo-Indian, although a surprising number originated in literature regarding Ceylon, the best-recognized internationally being Buddha, puja and rattan, which in 1681 Robert Knox brought to the attention of British readers in An Historical Relation of Ceylon - see my book Knox's Words (2004). Even the Maldives contributed atoll. Today, the division is acknowledged: Indian English and Sri Lankan English (SLE) are both recognized as varieties of British Standard English.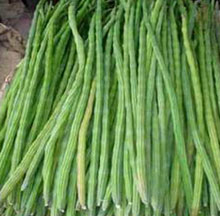 The OED2 contained an entry for moringa
Murray was fortunate, for Colonel Henry Yule (and Dr. A.C. Burnell before his death in 1882) were compiling the first major Anglo-Indian dictionary, Hobson-Jobson: A Glossary of Colloquial Anglo-Indian Words and Phrases, and of Kindred Terms, Etymological, Historical, Geographical and Discursive (1886). There occurred not merely a general compilation overlap but a specific overlap of entries, so consultation between Yule and Murray led to refined definitions and shared use of quintessential illustrative quotations.
The dictionary's Anglo-Indian aspect was further enhanced by the input of an enigmatic American volunteer, the certified insane convicted murderer, William Minor, who spent his youth in Jaffna. As documented in Simon Winchester's The Professor and the Madman: A Tale of Murder, Insanity, and the Making of the Oxford English Dictionary (1998), Minor researched for decades in a book-stacked cell at Broadmoor Asylum, England. But Minor concentrated on 'pure' Anglo-Indian words. The telling contribution to the Ceylon variety was provided by Donald Ferguson, a Sinhala scholar and prolific writer on antiquarian topics who played an important role in the study of the Portuguese and Dutch periods of the island's history.
Murray and his successors' monumental effort, the 10-volume New English Dictionary based on Historical Principles, was published in complete form only in 1928. In 1933 it was reprinted in 17 volumes as the Oxford English Dictionary and in 1989 a second edition (OED2), an amalgam of a supplement and the first edition, appeared in 20 volumes containing 291,500 entries that defined 615,100 words illustrated by 2,436,600 quotations. With the advent of OED Online at the turn of the century, work began on a revised and expanded third edition (OED3) that may define a million words but take decades to complete. An appeal for volunteers similar to Murray's was broadcast and I answered the call from Colombo with the request, readily accepted, that I restrict my research to SLE.
In 2001 and 2002 I read 150 descriptive books and novels about Sri Lanka from Knox's An Historical Relation of Ceylon (1681) to Michael Ondaatje's Anil's Ghost (2000), searching for references to the 90-odd SLE words in OED2. My task was to provide a greater range of illustrative quotations, suggest revision of definitions, compile evidence for the possible inclusion of words commonly-found, and discover antedating quotations that proved words were first used prior to the date given in OED2.
A quarter of OED3 is complete, a reasonable juncture in such a protracted project for a scrutiny of revisions to SLE words and an introduction to those added.
Work proceeded from M because the first two-thirds of the dictionary presents the greatest challenges: documentary material was scarce in Murray's time, editorial style unsettled. Commencing at M is advantageous as it doesn't vary (N words can involve KN-, K words can involve C-PH- varies with F, etc.). Nevertheless, across the alphabet key words have also been revised and new entries created. So it's natural that I start an occasional series on the revision process with words beginning with the letter M.
*************
The M frontrunner is a new entry, malkoha, defined as "Any of several species of large, non-parasitic cuckoos of the subfamily Phaenicophaeinae, having very long tails and colourful bills, and found in the forests of South and South-East Asia". The etymology reads in part: "Sinhala mal-koha, lit. 'flower cuckoo'".
The entry's list of illustrative quotations reveals that first known use is from Thomas Pennent's Indian Zoology (1769): "Cuculus pyrrhocephalus . . . The red-headed Cuckoo . . . The Cingalese give this species the name of Malkoha." The most recent quotation is of significance to Wijeya Newspapers Limited, publishers of the Sunday Times, for in the Weekend section of the Times' issue of November 16, 1991, there appeared the following: "The birds of rainforest, glittering enigmatic jewels in the canopy. Blue-crowned hanging parrot, chestnut breasted malkoha, Asian fairy bluebird." I wasn't responsible for submitting this quotation: the entry was drafted in June 2000, just before I volunteered.
In OED2 there's an entry for a word common regionally as well as in Sri Lanka. It's mamootie, "A hand tool for digging, shaped like a hoe with the blade at an acute angle to the handle, used mainly in S. Asia." The first known use - 1782 - remains the same but the spelling is now mamoty, although in Sri Lanka it's spelt "mammoty" (but OED3 does note this form) – see Michael Meyler's A Dictionary of Sri Lankan English (2007).
Many quotations I submitted to the editors were from the influential books of the first 50 years of British rule - Percival (1803), Cordiner (1807), D'Oyly (1810 - 1815), Bertolacci (1817), Davy (1821), Forbes (1840), Bennett (1843), Campbell (1843), Selkirk (1844), Marshall (1846), Pridham (1849), Sirr (1850), Knighton (1854), Baker (1854) and (1855), and especially Tennent (1859) – in which detailed descriptions of customs, objects, and fauna and flora then novel to British readers make ideal illustrative quotations.
For mamoty the editors chose a quotation from J.W. Bennett's Ceylon & its Capabilities (1843): "The favorite implement of the Singhalese, the Mamotie, was introduced by the Dutch, and is something of the shape of a shovel." Additional quotations from books on Ceylon such as this have strengthened and localized the entries.
Another new entry associated with Sri Lanka, although not present in SLE, is marool - the Tamil name for the more familiar Sinhala niyanda - defined thus: "The moorva, Sansevieria zeylanica (family Dracaenaceae), a herbaceous plant of Sri Lanka, whose leaves are a source of tough fibres. Also: the fibre produced by this plant."
The illustrative quotations, from 1813 to 1889, are Indian-orientated. I found a postdating quotation – one later than the most recent given, but in this instance in different form, "maral". It's from H.F. MacMillan's Tropical Planting and Gardening: with special reference to Ceylon (1935, fourth edition): "Sansevieria - or Bowstring-Hemp; Niyanda, S; Maral, T. (Sansevieria Zeylanica. Haemodoraceae.) – An herbaceous plant with succulent, rigid, concave or furrowed leaves, native of Ceylon, India etc. The silky white, tough fibre is used for weaving into fine mats, twine, etc., and by natives (Veddahs) for bowstrings (and waistcords). It was valued in London in 1925 at £30 per ton."
Ananda K. Coomaraswamy writes in Mediaeval Sinhalese Art (1908): "A single-roomed ambalama could be sub-divided for the sake of privacy by means of a pili-vela (clothes-line) consisting of two cords of niyanda fibre passed through a central block; the four ends of the cords being fastened in the four corners of the room, and clothes hung over the cords themselves, the room was conveniently divided."
With Matura diamond - "A colourless or smoky variety of zircon used as a gem"- the outdated spelling of Matara needed correction. My research had uncovered two antedating quotations. The OED2's first quotation was from the Encyclopedia Britannica (1880 edition), but 73 years earlier James Cordiner wrote in A Description of Ceylon (1807): "There is no real diamond on the island, but a white tourmaline . . . It is commonly distinguished by the title of the Ceylon or Matura diamond." The second antedating was from Bennett (1843): "White Zircon is here called 'Matura diamond.'"
Errors regarding first use have been commonly encountered during revision. It's proved to be so with SLE words: there are others for which I have found antedatings. Take monkey-cup. The OED2 has an 1845-50 quotation, but Maria Graham – the first woman to provide an account of Ceylon - reports in Journal of a Residence in India (1813): "I was delighted to find the pitcher-plant, Nepenthes distillatoria, or, as it is here called, the monkey cup. It creeps along the ground, and is mostly found in sandy soils."
Then there's sense 2 of moonflower. In the OED2 Tennent (1859) is quoted, but once again Graham (1813) provides an antedating: "The purple convolvulus, the white moon-flower, and the scarlet and yellow gloriosa, floated like banners in the wind." Finally, for mouse-deer there's an 1836 quotation, although Robert Percival comments in An Account of Ceylon (1803): "It is a very small creature, in size not exceeding our hare; it is called by the Dutch the moose-deer, and by the natives gazelle."
The definition of mudalali, "A proprietor, a businessman, a rich trader" has been informatively expanded: "In Sri Lanka and southern India: a proprietor, a business person, an entrepreneur (esp. one not affecting Western dress and not doing business in English)."
The OED2 entry, modeliar - "A head-man, chief; a chief military officer. Grand modeliar, a commander in chief" - has been revised: the Portuguese spelling dropped and the conventional spelling mudaliyar substituted. Moreover, the definition now associates the title with Sri Lanka: "In Sri Lanka: a headman, a chief; a chief military officer. Now hist." The first known use, which remains unchanged, is from J.A. de Mandelslo's Travels (1662): "The Portuguez . . . made no difficulty to confer upon him the office of Grand Modeliar of Candy."
The OED2 contained an entry for moringa: "[Adoption of modern Latin Moringa.] The Ben-nut tree (Moringa pterygosperma). Also attributively," but not murunga. This has been rectified: "In Sri Lanka: The horseradish tree, Moringa oleifera. Also: the fruit of this tree, the ben nut." But the definition lacks culinary emphasis, and the appellation horseradish tree was a product of the British era.
The formation of this entry added another word to Knox's OED tally – now 25 - for he wrote in 1681: "They have several other sorts of fruits which they dress and eat with their Rice, and tast very savoury, called Carowela (karavila) Wattacul, (vatakolu) Morongo, Cacorebouns (kakirihonda) &c."
The editors used four other quotations submitted. One was from J. Haafner's Travels on Foot through the Island of Ceylon (1821): "We also found, to my great surprise, several Moronga-trees. This tree has an uncommonly rough bark, and a blue dye is extracted from the wood. The fruit is about a foot long, round and green, and of the appearance and thickness of asparagus, with a bulb at the extremity; it is eaten boiled like vegetables. "
Another, the most recent quotation, is from A. Sivanandan's When Memory Dies (1997): "'Superbly cooked, I must say,' observed Vijay, working through his fourth crab-belly. 'The murunga leaves make all the difference.'"