It will be a special evening at the Alliance française de Kandy: the launching of the book "Sextet", by Mark Amerasinghe on Friday, December 11 at 6.30 p.m., with a dramatic performance by the teachers and students of the Alliance.
This book – published by the Alliance française de Kandy - includes the texts of the monodramas that have been performed by the author during the recent years, translating and adapting for the stage the works of six great French novelists - Victor Hugo, Guy de Maupassant, André Gide, Marguerite Yourcenar, Albert Camus, and Antoine de Saint-Exupéry.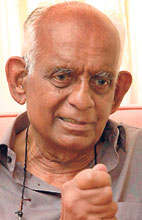 Mark Amerasinghe
It has been a great privilege not only to be present at the stage performances of Mark Amerasinghe, but also to witness the "work in progress", that led to these unique realizations, Jacques Soulie, Director of the Alliance francaise de Kandy writes.
"Mark Amerasinghe does not know what retirement is. Instead of getting a peaceful and silent retreat, he naturally decided to give his voice to some famous French writers. The skills he has developed as a surgeon are now used in the contact with literary texts which undergo dislocation and extensive cutting, and finally extrapolation and transference…
"If this voice is of course the voice of the selected French authors, by doing a deep voyage inside the original, Mark Amerasinghe, has given a new impetus to these already remarkable texts.
"As a result of his choice, this voice is not surprisingly expressing the fragility of human beings, but also and mainly their capacity to give a deep meaning to our lives, highlighting particularly the transcendental value of Art.
"It is an exceptional illustration of the encountering of cultures and the benefit we can all find in promoting cultural diversity," Mr. Soulie says in a release to announce the event.