Many are the times doctors have flexed their muscle, ranging themselves against the government to win an issue or two. While other strikes have been broken with the government either declaring an essential service or deploying the military to do the job, trade union action, sometimes justified but at others unjustified, by the Government Medical Officers' Association (GMOA) has always ended in triumph for the doctors.
Who was it that first rallied the might of the doctors against the government?
Famous for several firsts in the cardio-thoracic field, not many, however, know that the dynamic and enigmatic Dr. A.T.S. Paul was the "pioneer" of strike action by doctors, way back in 1964.
"Yes, my father organized the first GMOA strike," smiles son Surendra, also a surgeon based in England, recalling the life and times of this man who strode the Sri Lankan firmament like a colossus, adding that if he remembers right it was over a salary issue.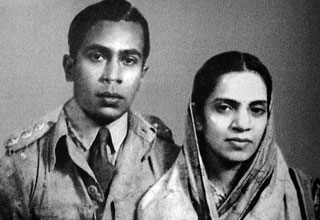 Capt A.T.S Paul and his wife Lieut Marie Baptista
In Sri Lanka recently to tie up the loose ends such as checking out his father's books and papers and clearing his father's home at Bambalapitiya, where he spent his last days, the Sunday Times met Dr. Surendra Paul to gain an insight into what made this great cardio-thoracic surgeon tick.
Dr. Arthur Terence S. Paul passed away on April 28, 2008 at the age of 92 but the mere mention of his name brings about thoughts of his achievements in Sri Lanka.
His academic achievements were enviable. But the book he authored, 'My Trek to the Heart – A Cardiac Surgeon's story of adventure and endeavour between 1920 and 1980', gives only the bare bones of his illustrious career, just five simple sentences: "Educated at Royal College, Colombo, Ceylon University College and Ceylon Medical College; served in World War II as a Captain in the Ceylon Medical Corps. 1941-1946; Fellow of the Royal Colleges of Surgeons of Edinburgh, England and Ireland, Hony Fellow of the College of Surgeons; Cardiothoracic Surgeon General Hospital Colombo 1950-75 and Kenyatta National Hospital Nairobi Kenya 1976-80; and Hunterian Professor at the Royal College of Surgeons England 1965.
Much has been left unsaid and the Sunday Times spoke not only to his son but also to a close friend and an anaesthetist-colleague to re-create Dr. Paul's rich tapestry of life. "He was a formidable person. He was also a man of action," explains Dr. Surendra, when asked what his father was like. He was very kind and generous but also very disciplined, he says recalling his childhood spent in their sprawling Cinnamon Gardens home.
Doc. Paul as he was affectionately called had met his life's partner, Marie Baptista, when he was serving in the Medical Corps., at Trincomalee. She was a Lieutenant in the Indian Army Nursing Service and was serving in the same area. "My mother too was a very versatile person, fluent not only in English and French but also learning Tamil and Sinhalese here."

Dr. Surendra Paul
Coming from an eminent family of doctors -- his father Dr. S.C. Paul was Senior Surgeon of the General Hospital and his brother, Dr. Milroy Paul, Professor of Surgery -- Doc. Paul was an all-rounder not only into cardio-thoracic surgery but cricket (he had been the star spin bowler of the Tamil Union, and performed a hat trick, clean bowling four star batsmen of the SSC team), building boats and model planes, painting, sailing and also shooting, the Sunday Times learns.
He had a technical bent, explains Dr. Surendra, adding that he had long fingers and was good with his hands. It was Doc. Paul, with Neurosurgeon Dr. D. Weinman, who built the first battery-operated portable heart-lung machine. He also built a kidney machine and was a pioneer cardiothoracic surgeon developing wide experience in the field of mitral stenosis (a hert valve disorder that involves the mitral valve and comes about due to childhood rheumatic fever). He had experienced first hand, tragedy from this kind of illness when his sister-in-law, Ponmani (wife of Prof. Milroy), whom he considered to be his second mother died of this ailment.
The first closed heart operation for mitral stenosis had been performed in Sri Lanka in 1952 by Prof. Husfeldt of Denmark who visited the country with a cardiac team sponsored by the World Health Organization, with the operating theatre crowded with general surgeons. In 1965 the prestigious Hunterian Professorship at the Royal College of Surgeons had been awarded to Dr. Paul for research on mitral stenosis in children and the rapid progress of the disease. But that was not all.
An obituary in the London Times after his death states: "He (Dr. Paul) went on to develop open heart surgery, initially using hypothermia, which allowed the surgeon a few minutes to close holes in the upper chamber of the heart, then performing a cardio-pulmonary bypass, where the function of the heart is taken over for an hour, which allows time for heart-valve replacement surgery and more complex procedures to correct congenital heart conditions such as Fallot's tetralogy (blue baby syndrome)."
He was a brilliant surgeon who wielded the scalpel like an artist, says old friend and yachting partner, Baron de Livera who is known in Colombo circles as a marketing legend.
For not only was Dr. Paul a triple FRCS but he was also a painter. Recalling the days when he watched Dr. Paul "at work", he says that a pointed instrument and a hammer were used to crack the ribs and then metal clips to hold the chest open to gain access to the heart.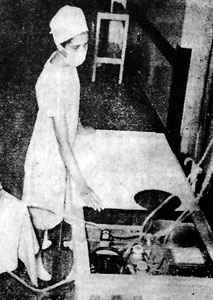 The Kidney Dialysis Machine manufactured in Ceylon
But many were the obstructions and malicious campaigns that some colleagues carried out against him. "Several doctors and administrators planned and plotted against him," says Mr. de Livera, detailing how some of them even substituted the death rate at the hands of another surgeon with that of Doc. Paul's. "This was done to prevent Dr. Paul from getting his five-year extension," he says.
When Dr. Paul was informed that his "services were no longer required" due to "gross inefficiency", it was Mr. de Livera, who was friends with a close friend of then Prime Minister Sirimavo Bandaranaike, who made sure that the issue was whispered in the PM's ear. "Next day was the cabinet meeting where Dr. Paul did get his extension," he smiles.
It was not only about the intrigue at the hospital that they met but many had been the times when Mr. de Livera accompanied Dr. Paul, taking turns at driving, to his ancestral home, set amidst a spectacular seascape at Keerimalai overlooking the Kankesanthurai harbour or sailed the Indian Ocean along the island's coast together.
Dr. Paul was the first President of the Powerboat Association of Sri Lanka, says Mr. de Livera. Vivid are the memories of a "narrow shave" on a crossing, when half asleep they had realized that a train was nearly on them.
Another incident that comes to Mr. De Livera's mind is the night they retired to bed dog tired at Keerimalai, to find next morning that Dr. Paul had not slept a wink but worked on the noisy generator in the house to make it soundless and had also gone partridge hunting and cooked the breakfast as well.
He loved to bathe in the four hot wells of Keerimalai, adds Mr. de Livera, explaining that the first well had lukewarm water but the fourth very hot water, so hotone could boil an egg.
Long hours were also spent on the beach or lazily swimming or snorkelling in the sea looking at the multicoloured shoals of fish, says Mr. de Livera. The first Cardiothoracic Anaesthetist, Dr. B.S. Perera, now 92, who had worked with Dr. Paul for seven years says, "He was a lovely person, good friend but at the same time very temperamental". Dr. Perera would sometimes face the wrath of Dr. Paul for walking into the operating theatre about 10 minutes late.
Those were the times when there were no oxymeters or ventilators, stresses Dr. Perera who himself sometimes had to hand-inflate the lungs for as long as eight hours.
Just mention his name and the same words are echoed and re-echoed by all those whose paths crossed that of Dr. Paul. The simple words are: "He was a genius."
A hundred-year association
It was a momentous event – a hundred-year association with King's College, University of London.
'In Touch', the magazine of the college has this to say: Here's Dr. Surendra C. Paul (King's College Hospital Medical School, 1972-74) with his daughter Miss Anushka Paul (a current student) and the autobiography of his late father, Dr. Arthur Terence S. Paul (King's College Hospital Medical School, 1948-50).
Surendra presented it to King's to mark his family's association with the College for nearly 100 years. Dr. A.T.S. Paul was one of Sri Lanka's top cardiothoracic surgeons. His book 'My Trek to the Heart' was published in 2004.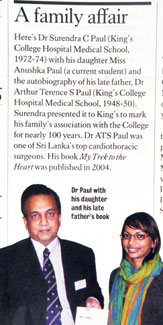 Montage of news item that appeared in 'In Touch' magazine