Celebrations by the Sri Lankan Air Force often involve shows filled with supersonic jets and helicopters whizzing by in neat formations. But when a group of Air Force trainees don cowboy hats and boots singing 'Take me home, country roads', it comes as a surprise.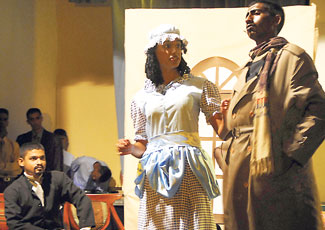 A scene from a play. Pix by Sanka Vidanagama
This musical performance, along with a number of similar entertaining items ranging from dramas to debates, was staged by a combined group of Air Force trainees from Ekala, China Bay and Diyatalawa for their inaugural 'English Language Day' celebration held at the Ekala Air Force base last month.
The occasion highlighted the changing role of the Air Force in this post conflict era, where exercises that contribute to social development rather than military development are high on the agenda.
"In Sri Lanka English plays a key role in society and also in all government organisations. It is because of that this year was announced as the 'Year of English and IT by President Mahinda Rajapaksa," Officer in charge of language training Squadron Leader H.K Rathnasena explained in a published statement.
The night featured speech, drama and singing competitions, the winners of which were awarded certificates by the Chief Guest, Air Force head and new Chief of Defence Staff, Air Chief Marshal Roshan Goonetileke.
Dramas were presented under three categories; Classical, Comedy and Realistic. Though most of the dialogue from 'Twelfth Night' and 'Julius Caesar' were delivered with a strong Sri Lankan accent, the Bard would have been proud of the obvious effort that had gone into each play.
The singing and speeches were all events that demonstrated skill and hard work but no event throughout the night seemed as saturated with passion as the debate about the topic 'Should English be made the official medium of education?'
"It is my wish to someday have this English Language Day as an annual competition among the three services," Group Captain Janaka. A. Amarasinghe said delivering the keynote address.