SriLankan Catering (Pvt) Ltd. has reported a post-tax, net profit of Rs. 1.26 billion during the last financial year, and is looking forward to an even greater performance with the expected boom in the country's tourism industry.
Nishanta Wickremasinghe, Chairman of SriLankan Catering who is also the Chairman of SriLankan Airlines Group said in a statement: "SriLankan Catering continues to be a tower of strength to our nation and the SriLankan Airlines Group, with yet another stellar performance. The company has proven itself to be a perfect example of consistency and has crossed the Rs. 1 billion profit mark for the third time in the last four years."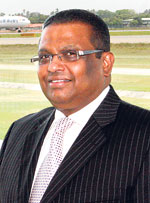 Sarath Fernando
This performance for the financial year 2008/09 was a 30% increase over the net profit of the previous year, a tremendous achievement by the catering arm of Sri Lanka's National Carrier during a year of crisis in the global airline industry, the statement added.
Sarath Fernando, CEO of SriLankan Catering, said: "Peace has brought with it exciting possibilities for growth in the country's tourism industry. SriLankan Catering is perfectly positioned with a state of the art operation and an experienced team to grasp these opportunities with both hands and propel the company towards even greater heights."
Mr. Fernando, the first Sri Lankan CEO of the company noted that the SriLankan Catering Team has worked hard to overcome the multiple challenges faced during the past year.
SriLankan Catering is the fully owned subsidiary of SriLankan Airlines, and provides inflight meals for airlines that operate in and out of the Bandaranaike International Airport (BIA). These include such globally reputed airlines as Emirates Airlines, Qatar Airways, Malaysian Airlines, Royal Jordanian Airlines, Kuwait Airways, China Airlines, Singapore Airlines, Saudi Arabian Airlines, as well as Mihin Lanka and SriLankan Airlines.