Michael Elias, Vice President John Keells Holdings and CEO of Walkers Tours Ltd was re-elected president of the Sri Lanka Germany Business Council at its recent 10th Annual General Meeting.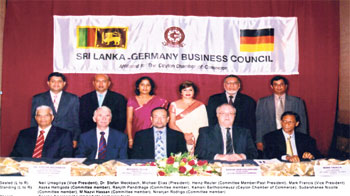 Seated from left -Neil Umagilliya, Dr. Stefan Weckbach (Charge D'Affairs, Germany Embassy), Michael Elias (President), Heinz Reuter, Mark Francis. Standing from left - Asoka Hettigoda, Ranjith Pandithage, Kamani Bartholemeusz, Sudarshanee Nicolle, M. Nazvi Hassan and Niranjan Rodrigo.
Mark Francis, Executive Director of Malship Ceylon Ltd and Neil Umagiliya, Managing Director of Dial Textiles Industries Ltd were elected Vice Presidents. Other members of the executive committee are Heinz Reuter (Prestige Automobiles), Senaka Amarasinghe (Carmart), Niranjan Rodrigo (Aitken Spence PLC), M.Nazvi Hassan (Chemanex Adhesives), Sudarshanee Nicolle (Lewis Brown Air Services), Asoka Hettigoda (Siddhalepa Group), and Ranjith Pandithage (Diesel & Motor Engineering PLC).
Mr Elias said the past financial year was extremely challenging for most members due to the global economic crisis and the escalating conflict in Sri Lanka. "Very recently there have been a few indications of a slight global recovery but the month of May 2009 brought a fresh breeze to Sri Lanka. The country's emphatic victory over the scourge of terrorism that had affected it for almost three decades has given a new sense of hope – of positivism, euphoria, relief and confidence," he said.