More than 600 personalities from the accountancy and allied spheres gathered at the Water's Edge in Battaramulla on Friday for the inauguration of the 30th National Conference of the Institute of Chartered Accountants of Sri Lanka (ICASL).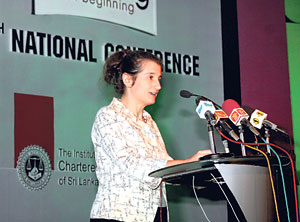 Picture shows Kathy Klugman, High Commissioner for Australia in Sri Lanka, speaking at the event.
Australian High Commissioner Kathy Klugman was the keynote speaker with Amitha Gooneratne Managing Director / Chief Executive Officer of the Commercial Bank of Ceylon PLC as the guest of honour, the institute said.
President of the ICASL Nishan Fernando said that this year's conference takes on a greater significance with this being the ICASL's 50th anniversary. "As it has done in previous years, this year's national conference provides a platform for professionals to gather, deliberate and confer issues that go beyond reading and writing. The conference also provides a conducive base for networking, an invaluable tool in modern management".
Key speakers at the sessions were Dr. Hans Wijayasuriya (Group Chief Executive Dialog Telekom PLC), B.P. Sharma (CEO American Links International), Devanesan Evanson (Chief Market Operations Officer Bursar Malaysia Berhad), Dr. Jeffery Lim (Managing Director PI ETA Consulting Company) and Robert Cullen (ASEAN Practice Leader of Advisory Services Ernst & Young Advisory Pte Ltd).