A 7-judge bench will convene on Thursday to hear the application of former Treasury Secretary P.B. Jayasundera as he attempts to return to public office after resigning in 2008 following the Lanka Marine Services (LMS) judgment.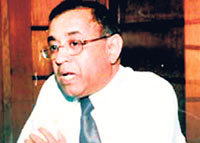 P.B. Jayasundera
The July 2008 judgment annulled the privatization of LMS and found that Dr. Jayasundera, in his capacity as Chairman of the Public Enterprises Reform Commission (PERC), acted unlawfully and was not fit to hold public office. He was fined Rs.500,000 as compensation to the state. Now Dr. Jayasundera has submitted to Court that the former Chief Justice Sarath N. Silva, who delivered the judgment, was biased against him.
Following the LMS judgment, Dr. Jayasundera submitted an affidavit to the Supreme Court dated 16 October 2008 in which he expressed regret and tendered an apology for his actions. Former PERC Chairman Nihal Sri Ameresekere who was a respondent in the LMS fundamental rights petition and supported the petitioner Vasudeva Nanayakkara, submitted to the Court in his objections against Dr. Jayasundera's application that the affidavit of 16 October is tantamount to the acceptance of responsibility and admission of guilt.
Last week, Mr. Ameresekere again submitted to the Court that there is no established precedent or law for a 7- judge bench to have been ordered. Instead, he stated that the case, if it is to be heard should be done so in front of Supreme Court Justices S. Thilakwardene, N. Amaratunga and P.A. Ratnayake as Justice Amaratunga was involved in delivering the LMS judgment while all three justices were involved in making the consequential orders and directions in relation to Dr. Jayasundera.