An international university is to be set up in the island with public and private sector partnership. President Mahinda Rajapaksa has given his consent to set up the university to cater to the needs of higher education for students both here and overseas.
Well-known academic, Prof. Gunapala Nanyakkara who has taken over the responsibility of resurrecting Ceylinco Sussex College, yet another multi-billion rupee enterprise of the troubled Ceylinco Group, said that he has already sought the approval of the University Grants Commission to set up this university to save a large sum of foreign exchange which is being spent by a hundreds of Sri Lankan parents for highest studies of their children.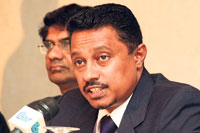 Janaka Ratnayake
He added that Sri Lanka could also earn much needed foreign exchange from overseas students who would be enrolled to this international university. Students of Ceylinco Sussex College will get an opportunity to enter this university as its first batch, he said. The name of the institution has also been changed to Sussex College.
The Merchant Bank of Sri Lanka (MBSL) has appointed Prof. Nanyakkara as the CEO of Sussex College after taking over of the management of the crisis -ridden network with 20 schools countrywide. Chairman MBSL Janaka Ratnayake said that his institution's intervention is a far reaching decision, since closure of the Sussex College would have social political and financial implications on the country's economy. Over 5,000 students are studying at these schools for local examinations in the English Medium.
Approximately 60% of the assets of the Sussex College are financed by The Finance Company while the balance of its assets are funded by bank loans, private individual investments and Profit Sharing Company Ltd, another failed Ceylinco entity. The total assets of Sussex College are valued at Rs.1 billion.
The network will be upgraded through new initiatives and strategies of diversification and expansion in the near future, Mr Ratnayake said.