Among the many casualties of Sri Lanka's bloody civil war is a Silicon Valley-built dream: an innovative technical college, built through Bay Area donations, but damaged in combat, then dismantled and moved, and finally abandoned.
The surviving faculty, staff and students of the Vanni Institute of Technology are believed to be held, against their will, in Tamil refugee camps, where the United Nations says they are in desperate need of food, water and medical care. One recent graduate is known to be dead. Two staff members are undergoing treatment for gunshot wounds.
"It is a huge disappointment and frustration,'' said Shan Nanthakumar, a Wharton-trained émigré and chief financial officer for the Altierre Corp, who helped support the school with the San Jose nonprofit organization International Tamil Technical Professionals' Organization (ITTPO).
"My hope is that they are still alive, somewhere - and that we can help them get back on their feet," Nanthakumar said.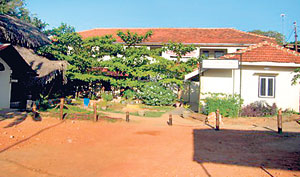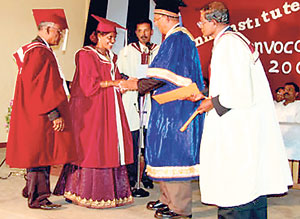 A peace-time graduation ceremony at VanniTech. The picture above shows the campus building. Pix courtesy Sangam.org
A quarter-century of conflict ended in mid-May, raising hopes that the nation, formerly known as Ceylon, could seek peace, reconciliation and reconstruction. Many had high hopes for the nation when it achieved independence from Britain in 1948, but the civil war devastated its potential to become a regional economic power.
"We will go back and start all over again, as soon as we are allowed back," Nanthakumar vowed. "Education is the key driver of survival of the Tamil community." Built in 2002 during several years of cease-fire, VanniTech was a high-tech oasis at the end of a dusty alley, past abandoned bicycles and wandering chickens.
In clean and air-conditioned classrooms, it educated hundreds of the region's top students in electronics, software development, database management and other computer-related skills - all desperately needed by the poor and isolated Tamil-held part of the nation, in the northeast. Politically neutral, VanniTech earned the official blessing of both the Sri Lankan government and the Tamil Tiger separatists.
On a green and manicured campus, its software lab was filled with Pentium 4 computers. Its library held more than 15,000 books and CDs such as "Getting Ahead: A Business Course in English." The school had intranet service with e-mail, database servers and wireless connectivity. There were labs, dormitories, an employment center, cafeteria and a gym.
Its most advanced students studied university-level subjects like logic design, circuit analysis and wireless communications. By graduation, they could write business letters and give short speeches in English.
Its estimated 200 graduates have taken jobs with businesses, nongovernmental agencies or outsourced projects, such as Computer Zone Consulting of Minneapolis, Minn. "It was a beacon of hope to so many young people that a self-sustaining university was in their midst," said Stanford University pathology professor Yaso Natkunam, who visited the campus in 2006. "It was an assurance of what could be achieved and a chance to build for a better future."
VanniTech was conceived by Cisco Systems software engineer Jey Surier of San Jose, who left the region in 1982 but recognized that many of its top students remained trapped and unable to study due to the war and battered economy. Within six months, ITTPO donated $100,000. In the Tamil village of Kilinochchi, Surier found a suitable site to renovate.
"It was a broken-down building with bullet holes," Surier said. "There was damage from a shell blast on the second floor. It had a leaking roof and no ceiling." To rebuild, he arranged for tools and materials to go through two military checkpoints along the nation's badly damaged two-lane Highway A9. For four consecutive years, students graduated and found well-paying jobs. Among them was Singam Theepan, who had lost his leg due to shrapnel lacerations - but gained enough computer expertise to support himself and his parents.
"I thought I would always have to rely on my parents. Now I'll be able to take care of them," said Theepan, interviewed at the school in 2005. "This gave me the only opportunity to progress in this life."
The renewal of combat in January 2008 was devastating to the school.
Students and staff dismantled the campus and moved it, in pieces, to a "safety zone" in the town of Vavuniya about 20 miles south. "They moved everything - all the computers, furniture, doors, the generator, even the tiles on the roof,'' Surier said. "They wanted to continue the school's operation."
But even that location grew dangerous. "The safety zone was redefined as they moved, so they kept moving," Nanthakumar said. "We lost all contact with them."
On May 20, as army troops closed in on the dwindling band of Tamil Tigers, the terrified civilians fled.
One school staffer, who telephoned San Jose with a borrowed cell phone, told Surier that he escaped the region by wading through a lagoon. "He got shot in the stomach, and started bleeding in the water, but kept walking," Surier said.
Worried about their fate, Silicon Valley's Tamil community is urging the Sri Lankan government to grant access by international aid workers to the refugee camps that house hundreds of thousands of displaced refugees. And they pray for a political settlement, granting rights to the marginalized Tamils, so that violence does not reignite.
Most important, they want the scholars to be released from the camps, so they can return to what remains of their school. "Our graduates can help rebuild the country. These are local people - top-notch people - with technical skills and know-how," Surier said.
Said Nanthakumar: "Education is the fastest way to self-reliance-and it's been taken away from them."
- Courtesy Mercury News