The British High Commission is making every effort to secure the release of a Sri Lankan born British medic who ended up in a welfare camp for the internally displaced people in Vavuniya after she was trapped in the No-Fire-Zone during the final phase of the Eelam War.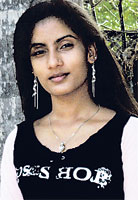 Danilvany Gnanakumar
High Commission spokesperson Dominic Williams told The Sunday Times that they had been in contact with Government officials to secure the release of the medic who was currently at the Menik Farm in Vavuniya. The camp is the home to more than 200,000 IDPs.
"We are doing everything possible to get the medic out as early as possible," the spokesperson said without elaborating.
Danilvany Gnanakumar from Clingford, Essex had entered the Wanni in February last year after arriving from Britain. She is reported to have got caught up in the fighting between the security forces and the LTTE. However, she was able to cross over to the military lines with the defeat of the LTTE and was moved to the Menik Farm along with other civilians.
A report in today's London Guardian quoted the doctor's sister, Subha Mohandass, as saying that the family back in London was in the dark over the whereabouts of the doctor. "It was only on May 12 they knew of her presence in the No-Fire Zone after she was featured on a Tamil TV programme attending to wounded civilians in a make-shift hospital," the paper said. Since then the family has made every attempt to seek her release through available channels and has even appealed to President Mahinda Rajapaksa to intervene, the report added.She last made contact with her family on May 19 from the Menik Farm. She told the family:
"I am in this camp. You have to get me out of here". Then the phone went dead, the Guardian quoted the family as saying.
The medic and her family left their home in Jaffna and entered Britain as refugees in 1994. Ms. Gnanakumar is a British passport holder with a knowledge of biomedical science.