Patricia A. Butenis, has been nominated as the next United States Ambassador to Sri Lanka and the Maldives, the US Embassy said.It said Ms. Butenis has served as the Deputy Chief of Mission at the U.S. Embassy in Baghdad, Iraq since July 2007. Prior to this assignment, she served as Ambassador to Bangladesh, a position for which she was confirmed by the U.S. Senate on February 16, 2006, and sworn in on March 17, 2006.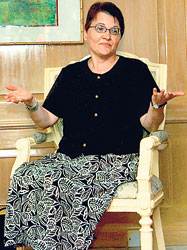 Patricia A. Butenis. AFP file picture
She is a career member of the Senior Foreign Service, with the rank of Minister-Counsellor. Ms. Butenis was previously Deputy Chief of Mission at the U.S. Embassy in Islamabad, Pakistan (2004-2006), serving with Ambassador Ryan Crocker.
Ms. Butenis joined the Foreign Service in 1980. She has served as Vice Consul in Karachi, Pakistan (1980-1982); Vice Consul/Political Officer in San Salvador, El Salvador (1982-1985); Consul in New Delhi, India (1985-1988); El Salvador Desk Officer (1988-1990); and Consul (American Citizen Services Chief) in Bogotá, Colombia (1990-1993). She attended the National War College (1993-1994) and also served at the Visa Office, Field Liaison, in the Department of State (1994-1997).
She then served as Consul General in Warsaw, Poland (1998-2001) and Consul General in Bogotá, Colombia (2001-2004).
Ms. Butenis received a B.A. in Anthropology from the University of Pennsylvania and an M.A. in International Relations from Columbia University.