Official lethargy and public indifference are the two major obstacles in the way of checking the spread of dengue fever around the country. Last week the Ministry of Health declared a national red alert in an effort to prevent the outbreak of a dengue epidemic.
Up to yesterday, 85 dengue-related deaths and 6,669 cases of dengue fever have been reported since January, compared to the 27 deaths and 6,100 cases for the whole of 2008. The district with the highest number of deaths, 16, was Kandy, and Colombo came second with nine deaths.
Kandy, Colombo, Gampaha, Kegalle, Kurunegala, Kalutara, Matale, Batticaloa, Trincomalee, Hambantota, Ratnapura and Matara have been identified as the highest-risk districts.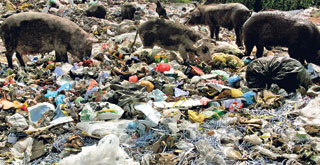 A garbage dump, littered with water-collecting receptacles, in Kerawalapitiya, Wattala: Several residents including children have come down with dengue fever.
The main reasons for the rise in dengue cases are a lack of co-ordination between local authorities; between the ministries for health, environment and education; problems in enforcing anti-mosquito breeding action; a lack of dengue-awareness raising programme, and general indifference on the part of the public.
The Prevention of Mosquito Breeding Act requires written permission from house occupants to have their properties inspected for likely mosquito-breeding spots, and this has created problems for public health officials.
The Government Medical Officers Association (GMOA) spokesman Dr. Upul Gunasekare said shortcomings in the new Act and a lack of public co-operation were the two main problems for officers conducting house-to-house inspections.
"The medical officer has to get the house owner or occupant to fill a form before he or she can conduct an inspection for mosquito breeding areas, but many occupants are not helpful, because they know they will be fined if their properties are found to have mosquito breeding sites," said Dr. Gunasekare, adding that Act had several good features, such as allowing for bigger fines and stronger legal action.
"The only weak point in the Act is the rule about getting the house occupant's permission," he said.
Dr. Gunasekare said the Ministry of Health and the Ministry of Education could be doing more in this connection. Unlike in previous years, schools are not conducting prevention programmes because the education sector was not providing the necessary motivation.
Meanwhile, Minister of Health Nimal Siripala de Silva said his ministry was considering empowering medical officers so they could conduct mandatory inspections of houses and properties, and take firm action against those who do not co-operate with the medical officers.
The minister also said that public concern was lacking when it came to preventive action and getting prompt and proper treatment.
Statistics indicate that 33 percent of dengue patients are housewives and 22 percent are children.
Of the four types of dengue viruses, Types I and II have been prevalent in Sri Lanka in the past, and many people have developed an immunity to both types. However, this year has seen the arrival of the Type III virus, which is spreading rapidly because there is low immunity to this type.
Public Health Services Director General Dr. Maheepala Herath said the Type III virus was more virulent, and that it had adapted to environment climatic changes.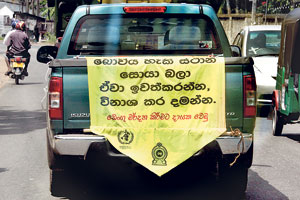 Public awareness-raising campaigns are part of the battle against the spread of dengue fever.
Fifty percent of children in the Colombo district have been exposed to Types I and II, Dr. Herath said. Children are extra vulnerable to Type III, and if they get infected the fever could be more severe and the dangers greater.
"We have identified 68 high-risk areas," he said. "Out of every 100 houses inspected, more than 80 houses have potential mosquito breeding sites. The mosquito breeding period is highest in the rainy months from April to September. And if there is a case of dengue fever in one house, the whole neighbourhood is at risk, because mosquitoes can travel fair distances, of more than 500 metres."
Dr. Herath said legal action should be taken against state institutions found to be encouraging mosquito breeding.
There have also been several cases of security forces personnel manning checkpoints in the city coming down with dengue fever, The Sunday Times learns.
A severe shortage of blood testing facilities in government hospitals is another problem. Doctors are advising patients to get their blood tests done at private hospitals, which are equipped to conduct full blood counts and dengue serology tests.
Dr. S. Gamage, the Director of Health for Kandy district, said most of the dengue cases in the district have been reported from the Akurana area, where water is in short supply and house occupants are forced to collect water in buckets.
"Even if the water buckets are emptied, the infected mosquito eggs can survive for up to six months without water," he said.
Delays in treating patients are common in peripheral hospitals and nursing homes, Dr. Gamage said, and some private practitioners are unable to make an early diagnosis of the illness. "Advanced complications can develop in a single day, so blood tests are required at least twice a day," he said.
The doctor said the Kandy Municipal Council faces the problem of hundreds of visitors coming to the city every day and leaving behind a mass of empty king coconut shells, yoghurt and ice-cream cups and other plastic receptacles, all ideal containers for stagnant water. We plan to implement the law very strictly, regardless of whether the neighbourhoods are poor or affluent. This is the only way, it seems, to control dengue in Kandy", he said.
National Hospital director Dr. Hector Weerasinghe said some 20 confirmed cases and 80 suspected cases were being observed and treated at the hospital. Most of the patients were from Kelaniya, Homagama and Horana, he said.
Trinco reports 197 cases
Story from Sinniah Gurunathan, Trincomalee correspondent
A total of 197 dengue fever cases, including two child fatalities, have been reported from Trincomalee district between January and May.
Of the 197 patients, , 164 were from the Trincomalee DS division and 14 from the Kuchchaveli DS division, according to Regional Director of Health Services, Dr. (Ms). P. Gnanagunalan.
The two children who died were between three and four years, and were from Aalankerni, in Kinniya, and Akkaraichchenai, in Muttur.
Preventive action
How to protect your family from the dengue virus
Dengue is transmitted by the dengue mosquito, Aedes aegypti, a daytime biter and the primary vector. The Asian tiger mosquito,Aedes albopictus, can also infect humans.
The surest preventive action is to eliminate all potential mosquito breeding sites. Water typically collects and stagnates in discarded rubber tyres, plastic containers, coconut shells, blocked gutters, bird baths, foliage, and flower pots.Mosquito bites can be avoided with the use of mosquite repellents, mosquito coils, nets, ointments and protective clothing,
The Mosquito Breeding Prevention Act
Under the Mosquito Breeding Prevention Act, any person owning or occupying premises that promote the breeding of mosquito may be fined up to Rs. 25,000. Previously, the maximum fine was Rs. 1,000.
All house owners or occupants are expected to keep in good repair gutters, pipes and drains. They should periodically drain out and clean water tanks and artificial ponds. If these are not in use, then these should be closed down. Places or spots where water can collect and stagnate should be treated with larvicide. Pits and low-lying areas should be filled up.
Local authorities that failed to maintain drains and canals that come under their purview are liable to prosecution.
The fever symptoms
Fever, headache, exhaustion, severe pain in joints and muscles, aching in the eyes, swollen glands and rashes are the main symptoms of dengue fever. Dengue haemorrhagic fever is a more severe form of the viral illness.
Manifestations include headache, fever, rash and evidence of haemorrhage.
Small red or purple blisters under the skin, bleeding in the nose or gums, black stools are possible signs of hemorrhage. This form of dengue fever can be life-threatening.
Dengue strikes people with low levels of immunity. Because dengue is caused by one of four serotypes of virus, it is possible to get dengue fever multiple times.
A person suffering from fever for even a day should be admitted to a hospital and get all necessary tests.
Important health tips:
1. A fever patient should get maximum rest and plenty of liquids.
2. The fever can be controlled by sponging the body with cold water.
3. Drugs containing Paracetamol may be given, but not Asprin.
4. The patient should be taken to the nearest hospital as early as possible.
Families in mourning after deadly mosquito strikes
Reminders of seven-year-old dengue victim Dushan Priyankara strew the veranda of his home: toys, plastic armoured vehicles, and robots.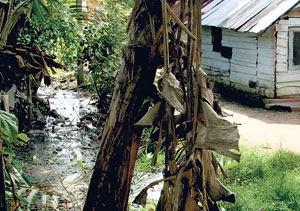 The garden of Dushan's home, with a pool of stagnant water
Dushan, who died of dengue fever, was a Grade 1 student of Nayakkanda Vidyalaya, Wattala. He was the only son of the Priyankara family of Amburakumbura Mawatha, Kerawalapitiya, Wattala.
"He came down with fever on May 11, and the family doctor said he would be fine in a day or two," said Dushan's mother, W. Surangani (36). "On May 13, he drank a Milo and later started to vomit. We thought he had indigestion. But the vomiting continued, so we took him to the doctor, who then said he was suffering from dengue."
Meanwhile, several of Dushan's friends in the neighbourhood have also come down with dengue fever, and some are in hospital.
According to neighbours, health officials came only once to disinfect and fumigate the area after Dushan's death.
Another family struck by a dengue tragedy is the Mahesh family in Heeriwetiya Road, Kiribathgoda.
Anusha Udayangani (25) and Nalaka Mahesh(32) and their six-month-old baby Ayansa were living happily together when the deadly virus raised its ugly head, killing Anusha.

The late Dushan Priyankara, 7 years
"My wife, who was on the staff of the Vocational Training Institute in Narahenpita, was on maternity leave for six months, and was due to get back to work on June 1," said husband Nalaka.
According to Nalaka, Anusha and her mother had both come down with fever and had gone to a private medical practitioner on May 12. On May 14, Anusha said she had no appetite and refused to eat. She was taken to the doctor, who said her condition was not serious.
"On Friday morning Anusha started vomiting, and she fainted. We rushed her to the Ragama hospital. We were unable to save her. She died on May 17," said a grief-stricken Nalaka.