Over 18,000 schoolchildren who fled along with the last batches of civilians into government-controlled areas and are now in transit camps in Omanthai, Vavuniya, have yet not been absorbed into the temporary school system that has been put into operation by the Ministry of Education and the UNICEF.
"We need to put up temporary shelters for these students to carry on their learning and we hope to do that soon," Education Ministry Secretary Nimal Bandara told The Sunday Times.
According to him the government has allocated funds to put up ten more temporary structures costing nearly Rs. eight million in the IDP camps.
He said finding the necessary staff for these children would, not be a problem as there are over 3000 schoolteachers among the displaced people.
The programme by the UNICEF and the Education Ministry was launched to look into the education needs of 50,000 school children whose education was disrupted due to the final phase of the war in the north.
Mr. Bandara said the government has allocated Rs. 40 million to provide desks and chairs for both students and teachers and school uniforms for the displaced while temporary structures have been put up to carry on education activities for over 25,000 children whose schools in Vavuniya have been taken over by the government as temporary shelters for the Internally Displaced People (IDPs).
"We have provided material and infrastructure to carry on with the education of these students of Vavuniya without interruptions as much as possible," Mr. Bandara said.
In addition to this, 32,000 school children who came into the camps before May 15 have been provided with temporary learning facilities. Mr. Bandara said that the UNICEF distributed school kits for these children while the Ministry provided them with the necessary text books.
He said discussions were under way to bring back teachers who had got temporary appointments in Jaffna and Colombo due to security issues in the north.
War orphans to get orphanages
Probation and Child Care Services Department seeking their early release from camps
As many as 441 children under the age of 18, living in camps, have been identified as orphans by the authorities, but the figure could be much higher, according to the Probation and Child Care Commissioner of the North, Arul Raj.
He said steps are being taken to entrust these children to the care of orphanages in the Northern Province. "We have made lists of children who have been identified as orphans and given the names to the authorities to get them released from the camps. We expect them to be released early next week so that we can make arrangements with the police to produce them in courts where the judges would recommend them to children's homes," he said.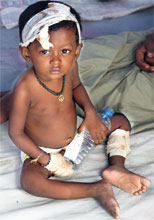 An injured child in a camp
According to Mr. Raj the children are now being cared for in 20 welfare centres within the camps where government administration officers and welfare officers are in-charge. Meanwhile Child Development and Womens Empowerment Ministry Secretary M. Sumanadasa said they have been informed by the Thiruketheeswaram temple orphanage in Mannar that they could accommodate 300 children and the Probation Commissioner has found orphanages for 210 children in Vavuniya district and 100 children can be accommodated in homes in Mannar. He said if the need arose the ministry was prepared to establish new permanent care centres outside of the camps.
"The Child Protection Authority has informed us that they are willing to give a four storeyed building to accommodate these orphaned children and we can provide the centre with trained care givers," Mr. Sumanadasa said.
Meanwhile children who are under the care of a relative or a guardian will be identified and those who wish could be legally handed over to the current caregivers or they could be accommodated in orphanages.
In normal circumstances a guardian is given Rs 500 a month for the care of a child but the Probation and Child Care Services Department is looking at the possibility of increasing this allowance.
"Since these children are IDPs and the families who are taking care of them are also in a similar situation we would like to give a bigger amount. We are discussing the matter with UNICEF," Mr. Raj said.
He also said 239 children have been identified as those who were in the care of orphanages in former LTTE controlled areas and a formal request has been made to the camp administration to release these children to the care of the Probation and Child Ccare Services Department.
"Once they have been released from the camps we will produce them in courts and allocate them too to homes in the Northern Province," he said.
Help us find our loved ones
Conditions in Menik farm improving, but facilities lacking in new camps
By Chris Kamalendran
A desperate mother is still looking for her child who fell from her arms as she fled the Tiger-held areas three weeks back amidst shelling, another is making inquiries about her husband who she hopes may still be alive in another refugee camp while yet another is trying to track down his relatives.
These are just three instances of the lack of information facing the internally displaced people who are accommodated in transit points or camps in Mannar, Padaviya, Pulmoddai, Vauniya, Jaffna and Trincomalee, in the north east.
A woman who did not want to be identified told a journalist, who was part of a conducted tour organized by the military this week, she was carrying her child and running towards the government-controlled area when she had to let go of her child due to firing of shells. She believes someone rescued her child but she has no clue as to her whereabouts yet.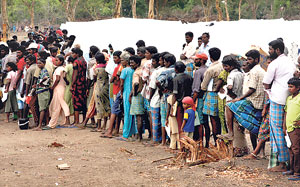 Displaced people lining up to collect food provided by World Food Programme
"Please, please help me to locate my child," she appeals. Many families got dispersed as they fled into government-controlled areas and many of them have no information on whether their kith and kin are alive in other camps.
However, there have also been reports of re-unification of families. The lack of information is just one of the many problems facing the internally displaced as government authorities and aid workers battle to cope with thousands of displaced people.
However, the situation has improved in many of the earlier camps set up in January in a section of Menik farm compared with the situation in some of the newly established ones. Menik farm has been the model camp for many of the visiting delegates from abroad.
Inmates of the newly established camps face problems ranging from lack of nutritious food, clean drinking water, bathing facilities among other things. Although the government provides cooked meals there were complaints that sick people and children who need more nutritious diets were compelled to eat the same kind of food.
Another problem was the lack of clothing including children and infant garments, underwear for adults, towels, rubber slippers, bed sheets and mosquito nets.
The problem of clean drinking water has also not been resolved with complaints that in some camps drinking water tanks were situated close to the toilets.
The lack of toilet and bathing facilities too are problems that need to be redressed with some inmates complaining to the visiting journalists there were no proper enclosed bathing areas for women.
More land to be cleared for new camps
The government has decided to clear another 1000 acres of land to put up temporary shelters in Vavuniya, following concerns expressed by UN agencies over the congestion in the existing IDP camps.
"There are too many people in too small a site.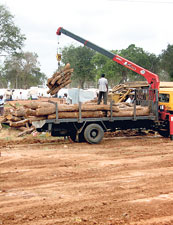 Land being cleared for new camps
There is not enough space in the tents for the people," said the United Nations Resident Co-ordinator Neil Buhne speaking at a joint news conference by UN agencies, adding that the conditions in the camps did not meet the needs and a lot more had to be accomplished.
According to Resettlement and Disaster Relief Services Minister Rishad Bathiudeen the decision to clear 1000 acres of land was taken at a meeting headed by Minister Basil Rajapaksa.
"We held a meeting with all the UN agencies and the relevant ministries about the issue and we have decided to clear another site near the camps that are now there. The United Nations High Commissioner for Refugees (UNHCR) has taken up the task of putting up the shelters and the sanitary facilities will be looked into by the United Nations Children's' Fund (UNICEF).
This new site would facilitate the accommodation of 5000 families," he said. Mr. Bathiudeen said the UNHCR would start work on the land early next week. He said the government would be facilitating the camps with infrastructure requirements such as water and electricity supply.
Meanwhile Mr. Buhne said food distribution, nutrition needs for both children and adults, water and sanitation facilities had to progress from the current situation.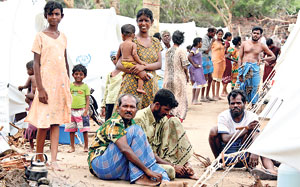 Overcrowded temporary shelters
"For us to work on these issues we need better access.
We have been negotiating with the government and they have been positive on the issue. When we have limited access the amount of work that we are able to do in a day is drastically reduced," Mr. Buhne said.
He also stressed on the importance of establishing better freedom of movement for the IDPs adding that orphans and young children had to be shifted from the camps as soon as possible.