Now that the Eelam War IV is over and the LTTE and its leader Velupillai Prabhakaran no more, government troops are conducting operations to eliminate surviving LTTE cells that are still operative in certain parts of the country.
With the help of LTTE cadres who have surrendered to the government, intelligence officers are seeking to identify currently active Tigers and their places of operation.
Last Wednesday, army troops killed 11 rebels who were hiding in the jungles of Kanjikudichchiaru, in Ampara. Earlier, on May 21, the police Special Task Force (STF) killed 10 LTTE guerrillas hiding in the same jungles. Later that day, the army confronted two LTTE guerillas in the jungles of Kadawana. The previous day, 10 Tigers were ambushed and killed by troops in Kanchikudichchi Aru.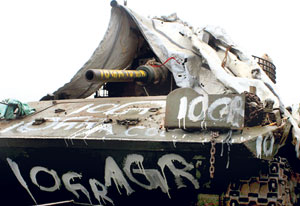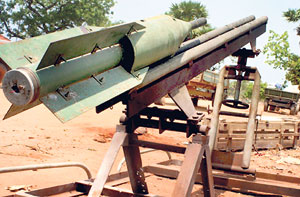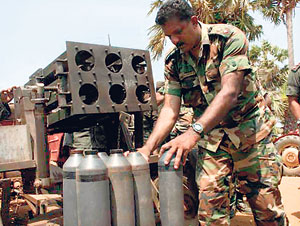 LTTE war machinary and weapons recovered by the forces
In another incident in Kanchikudichchi Aru, troops killed three senior LTTE members, believed to have been under orders to attack villages and points of strategic importance. The three were identified as Sathyan Master, Kanthan and Oviyan.
The latest intelligence reports suggest that the LTTE's "Colonel" Ram and his deputy Uma Ram are still operating in jungles in the East, backed by up to 50 armed cadres.
Meanwhile, it is rumoured that Ram, the only surviving LTTE senior cadre in the rank of "colonel" remaining on Sri Lankan soil, had approached a Tamil minister hailing from Batticaloa and expressed a desire to surrender with his band of guerillas on condition their safety was guaranteed. Ram was reported to have been critical about the de facto LTTE leader Kumaran Pathmanathan, (KP). However, it remains unclear whether Colonel Ram and his band of guerillas will surrender.
The army has increased the number of troops, including Commandos and members of the Special Force, to hunt down remaining guerillas. With the conclusion of military operations in the Wanni, a large number of troops attached to the Army's 53, 58 and 57 Divisions have been transferred to the East to help in mopping up operations there.
This is in addition to the Special Task Forces personnel and army troops already deployed there. Previously, LTTE cadres operating in the East had carried out several attacks on civilian settlements, troops and the police, in such areas as Moneragala, Buttala, Lahugala and Ampara.
Meanwhile, an estimated 10,000 Tiger rebels are believed to have surrendered, of whom 400 are children and 1,200 are women. Many of them have spoken of being forcibly recruited to fight for the LTTE. Several are co-operating with government intelligence to track LTTE cells operating in the East.
In a separate incident last week, in a welfare camp in Vavuniya, the army arrested a man believed to be a local agent for the LTTE's international arms supply network. He was identified as Urumaran. He is believed to have direct links with KP, the LTTE's chief arms procurer.
Initial investigations revealed that the suspect is fluent in English and East European languages. He is understood to have travelled overseas on several occasions with KP to purchase sophisticated military hardware for the LTTE.
Under interrogation, Urumaran admitted he was the local handler of arms and ammunition, delivered to the LTTE largely with the use of ocean-going vessels. It was Urumaran who would meet the ships and supervise the unloading and distribution of weapons. Investigations have also revealed that Urumaran was in close touch with KP after arriving at the welfare centre.
The military is conducting large-scale search operations to recover the massive cache of weapons that was once part of the LTTE arsenal.