Residents in Gonaganerala Road in Waragoda, Kelaniya are unsure whether they would receive compensation after the boundary walls of their houses were demolished by provincial road development officials three weeks ago.
The 1.1 kilometre Gonaganerala Road within the Kelaniya Pradeshiya Sabha area, connecting with the Kandy-Biyagama road, has around 64 houses on either side of it.
A week before the Western Provincial Council elections the boundary walls of the houses were demolished by the Provincial Road Development Authority (PRDA) with Minister Mervyn Silva and the Kelaniya police overseeing the operation.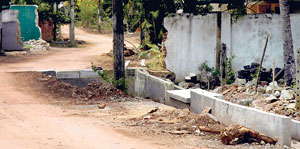 Boundary walls demolished. Road widening at a cost.
PRDA Deputy Superintendent Kapila Nishantha said his Authority needed only 15 feet from both sides of the road though legally even 25 feet could be acquired. "These are unauthorized constructions therefore the people would not be compensated but we'll try to see if there is any possibility of paying compensation," he said.
He said that the public did not make any protest when Minister Mervyn Silva was present during the time the demolishing took place. Kelaniya Pradeshiya Sabha chairman Prasanna Ranaweera said the people gave their fullest support and they supported the widening of roads in the area.
"We are unaware on how the compensation would be made, but we would try to compensate for the lands that were acquired," he said.
Residents expressed views contradictory to those expressed by the PS chairman stating that the demolition took place with no prior notice and said they were told they would not be compensated.
J. Perera, a resident said that the residents had received a blank document to be signed giving permission to demolish the walls.
"No one was willing to sign the document. Later a meeting was held where Minister Mervyn Silva was present and the residents threateningly told they would not be compensated," he said. He said the residents had decided to take legal action but before that could be done the demolition took place without prior notice.
Most of the residents complained that the demolition took place in a haphazard manner where some residents lost five feet while others lost only one foot for the proposed road widening.