Among so many of their noteworthy achievements beyond the boundary lines, there is one achievement of Sri Lanka Cricket that is unparalleled. Among the present Test playing nations Sri Lanka is the only country that has had the custody of the ICC Trophy – which is given to the non-test playing nations and the Cricket World Cup – the real thing.

Among the firsts—Sri Lanka won the first ICC trophy on offer in 1979 and became a full member in 1981. Then Zimbabwe won it thrice in 1982, 1986 and 1990 and became a full member in 1992 while Bangladesh won it in 1997 and became a full member in the year 2000. Nevertheless it is very unlikely that Zimbabwe or Bangladesh would equal Sri Lanka's record in the very near future.

This is about a certain word in the English language. Interestingly Sri Lanka cricket (or is it the politicians who make use of this word without ever knowing the real meaning of it) has another very ambiguous record of using this word to their own advantage. It is the exploitation and the usage of the word 'interim'. The Oxford Dictionary says interim means 'Intended to last for only a short time until a more permanent solution is found.' Ironically politicians in Sri Lanka have used this word to explain the formation of ad-hoc committees to run Sri Lanka cricket whenever they find a 'hard-nut' who is exploiting the situation and they have no control over it and we invite the dictionary compilers to take note of this fact.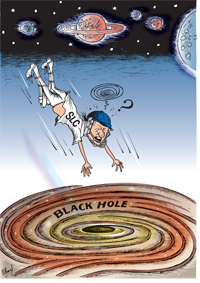 During the past decade – 1999 to 2009 various Sports Ministers (Or is it someone higher?) have appointed personalities ranging from – Rienzie Wijetilleke (of Banking fame), Vijeya Malalasekera (Marketing), Hemaka Amarasuriya (corporate leader), Jayantha Dharmadasa (leading businessman), Arjuna Ranatunga (former Sri Lanka captain) and D.S. de Silva (a former gaming employee and a leg spinner) to head the so called interim committees.

We agree there have been certain drawbacks and thus people exploiting the loopholes in the democratic system and that being the very reason for the politicians of yore being compelled to form such committees to put Lankan cricket back on track.
Initially names of eminent cricketing personalities who took this as a passion more than their stepping stone for fame and other credentials appeared along with the names of the interim committees. This pattern continued till 2005 until one elected cricketing personality refused to hand over power to the interim committee when it was formed by the then sports minister. So much so the Jayantha Dharmadasa administration which was set up ran cricketing affairs of Sri Lanka at makeshift locations until the problem was solved.

It was the last chance (so far) for free (or was it influenced?) cricket elections in the country.

However for the next three years cricket in the country was run without much turbulence until the sudden change occurred for reasons other than cricket in appointing the former national cricket captain Arjuna Ranatunga to the hot seat.

Ranatunga too who took over reins with much pomp, pageant and promises could not hold to his given powers and was expelled by minister of sport Gamini Lokuge, much to the relief of the cricketing gentry of the nation.

However that euphoria turned into anxiety as the minister let the situation linger on now under another political appointee which he described as the 'competent authority'.

During this headless three months speculation was rife and almost every day there was a different story surfacing until the name of D.S. de Silva mushroomed overnight and he was appointed.

In 1999 when the then government appointed the Rienzie Wijetilleke committee that comprised names of the calibre of S. Skandakumar (secretary), Sidath Wettimuny and Asantha de Mel etc. However it was reported that several prominent cricketing personalities refused to row the boat along with the DS administration and gracefully declined to be a part of it.

Ironically the advent of the DS administration seems to be a continuation of the now deposed Arjuna administration.

One of their very first acts of priority was the sidelining of the SLC Chief Executive Officer Duleep Mendis. Added to that what did they do? They cornered CEO's private secretary Dayanthi Abeywickrema until she was forced to submit her resignation. Now it is backstabbing that has surfaced at the hallowed halls. Expecting Mendis' resignation, the aspirants have had a field day. Good buddies in general terms are now at each other's throat. One irate employee said "What is discussed at the lunch table is reported at higher echelons even before you could wipe your fingers after lunch. One cannot embark on a job of work with a clear agenda, because there are a thousand prying eyes looking out to find out just a niche to pull a blanket over your head. It is just despicable."

At the same time it is also said that a person who is bent on prying into the Sri Lanka cricket, but with no direct access now is behind some of the decisions that have been taken by using his connections to one of the IC members appointed. This they say have already created many unhealthy ripples within the newly formed unit.

Here at this end we are not concerned about anyone's personal credentials or individual capabilities. What we are really concerned about is that by an unsuitable person occupying a hot seat at SLC what bad effects it could have on the general well being of cricket on either side of the boundary line and what repercussions it would bring to our national cricket in the long run.