Germaine Greer, one of the most significant feminist writers of the 20th century will be at the limelight of this year's Galle Literary Festival.
She will be hosted by Jetwing Lighthouse Hotel in Galle during her visit to the Festival. Tagged as the 'Number one Literary Festival in the World', Galle Lit Fest made its name after its debut in 2007. The festival will be held for the third consecutive year within the ramparts of the historic Galle Fort from January 28 to Sunday, February 1.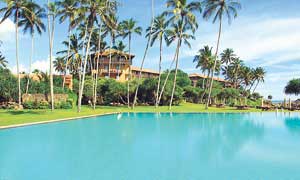 Germaine Greer is an Australian-born writer, academic, journalist and scholar of early modern English literature. Greer's ideas have created controversy ever since her ground-breaking book, 'The Female Eunuch', became an international best-seller in 1970, turning her overnight into a household name and bringing her both adulation and opposition. She is also the author of many other books including, Sex and Destiny: The Politics of Human Fertility (1984), The Change: Women, Ageing and the Menopause (1991) and Shakespeare's Wife (2007). She currently serves as Professor Emeritus of English Literature and Comparative Studies at the University of Warwick.
Of the discussions that Germaine Greer will be participating in this Lit Fest, the set to be the highlight of the festival as well, will be held with the backdrop of Jetwing Lighthouse on Sunday, the February 1, where she will speak her mind on the topic 'Who Put The Post into Post – Feminism'.
Jetwing Lighthouse sits atop a hillock overlooking the Indian Ocean. Inspired by the Dutch influence in Sri Lanka, the hotel exudes a touch of history and class and offers guests exquisite cuisine and tranquil locations boasting splendid unmatched views of the sea.

Germaine Greer
Designed by the world renowned architectand Sri Lanka's best, Geoffrey Bawa, Lighthouse, features wide open spaces combined with magnificent views of the garden and sea. The furniture is elegant yet minimalist. Brilliant green grass, pastel skies, azure blue of the swimming pool contrasting with earthy red roof tiles – the Lighthouse is an artist's palate of primary colours.
'We consider it a great honour to be able to host Germaine Greer at Jetwing Lighthouse. We have no doubt that she will indeed enjoy her stay and her experience at our hotel. The Galle Literary Festival is a great program for this region, the ambience lights up the entire fort, we are pleased that we made the right decision to be part of this festival for the third consecutive year' said Hiran Cooray, Deputy Chairman of Jetwing Hotels.