'Srilakvahini' Satellite Television Channel commenced local transmission recently under the theme of 'New Sri Lanka to the world'.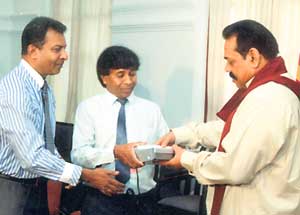 Picture shows TV Lanka Chairman B.A. Abeywardana and Srilakvahini Chairman Rohan Welivita hand over the equipment to President Mahinda Rajapaksa at Temple Trees.
This channel telecasts programmes 12 hours per day using Protosat (98.5 East) satellite. 'Srilakvahini' allocates live telecast programmes four days a week.
Details of Srilakvahini Satellite Television Channel could be obtained by browsing www.srilakvahini.net website or by contacting telephone number 2821336.
Meanwhile Srilakvahini in collaboration with TV Lanka have introduced hi-tech equipment to view Television channels via satellite.
It enables the public to view a considerable number of channels, seven local and more than 40 international channels from any part of the island.