In 1995 Oliver Stone released Nixon with Anthony Hopkins portraying the controversial 37th American President during his time at the helm. The film was generally well received by audiences even though some complained that the film was nothing more than a mudslinging attempt on President Richard Nixon who passed away the previous year. Over a decade later Ron Howard brings us Frost/Nixon which documents the famous interviews between the President and British talk show host David Frost on the controversial issues surrounding the Watergate scandal and the his subsequent resignation. The Nixon family can hope for no sympathy from this film as the enigmatic leader is dissected in front of the camera.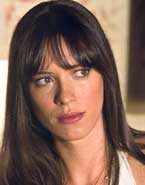 The year is 1977 three years after President Nixon had been forced out of office and had been granted a full pardon for his part in the Watergate scandal and charges surrounding abuses of power. Nixon inexplicably agrees to an exclusive interview with a playboy talk show host named David Frost not generally affiliated with journalism or hard talk as it were. Nixon attempts to use the inexperienced interviewer in order to improve his public image and gain some favour amongst the American people. However, he is up for more than he bargained as Frost tries to disclose some of the more sensitive information surrounding the President's resignation in an attempt to get a full apology from Nixon for his actions whilst in power. The film soon becomes a hard hitting boxing match on screen as the two go head to head on a topic which drew nearly 400 million people to their televisions.
Frank Langella (Good Night and Good Luck) who plays President Nixon in the film does a fantastic job in humanising the unfathomable character while making certain that he does not merely act Nixon but embodies him. Michael Sheen (The Queen) does a fine job as the ambitious and charming David Frost who struggles to get funding for the interview while coping with the critics who claim that he was never the right man for the job. The two when on screen together are formidable as a duo while the tension in that room in that summer of 77' is undeniably felt by the audience. Oliver Platt (Gun Shy) and Sam Rockwell (Confessions of a Dangerous Mind) who co-star as Frost's partners in debunking the President also deliver solid performances during the film. Kevin Bacon (A Few Good Men, Mystic River) who plays Nixon's chief of staff is also impressive.
The film was actually so well cast I felt that Ron Howard could very well have just let the actors go about their business without getting in the way too much. In fact the work of the Director should also be specially mentioned as the sentiments and emotions of the time are automatically transported to any cinema or living room with great skill and effectiveness.