Ifthikar Cader favours a form of painting known as 'plein air', derived from the French phrase 'en plein air' which simply means in the open air. Plein air enthusiasts work outdoors, capturing the scene, the mood of the moment, at the spot itself, or at least as much of it as they can. Ifthikar too likes nothing better than to drive out of Colombo and when he sees a place that fires his imagination, stop, set up his easel and paint, capturing light and shade as it is.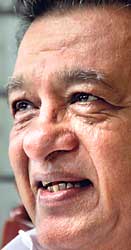 Ifthikar Cader's exhibition of paintings 'Plein Air Heritage' will be held at the Harold Peiris Gallery of the Lionel Wendt on January 24 and 25 from 10 a.m.- 7 p.m

.
"It's a challenge-when you start in the morning, the colours are a certain way, by afternoon, they've changed completely," he says. Lately though travelling out to paint in distant places is not all that easy, given the situation in the country, he admits.
Retirement suits him well for it has given him time to do what he loves. And a visit to his home in Kohuwela reveals ample evidence of the work of the past few years- there are paintings everywhere- from large landscapes of the Sigiriya Rock and the Kandy Lake to smaller yet equally striking views, a tank in the Dry Zone, a creeper sprawled over his garden wall, the Tobago bay, a harvest scene in France.
He has painted from childhood entirely self-taught, inspired initially by his brother who was a watercolour 'maestro', but a busy youth actively involved in sports (his name will be familiar to rugby fans of yesteryear) and a working life dedicated to the gem business and subsequently electronics didn't leave much time to explore this pastime further.
Art in those days when he was growing up was considered just a hobby, not a means of livelihood and he smiles as he recalls how after falling in love with a beautiful Pakistani doctor, he met his prospective father-in-law while studying at the London School of Economics (LSE) and was questioned closely about his future choice of career. "I would like to be an artist," he had told him, only to be told that he'd better forget about marrying his daughter!
But marry they did, and today decades later, are proud grandparents. In fact it was his daughter who when he took early retirement in 1993 and was 'moping around' told him, "Daddy why don't you start painting again?' It was good advice, and this time once he began, it was unfettered by other constraints.
Plein air painting which gained popularity with the Impressionists like Manet, Monet, Pissarro and John Singer Sargent fits in perfectly with his own predilection for the Impressionists and realism. "I don't like abstracts and conceptual art," he confesses.
"I'm an outdoor person, always have been," he adds, and painting this way he enjoys the solitude and freedom the experience offers.
Ifthikar held his first exhibition in 1996 and the overwhelming reception he received not just from friends but from the public reinforced the conviction that this was what he was meant to do. He sold many paintings- "but it was not because of the money but because I was accepted (as an artist)," he says.
Since then, it's been a quest to learn much more about art. The time spent in museums in Europe during his business trips abroad looking at paintings, studying the Old Masters, has stood him in good stead more than any art classes would have, he muses and he continues to try to improve his technique and further his skills.
Disappointing for him as an artist in this sense is the lack of galleries and more importantly, proper criticism which would enable one to progress and learn, he adds.
But he is well content with where life has led him, deeming it a rare pleasure to spend his days in such a fulfilling manner. "I realized fairly early I had the ability to capture something fairly accurately. When I was young I just tried to copy it, now I try to capture the essence of the scene I'm looking at," he says. And in the wondrous beauty of nature, Ifthikar Cader is never short of inspiration.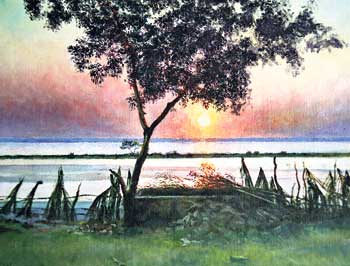 Mundal sunset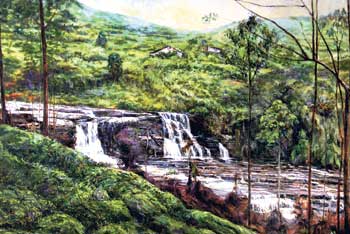 Fairlawn Falls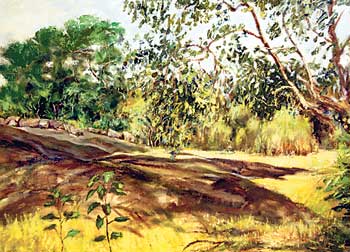 Warahana, Yala National Park