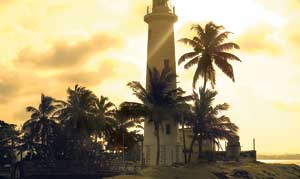 Sunrise at Fort lighthouse. Pic courtesy Juliet Coombe
Two very different writers appearing at the Galle Literary Festival share one thing in common: they live in self-imposed exile from their countries of origin. Why have they made that choice? And what effect has it had, and does it continue to have, on their writing?
Edna O'Brien left Ireland when she was 30, when the outrage that greeted her daring first novel made the possibility of her remaining there untenable. The Irish censors banned the book The Country Girls (published 1960), and her next two books did nothing to change the authorities' or the public's minds.
The move to London was a powerfully liberating force. She went on to publish many novels and short stories and win several major awards.
Edna has returned to Ireland many times since the outcry eventually died down, even appointed Visiting Professor of English Literature at University College, Dublin last year. She now divides her time between the west coast of the country, and London. She has never returned to live permanently in the home of her birth.
Moses Isegawa was only 27 when he made the difficult decision that in order to write he had to leave his native Uganda. Just a child when Idi Amin seized power his formative years were spent under that repressive regime. He trained as a history teacher and in 1990 he left to start a new life in Holland.

Moses Isegawa
After five years in Holland he found a publisher and Abyssinian Chronicles was launched to widespread critical acclaim. His book is a profound look at the Idi Amin years, focusing on Amin's expulsion of the large Indian population in Uganda. He has said that being in Holland enabled him to live without pressure: "I had escaped and I was glad I had not become a casualty of reason."
He lived in Amsterdam for 15 years, moving back to Uganda in 2006. Readers can meet Edna O'Brien and Moses Isegawa at the Galle Literary Festival at the following events:
Literary Dinner- 7.30 p.m.-10 p.m. on Thursday January 29 at the Fort Printers. Enjoy an extravagant dinner party with Edna O'Brien and Yasmine Gooneratne with culinary creations by Carina Cooper.
Out of Africa - 10 a.m. -11 a.m. on Friday January 30 at Hall de Galle. Moses Isegawa reads from his own Abyssinian Chronicles and introduces us to exciting new writing coming out of Africa today.
A Private Affair - 12.30 p.m. -2 p.m. on Friday January 30. Both Edna and Moses. will be hosting intimate lunches in heritage homes in Galle.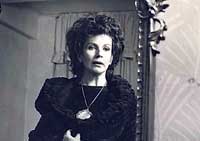 Edna O'Brien
Dead Men's Tales - 9 p.m.- 11 p.m. on Friday January 30 at Dick's Bar. Festival writers talk of books and writers they'd most like to hear about at a literary festival. Hear them read aloud from the work of their literary heroes. With Moses Isegawa, Colin Thubron, Tahmina Anam, Michael Morpurgo and Pico Iyer. Germaine Greer plays critic.
Literary Dinner - 7.30 p.m. -10 p.m, on Friday January 30 at the Dutch House. Join Edna O'Brien for an alfresco gourmet dinner.
Did You Have To Be There? - 10 a.m. -11 a.m. on Saturday January 31 at Hall de Galle. Tahmima Anam, Moses Isegawa, Sivamohan Sumathy and V.V. Ganeshananthan debate the role of writer in responding to public crises.
A Life of Reading - 2.15 p.m. - 3.15 p.m. on Saturday January 31 at Hall de Galle Edna O'Brien tells us about hers.