The appeals of the annual Galle Literary Festival are many. Topping the attractions is the list of celebrity writers, artists, architects, performance arts maestros, filmmakers and others who grace the occasion. Just as exciting is the setting and ambience of the festival, with its intriguing mix of venues with their cultural, historic and aesthetic value.
One such venue is the Closenberg Hotel, once a private family home and now a classy tourist destination, with a unique vantage point on a promontory on the other side of the Galle Harbour, opposite the Galle Fort, the hub of the festival.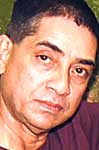 Seneka Abeyratne
Closenberg has a unique layout, with a grand, colonial style house with broad verandahs overlooking the sea, and terraced gardens. In short, it is a perfect setting for literary events.
As in previous years, Closenberg is hosting events relating to the festival, which begins on January 28.
The first Closenberg event is a performance of two plays by Sri Lankan playwright and Gratiaen prize winner Seneka Abeyratne. The plays will be performed free of charge on Friday, January 30 from 7-8.30 p.m.
The play 'Por la Libertad' set somewhere in Africa is directed by Shashi Mendis and has Piorina Fernando, Shalindra Fernando and the playwright Seneka himself in the main roles. The next play 'Midnight Train' is also directed by Shashi Mendis. Shashi also figures in the cast with Dilsiri Welikala and Dave Fernandez.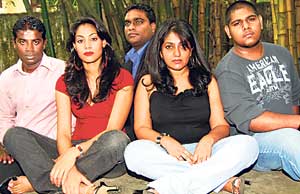 The actors (left) and the readers
"Sunset Stories", from 5 p.m. to 8 p.m., is an evening of short stories written and read by some of the leading voices from Sri Lanka's flourishing literary scene. The writers include established fiction writers and talented newcomers.
"We want to keep things fairly informal," says Ashok Ferrey, organizer of the event. "The important thing is for people to enjoy themselves and realize that literature can be fun! It's the only way we're going to encourage young people to read, in this dreaded age of computer games and texting and youtube."
Some of the performers listed below, in no particular order are : Asitha Ameresekera, Libby Southwell, Anne Ranasinghe, Lal Medawattegedara, Nazreen Sansoni, Seneka Abeyratne, Vivimarie Vanderpoorten, Delon Weerasinghe, Ramya Charmalie Jirasinghe, Goolbai Goonesekera, Anthea Senaratne, Jehan Aloysius, Neluka Silva and Simon Harris, Premala de Mel and Ashok Ferrey ably assisted by Gill Westaway, Richard Reidy, and Shyamalee Tudawe.
Visitors attending both events will also be able to order refreshments, including drinks and dinner.