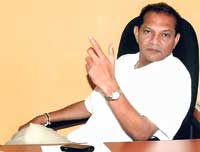 Sarath Mandawala Managing Director
The City Construction Contractors is one of London's premier development companies, with a number of successful projects under its name. City Construction can justifiably claim to be one of the most reputable and professional outfits presently in the trade with the professionalism and expertise to turn the ordinary into the extraordinary. The City- Group was established 5 years ago and is backed by the expertise of City Construction Contractors London, which is the developer of the Ocean Edge (OC3) project in Sri Lanka. The Sunday Times spoke to Mr. Ravi Gunawardene - Director Marketing, and Mr. Sarath Mandawala - Managing Director of The City-Group.
"The City-Group started operations in Sri Lanka after having completed many successful projects in the UK and our flagship project in Sri Lanka is Ocean Edge. The company's construction arm is City Construction Developers (Pvt) Ltd., and our Marketing is handled through Real Realtor (Pvt) Ltd. In addition to our Ocean Edge project we also undertake brokerage for other apartment complexes and housing projects as well as being involved in developing and selling lands", says Mr. Gunawardene.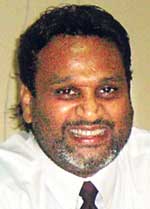 Ravi Nath GUNAWARDENE Director Marketing
The company has at present developed 24 plots of land in Mahabage, and is currently developing 8 plots of land in the area of Nikape, Dehiwala. Ocean Edge is located at kollupitiya, spans an area of 50 perches and is best referred to as the dream construction plan for exclusive lifestyle homes. What is so unique about Ocean Edge is the fact that it offers the twin advantages of bordering the beautiful Indian Ocean whilst nestling in the very hub of Sri Lanka's prestigious capital. Today kollupitiya, is the most sought after residential and commercial address in Sri Lanka and therefore it goes without saying that it is also the strongest growing real estate investment possible.
"Located just one block away from Marine Drive, the building structure itself is very solid made from reinforced piled foundation, which comprises of 104 round piles that are embedded 30+ metres underground which unto the bedrock. This provides the structure high resistance levels against all types of natural disasters and other seismic activities such as Tsunamis, earthquakes, high winds etc. Ocean Edge which is a ten-storied apartment complex, comprises of 46 apartments and 3 penthouses, in addition the basement and ground floor for car parking. The first floor comprises of higher ceiling apartments, whilst the Swimming Pool, Kiddie's Pool, Jacuzzi, Steam Room, Gymnasium and Clubhouse for the residents. The complex also offers a children's play area, which is located on the ground floor and a Roof-top Terrace, which offers a fantastic view and ideal for parties and other such functions", said Mr. Mandawala.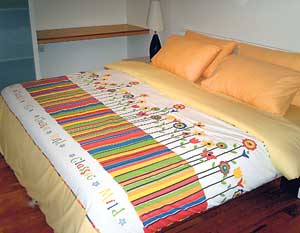 With different types of apartment layout plans to choose from, Ocean Edge offers apartment units that cater to varied lifestyle choices. The Cardio System is another innovative feature of Ocean Edge and is specially designed to be accessed from a distance and can provide results on demand via your mobile phone or at the touch of a button, which can control your apartment's lighting, temperature etc. The cardio system also includes a unique security feature, which automatically calls certain pre-programmed numbers in the case of an intruder alert. This system can also be used to send alerts in the case of medical or fire emergencies.
The apartment also features the Multi-Functional Music System, where you could listen to different types of music at different locations of the apartment All at the same time, and Electrically Controlled Blinds.
All apartments are pre-wired for the Cardio System and the Multi-Functional Music System, which means you could install these at any given time within a few days.
Inclusive of a 6 unit per floor plan, fire safety measures on every level and standby generators, Ocean Edge offers its occupants a fresh approach to home design which ensures clean-lines and high ceilings which has derived the concept of "No Visual Pollution".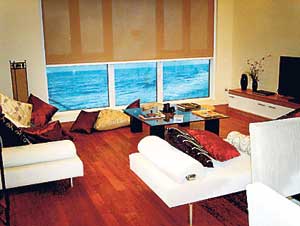 Commenting on some of Ocean Edge's exceptional features Mr. Gunawardene said, "Our external windows are all UPVC double glazed making our apartments sound proof, which also contributes towards lowering humidity levels and thereby enables occupants to keep their air conditioning at low cost. All apartment doors are made out of solid timber and another unique aspect of the designing process of the apartment complex is that no protruding edges can be seen in its wall structure this coupled with the apartment high ceilings offers value for money in terms of cubic space.
"We have gone through a very stringent "attention to detail" process to get to these standards. Ocean Edge offers excellent high quality finishes and is aesthetically designed so as not to provide any form of visual pollution.
The bathrooms are designed in captivating contemporary and traditional bathroom ware, which also include an extraordinary range of bathroom paraphernalia. All tiles are Natural Slates and Limestone, the Doorways are 8 to 9 feet in height, all flooring in dry areas are solid timber (18mm in thickness), all Pantries are made of solid timber slashes together with the hob, oven and cookerhood, which are of high quality and some of them being unique features as well, features that you would not find elsewhere."
In addition to this Ocean Edge offers many more features and top of the range finishes that makes all the difference with regards to boundless imagination and professional expertise. The apartments at Ocean Edge are spacious and have been architecturally designed to feature the vastness of the Indian Ocean from all types of apartments from the 2nd floor upwards. With its exclusive features, structural strength, and central location Ocean Edge tops the list offering the perfect mix of facilities and features making it the ideal recipe for luxury living and the perfect place to call home.
Mr. Gunawardene further stated "Apartments with the quality of OC3AN EDGE are extremely limited, maybe 50 or so, as some top-end comparable apartment complexes have temporarily stopped construction. If they re-commence work, it would take a minimum of 3-4 years to complete these projects, whilst the existing top-end apartment developments are now completed and have sold-out most of their apartments. Hence, we have now found out that there are only 50 apartments of such high quality, whilst we have been fortunate enough to have 23 of them within our reach.
The rental market for OC3 will be extremely lucrative as these apartments are built to "British Standards" with fantastic cubic space and sea view from all types of apartments on offer, catering predominantly to the European Expat Market. The easy movement through many locations of interest like Gallery Café, Cricket Club Café, McDonalds, Paradise, Shirohana, British Council, German Embassy, Fashion Bug…are all within reach of 150 metres away, whilst easy accessibility from Marine Drive and Galle Road coupled with "No Road Closures" are definite advantages as for dwelling.
As of date 75% of bookings have been the Expat Community, which prequalifies the above investment opinion. Come 2K9 Demand would overshadow Supply; hence, an appreciation within 1 year from now-on is predicted (through research carried-out) to appreciate by 30%, however on a conservative estimate it is expected to appreciate to a minimum of 22 to 24% PA.
Mr. Gunawardene further elaborated that in order to ease the pressure of high interest rates on home loans, The City-Group have negotiated extremely Low Interest Rates for OC3 together with highly attractive Tailor-Made Payment Schemes for all Valued Customers. .