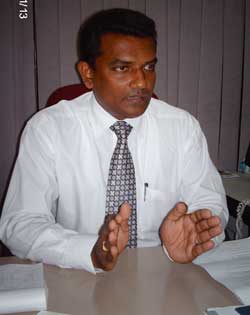 Mr. Jeevana De S. Karunasiri, Senior Manager - Business Development of People's Merchant Bank
The People's Merchant Bank PLC is a part of state banking giant People's Bank and powered by LOLC, and its core business activities comprise of leasing, corporate finance, trade finance and real estate. The company's real estate division is involved in the purchasing and selling of lands in addition to handling housing projects. The company's latest land project was launched in Rajagiriya Madinagoda on the 19th of December 2008, which was highly successful. This project comprises of nine blocks of land where each block is 8 perches. The Sunday Times spoke to Mr. Jeevana De S. Karunasiri, Senior Manager - Business Development of People's Merchant Bank to find out more about their latest project, Regal Crest.
"Regal Crest Rajagiriya is centrally located very close to all the basic amenities. On the day of the launch we were successful in selling 4 blocks and presently only three blocks remain. In addition to this we also recently bought another land in Kothalawala, which is only three blocks away from the Kandy-Colombo highway, and we are planning to launch this project on the 24th of January 2009. We also have other ongoing projects located in the areas of Thalahena, Wattala, Ja-Ela and Gampaha, as well as a housing project at Maharagama. ", says Mr. Karunasiri.
Rajagiriya is a highly residential area, which is also very close to the parliament, supermarkets, international schools, hospitals etc. The Regal Crest project offers exclusivity and privacy to its occupants and has all the basic surroundings that one needs to build your own private living environment.
"Our business strategy that we adhere to is the 'just in time method' and therefore we do not maintain a large stock. We always purchase all our lands at very competitive prices and therefore we are able to pass that benefit to our customers. Due to this we have the benefit of offering prices 10-15% lower to that of the current market rate", further stated Mr. Karunasiri.
When asked about his views on the sudden drop in lands prices Mr. Karunasiri said, "One and half years back the real estate market was booming but now however its has come to a standstill. I would not say that the prices have dropped but feel that the prices have stagnated, but we are not affected since we offer a total solution package to the customer".
People's Merchant Bank's real estate division has always ventured into solid and profitable lands in all its project ventures. People's Merchant also offers customers an in- house loan scheme, which can be obtained within a day. This scheme is best, referred to as a total solution package offered to customers. Food, clothing and shelter are three basic requirements, so there will always the demand for property and housing. The company is also anticipating that after the war the country's economy will be more profitable and taking advantage of this situation is working towards providing lands at competitive prices and offering the maximum in returns to the customer. Presently the company is targeting the middle and upper middle segments of the market, which comprise of the professionals and academics that have the capacity to purchase. At present the company is only focusing on projects within Colombo and its suburbs. In the future however the company will be looking at extending its projects to the areas of Negombo, Kurunegala and Kandy.
"We at People's Merchant Bank do not only offer customers a mere land but we go that extra mile to provide our customers the best when its comes to building their housing dreams and experiencing a high quality lifestyle. In addition to this we provide our customers the best form of investment opportunity for their hard earned money, which is also offered to them at a very competitive price", said Mr. Karunasiri. People's Merchant Bank is under the guidance of its CEO Mr. Mohan Niyangoda and Chairman Mr. Thimira Rajapakse.