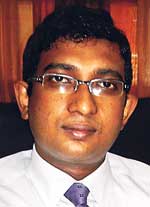 Dr. Nuwan Karunaratne, Chief Executive Medical Officer of Oasis Hospital
In line with its 10th anniversary celebrations Oasis Hospital (Pvt.) Ltd., located at Narahenpita Colombo 5, has introduced a line up of unique medical facilities through its various departments for the benefit of patients. The hospital's Oncology Unit which has been functioning quite successfully during the past 10 years has been in the forefront in pioneering many medical facilities for the first time in Sri Lanka, which includes the very first Chemotherapy Drug Mixing and Dispensing Unit to be introduced to the private sector, Internal Iodine Therapy for the treatment of thyroid gland cancers and hyperactive thyroid glands etc. where more than 2000 thyroid cases have been successfully treated. The Oncology Unit also specializes in the treatment of blood related cancers and other forms of cancers. The Sunday Times spoke to Dr. Nuwan Karunaratne, Chief Executive Medical Officer of Oasis Hospital to get an in depth insight into some of the services offered by the hospital.
"Dr. R.S. Jayathilake (MBBS , DMRT(Lond) , FSLCO , FSLC PAES , FRCR(Lond) who is one of the most senior oncologists in the country heads our Cancer Unit. Through our cancer Unit we have designed specific forms of cancer screening programmes for the early detection of cancers, as early detection of a cancer is the best method of cure.
Therefore with this in mind we have introduced many programmes with regards to cancer screening. At Oasis we have introduced a urine test, which will indicate whether a particular patient is heading towards a cancer, or not. If it is positive we have arranged various blood and other investigations such as mammogram pap smear, ultra sound scanning CT scan as well as other types of technical investigations to detect which part of the body is exactly involved. Basics of cancer management are early detections, which if done effectively can lead up to a 100% cure rate.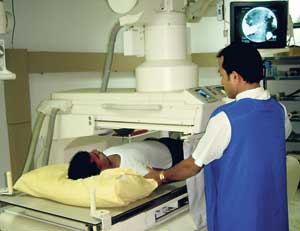 We have established a separate physiotherapy rehabilitation unit, where we have developed a special programme that caters to all types of stroke patients who experience paralysis in their limbs. The main aim of this rehabilitation programme is to make the patient independent as much as possible. This unit is headed by a Consultation Physiotherapist who is supported and assisted by a specially trained team. This programme is individualized according to the requirements of each patient in order to achieve maximum results. Apart from this we also have facilities that cater to debilitated children especially those who suffer from cerebral palsy. Our objective here too is to make these patients independent and build up their self confidence levels. In addition to this we also provide other types of medical facilities where we attend to sports related injuries such as muscular aches, back aches and neck pains etc., says Dr. Karunaratne.
Most of the time a majority of the middle class population has some percentage of hesitation to obtain treatment in a private sector hospital as they will not be aware of the cost until they are ready to be discharged. With this in mind the Oasis Hospital has introduced specific medical treatment packages specially designed for gynecological and childbirth delivery surgeries (cesarean) and natural childbirths, where the patient gets to know the amount for the entire stay even before getting admitted. This form of treatment will be a specified amount but however the charge will differ in the case that the patient has any complications.
In addition to these facilities the Oasis Hospital also offers a special Eye Clinic, which is open from Monday to Saturday. The Eye Clinic specializes in all kinds eye related treatment facilities ranging from refractions to eye laser therapy. The clinic also offers special packages with regards to PHECO surgeries, which deals in lens opacities. The hospital's Dental Surgery is open daily and patients have the flexibility of making appointments for the Eye Clinic and Dental Surgery over the phone.
"Another unique facility that we provide is our Oasis Health Club Membership. After registering for this membership the householder is given a medical cover. We also provide a 24-hour standby medical service, which includes a doctor and staff to attend to the needs of our members. This team will attend to any medical emergencies that members will have in the comfort of their own homes and if the patients require hospital admission they will bring them to our hospital. Through this unique mobile medical service we offer medical services to your doorstep and this method of treatment has become quite popular among the elderly community living on their own. Members also have the advantage of making hospital room bookings even on high occupancy days, as we will be giving them a priority. In addition to this we also offer our members a 10% discount on their hospital room charges. We also provide a service of sending a team of laboratory technicians to your home in case you need to get any blood investigations done and we would be delivering the lab reports as well, all you have to do is ring us on our hotline. We also offer other forms of Oasis Health check up packages for full body checkups which differ according to ones gender and age", further stated Dr. Karunaratne.
The main intention behind this type of medical checkup facility is to identify any form of chronic diseases, such as hypertension, diabetes, chronic heart disease and kidney diseases etc., in their early stages and provide the necessary treatments. Chronic diseases if left undiagnosed can lead to many forms of complications at a later age. Oasis also offers a 24-hour on call emergency unit with a doctor and staff to attend to any emergencies, which also includes an ambulance service. Apart to these services Oasis Hospital offers a wide range of superior medical facilities including Gynecological and Obstetrics surgical facilities, a separate pediatric ward, general medical and surgical theatre facilities etc.
Oasis Hospital's spacious car park is another additional convenience to patients and those visiting the hospital. The hospital also offers all the types of sub specialties and services with regards to consultation channelling. With so much to offer patients Oasis Hospital has established itself as an organization that truly cares for the well being of its patients. The hospital's exemplary medical services coupled with its dedicated team of doctors, nurses and other staff members has kept it in the forefront of the medical services sector as an organization that well and truly offers superior medical services with a personalized touch.
HOT LINE - 5506000 , 5424424 , 4514770-9 , 2369113-4
FAX - 2369112 .