Mr. A.G.M. Bogahawatta started off his career in the field of Civil Engineering and from the onset itself worked very closely with the Japanese with regards to various construction projects in the irrigation field and other hydro electrical projects. Having recognized his inherent capabilities his Japanese contacts persuaded him to start up his own business operations in Sri Lanka, whilst promising to fund and help initiate his business activities. Starting off as an Assistant Engineer then becoming a Civil Engineer and finally progressing to the level of Chief Engineer, Mr. Bogahawatta has been involved in many major projects in his career of which include irrigation projects in the areas of Dehiattakandiya, Sadunpura and Veheragala areas in Mahaweli system "C" etc. In addition to this he has also been involved in the Samanala Weva Hydro Electrical Project as well as the project for construction of 19 Bridges in the district of Gampaha.
With the trust and confidence entrusted to him by his Japanese contacts Mr. Bogahawatta, established Finite Lanka (Pvt.) Limited in the year 1996, which is a company that deals in undertaking Civil Engineering projects of which include projects that deal in the construction of buildings, roads, irrigation systems, water supply and drainage as well as hydro electrical projects. The company's head office is situated in Gampaha in addition to several branch offices located island wide. The company currently has a staff of around 120 direct employees in addition to its employees who work on a contract basis. Finite Lanka primarily started operations from the M7 category and has now progressed to the M2 category. The Sunday Times spoke to Mr. Bogahawatta, Managing Director of Finite Lanka to find out more about the company's business activities.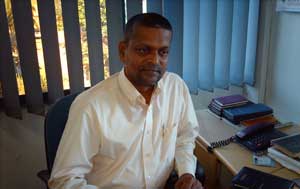 Mr. A.G.M. Bogahawatta
"Our current projects include the water supply project in Nikaweratiya which amounts to 120 million rupees; a 60 million rupee water supply project in Welimada, 3 No Road projects in Moneragala Ditrict estimated at rupees 89 million, 39 million and 42 million. The company is also involved in the Rathnapura Town area Road development project valued at rupees 80 million, the Hambantota Road project estimated at rupees 50 million, the Aquaculture Resources development projects in Uda Walawa and Dambulla which is worth around rupees 50 million to name a few. In addition to this Finite Lanka is also involved in a construction of Grid sub-station project in Pannala which is directly funded by Siemens, Austria, which is almost nearing completion", says Mr. Bogahawatta.
Finite Lanka has appointed separate Project Managers and Project Engineers to manage each site in addition to separate staff members to assist each project. The company still maintains its close relationship with the Japanese with regards to its projects due to the close relationship Mr. Bogahawatta has built up with them over the years. Finite Lanka is currently involved in construction work under the Southern Transport Development project which is under Japanese main construction. Mr. Bogahawatta is also greatly assisted in his business operations by his wife Leela Bogahawatta, who is also a qualified Chartered Engineer and who was previously employed at the Mahaweli Construction Agency and was therefore able to bring in her expertise and contacts with regards to government projects.
The company's hardware is sourced in the 'Maha Gedra' hardware showroom located at Gampaha which supplies all the hardware items that the company requires which includes, steel items, cement, paints and other equipment. This showroom is run as a separate business which supplies hardware items for the company's construction sites as well as to the hardware stores located at Gampaha at a reduced cost.
Commenting on his plans for the future Mr. Bogahawatta said, "My future plans involve expanding my business whilst providing a high quality service at all times. I always feel I must personally supervise all my projects, which has been the secret of our success. Finite Lanka has over the years built up an enviable reputation and won the trust of its clients. The company's main aim is to receive the M1 status by the year 2010. I would also like to take this opportunity to thank, Mr. Shantha Eragoda of Commercial Bank, Gampaha Branch as well as Mr. Prasanna Premaratne of DFCC Bank for all his assistance provided to me right from the very beginning of my business activities. We at Finite Lanka are always working towards providing excellent contracting services that are well and above our clients' expectations. Today most contractors have been labelled as unreliable and inefficient, we at Finite Lanka want to break this mindset that most people have with regards to this. Finite Lanka is and always will be the reliable contractor that delivers high quality services in a very professional and experienced manner."
Finite Lanka has set it standards high and in the future is looking towards providing its services on an international scale, where undertaking foreign projects will be its final goal. In order to achieve its goals and objectives the company also looks forward to a great amount of assistance and support from the government which includes assistance in the form of duty free facilities for construction materials and machinery, reducing of taxes and levies such as GST and withholding tax etc., in order for the construction industry to move forward and contribute positively towards the development of the country's economy.