Merchant Credit of Sri Lanka Limited (MCSL) is a finance company registered under the Finance Act and celebrated its 25th anniversary last month. During the last few years the MCSL has been experiencing a progressive growth rate, whilst being successful to win the trust and confidence of its customers. The MCSL is a subsidiary of the Bank of Ceylon and the Merchant Bank of Sri Lanka, which further endorses its credibility as a sound secure finance institution. The Sunday Times spoke to Mr. Janaka Ratnayake, Chairman of MCSL on the services MCSL offers and his views with regards to the current global financial crisis and its effects on the Sri Lankan economy.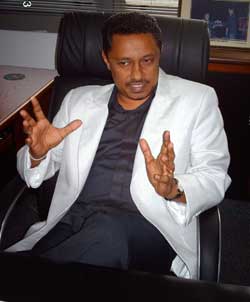 Mr. Janaka Ratnayake, Chairman of MCSL
"Presently we are experiencing a turbulent environment with regards to the banking, leasing and finance sectors, which has been initiated with the global financial crisis, and is evidently beyond our control. Despite the fact that we are experiencing a financial crisis on a global scale Sri Lanka has been resilient to a certain extent mainly due to the monetary policies that have been adopted by the Central Bank of Sri Lanka and also due to the fact that we are a small economy when compared to other global giants", says Mr. Ratnayake.
Due to the open economy in Sri Lanka, private businesses have the freedom to engage in any type of business activity. This however has opened the doors to certain unregulated organizations to take public deposits promising them high yields in return for their investments. Most often these organizations deposit this money in unprofitable business ventures and ultimately are unable to pay back their investors. Although the current financial crisis does not have a significant impact on Sri Lanka, some of the current incidents that have taken place in our country with regards to finance and banking institutions will definitely alter the trust and confidence the general public has towards the entire banking and finance industry.
The MCSL however despite these unfortunate events has held its ground and been able to weather the storm. Commenting on its financial breakthroughs Mr. Ratnayake said, "Even though the cost of funds has gone up we have been performing reasonably well. Our income for the year 2008 when compared with that of 2007 has increased almost by 10%. Last year our deposit base passed the 2 billion mark. Our Non Performing Loan (NPL) ratio has come down by 15% this year. We have experienced a slight impact into our bottom line due to the heavy financial cost that we incurred due to the extra paper hype as well as the increase in our minor employees salaries etc. Our top line, which includes the disbursements of the total granting of the company, has improved by 51% and our Fixed Deposits base has gone up by 21%."
MCSL has always been dealing in conventional financing instruments such as leasing, hire purchase, short term and long term financing loans and corporate lending. In the future the company is looking forward to enhancing its branch network. The company at present has branches operational in the areas of Kandy, Kurunegala, Horana and Matara has also opened up two new branches in the areas of Kiribathgoda and Wennappuwa. MCSL has a total of six branches operating presently and has plans on increasing its branch network to ten in the near future.
"We do not want to limit our services to that of fixed deposits alone but we are also considering to expanding our services to that of savings products and we will also be providing pawning facilities as well. We hope to introduce a new range of products with regards to savings in the near future. MCSL is also moving towards to getting approval for accepting foreign currency deposits for the benefit of our migrant workers employed overseas. In time to come we will also be focusing on the area of micro financing through which we hope to provide loan facilities to the small and medium industries in Sri Lanka, further stated Mr. Ratnayake."
According to Mr. Ratnayake it is not only the banking and financing institutions that have to adhere to guidelines but it is also a responsibility of the general public to be aware so as not to be mislead by organizations offering high rates of interest. Points to keep in mind when investing are the organizations stability, liquidity and profitability. With 25 years of experience in financing backed by the professionalism and expertise of the Bank of Ceylon and the Merchant Bank of Sri Lanka, MCSL offers customers stable and secure financing solutions that will guarantee smooth sailing even in the roughest of seas.