Weather helping Influenza virus to spread and survive
View(s):

By Kumudini Hettiarachchi  

Time will tell whether the slow and steady rise of influenza (flu) since January will plateau or peak to cause an epidemic.

This is why people need to take all precautions to prevent getting the flu, said Consultant Medical Virologist Dr. Jude Jayamaha of the Department of Virology, Medical Research Institute (MRI).

He said that the weather is helping the flu virus to spread and also survive. Currently it is Influenza type A that is predominant even though Influenza type B is also there to a certain extent. Although Influenza A's sub-type H1 was doing the rounds, it is now being overtaken by sub-type H3, which is also the trend in India.

Looking at the influenza viruses, Dr. Jayamaha said there is clear seasonality and they follow a bi-modal pattern in keeping with the monsoon – April-May-June and November-December-January-February, with a slight variation this way or that.

The symptoms of the flu are: Fever, cough, cold, sore throat and difficulty in breathing. Usually, like any viral disease, it is self-limiting with rest and good hydration.

However, Dr. Jayamaha cautioned that in certain risk groups there could be complications such as pneumonia. These vulnerable groups include the very young, the elderly, expectant mothers, those with immune-deficiencies and those with serious underlying medical conditions such as cancer.

Citing an example of four expectant mothers who came down with the flu, he said that they needed intensive care in a premier maternal hospital. This is why those in the vulnerable groups should seek medical advice early if they are hit by the flu.

Dr. Jayamaha also advised even youth who get the flu to rest a few days, taking it easy from their usual strenuous routines. People should refrain from taking aspirin if suspected to be having the flu, as there could be liver damage through a condition called Reye syndrome.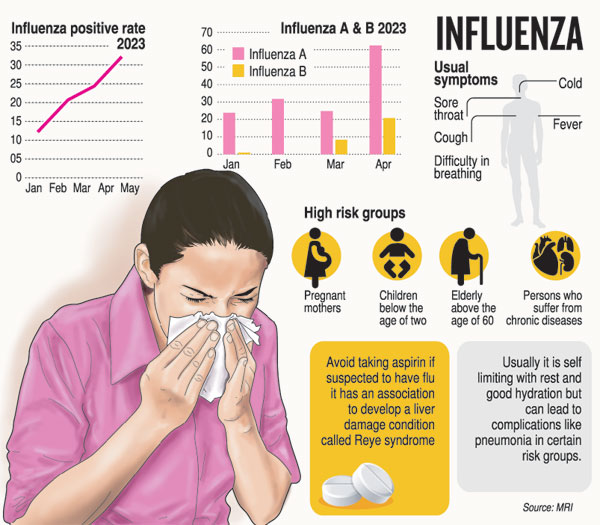 The best way to say that you found the home of your dreams is by finding it on Hitad.lk. We have listings for apartments for sale or rent in Sri Lanka, no matter what locale you're looking for! Whether you live in Colombo, Galle, Kandy, Matara, Jaffna and more - we've got them all!