Anxiety, depression part of our collective trauma in time of mental healthcare collapse
View(s):

By S Rubatheesan  

Over the past six months, both Jeyavathani* and her husband who are daily wage farm workers tried everything they knew to ensure stable relations among their family of five during the unprecedented economic crisis. First, a small savings deposit made of wedding gifts evaporated, and then they pawned some of the jewellery her mother had gifted.

Later, the couple borrowed from friends and continued to buy essential food for the family of three school-going children, from a nearby grocery store. When the schools reopened early this year, the expenses shot up and the family reached a tipping point.

"My husband suggested that we take a boat trip to Rameswaram, India considering the future of our children since he has some relatives living in refugee camps. I refused it every time and this led to arguments and unnecessary issues among us. I don't want my children to live like refugees as we did," Ms Jeyavathani, who started working in farms in Kanagambikakulam, Kilinochchi told the Sunday Times following intervention from a local women's welfare support group of which she is a member.

She is now labouring in paddy lands and peanut cultivations to make a living. "This work is seasonal and depends on availability. It is not stable income.''

In the wake of the economic collapse over 150 individuals from the North have crossed the Palk Straits seeking refuge. They are in temporary refugee camps run by the Tamil Nadu State government.

Like Ms Jeyavathani's family, more families across the island have been pushed into poverty.

Meanwhile, a medical university student based in Jaffna who is under medication for social anxiety recalled how he could not go out for weeks as he could not buy prescribed drug venlafaxine, an antidepressant to treat panic attacks and anxiety earlier this year. "I could not get the brand I have been using, therefore I had to get it from a relative visiting from abroad.''

On March 7, a whole family of four, including two children aged 9 and 3 years were found dead inside their home in Vavuniya. Preliminary Police investigations suggested that the family had been under severe financial stress.

These days, 1926 (the National Mental Health Helpline), offering free and confidential support by phone and text message service around the clock is receiving hundreds of calls daily from those seeking advice on anxiety, depression, grief, loneliness, self-harm, stress, or even suicidal thoughts.

"The helpline is receiving at least 300 to 600 calls per day from those who are seeking help but the number of people who turn up for in-person sessions in clinics is less," Dr Kapila Ranasinghe, President-elect, Sri Lanka College of Psychiatrists said this week on the alarming
numbers of people with mental health issues.

A weekly epidemiological report by the Epidemiology Unit of the Ministry of Health in January also warned of a significant increase in incidents related to cardiovascular diseases due to high levels of psychological stress and lack of affordability of healthcare services.

The report notes that "spending on health per person reduced significantly. Moreover, there has been a substantial reduction in Government commitment to public health''.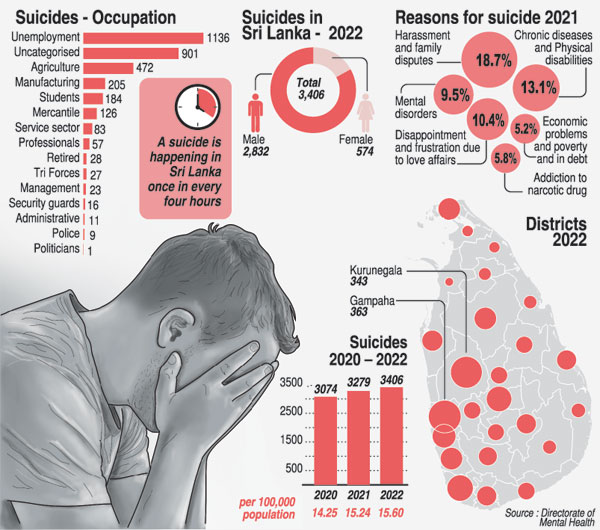 A previous weekly report stressed that even though an estimated 2% of the total population is suffering from mental health disorders, the exact prevalence of mental health issues among adolescents is not known.
The mental health and well-being of adolescents in the country were affected by the Easter Sunday attack in 2019 and the coronavirus disease pandemic, the report issued last August noted.
Following the rupee's devaluation against the US dollar last year, the skyrocketing cost of living, along with high inflation made it difficult for many patients to buy prescribed drugs from chemists. Patients are taking reduced strength doses of medicines, or they choose not to follow doctors' prescriptions.
The economic crisis is estimated to have doubled the poverty rate from 13.1% to 25 % and is projected to remain above 25% for the next few years due to the multiple risks to households' livelihoods, according to a World Bank update in April.
Dr Rumi Ruben, consultant psychiatrist at Karapitiya Teaching Hospital, Galle, observed that in addition to patients who are already struggling with pre-existing mental health illnesses, there is a rise in those seeking help. "Many lower-middle class families, particularly parents, are facing tensions for various reasons: financial stress, loan commitments, increasing educational expenses. The risk of developing psychological illness is high," Dr Ruben told the Sunday Times.
Pointing out the importance of providing psycho-social support to vulnerable groups, particularly children and the elderly, Dr Ruben said Government interventions are "not enough and there is a need to expand services" to protect their wellbeing.
With the economic crisis threatening healthcare delivery, particularly on the mental health front, non-governmental organisations and non-profits stepped up their operations to meet increasing demand.
Sri Lanka Sumithrayo, a volunteer-run suicide prevention support group is among them. They noticed an increase in the number of people reaching out in recent months.
Suranjani Wickramaratne, chairperson of Sri Lanka Sumithrayo, believes that the number of attempted suicides is on the rise. "The authorities record only suicides, they don't record attempted suicides. We do see a trend of increase in recent times," Ms Wickramaratne told the Sunday Times. The volunteer outfit runs two rural programmes in Panduwasnuwara and Lunugamwehera.
School children in particular have become the most vulnerable group because the pandemic kept them in their homes for over three years, followed by the economic crisis.
"Most children [have] got used to electronic devices. I don't think parents have significant control over the sites they go to. So, they have a device in which they could access anything," Ms Wickramaratne said while pointing out that without parental control, they would be more prone to suicide, or other perilous paths. "There may be groups who are willing to take advantage of them," she said.
Dil Piyaratna, a volunteer and head of outreach at Sri Lanka Sumithrayo also observed that among the significant numbers who reached out over the past year, many are struggling with domestic abuse, relationship difficulties, and financial stress. "Considering the impact the economic crisis has on the mental health of people, companies contacted us to assist their employees.''
Sri Lanka Medical Association (SLMA) expressed concerns about the impact on the mental health of citizens in the context of the weakened public health sector.
"If you look at road discipline, you can relate to the mental health state of people. They have become impatient, angry and argumentative," Dr Vinya Ariyaratne, president of SLMA told the Sunday Times. Dr Ariyaratne also warned of a potential increase in extreme forms of violence, particularly in households, a tendency for self-harm, and suicidal thoughts in the absence of adequate interventions. "I don't think that the Government is treating this as critical.'' The issue is often pushed aside over the dengue outbreak and the reemergence of the coronavirus.
(*Name changed to protect the identity.)
Hospital drugs shortage worsens people's agony

Sri Lankans who are not being given prescribed medicines by public
hospitals where there are no stocks, are having to spend heavily at private pharmacies.

In particular, those who are prescribed antidepressants are no longer able to afford medication from private pharmacies.

"Since there is an acute shortage of drugs in Government hospitals, especially in the periphery, patients are forced to purchase them from private pharmacies," a psychiatrist at a Northern base hospital said on the condition of anonymity, indicating that some patients take a reduced dose.

Citing experiences from previous economic crises in the world, a weekly report in January by the Epidemiology Unit of the Ministry stressed that economic "shocks endanger the health and health system performance by increasing people's need for healthcare and making it more difficult for them to access health care''.

The report also says that with the rising financial burden and fiscal pressure on the public, spending on health per person reduced significantly; and there has been a substantial reduction in Government commitment to public health.

"However, increased demand for publicly financed health services can be seen during these times due to the unaffordability of private health care. This leads to lower health system capacity, including planning, purchasing of medicines and equipment, and healthcare delivery. This would, in turn, lead to a higher burden of out-of-pocket expenditure on the public," the report adds.

A pharmacist in the private sector said most prescribed mental health-related drugs are available, but acknowledged that prices are high.
The best way to say that you found the home of your dreams is by finding it on Hitad.lk. We have listings for apartments for sale or rent in Sri Lanka, no matter what locale you're looking for! Whether you live in Colombo, Galle, Kandy, Matara, Jaffna and more - we've got them all!