Blasting away our marine life and marine tourism
View(s):
Calls for crackdown on unseen crime of dynamite and ammonium nitrate fishing before it's too late
By Namini Wijedasa

On May 8, Olivenzo Arnolda, an experienced Sri Lankan scuba diver and instructor, chaperoned British and Russian tourists to the Swami Rock diving site in Trincomalee for a morning of peaceful swimming.
It was between 11.30 and 12 a m. Four of them were underwater, exploring the rich marine life, when there was a loud boom. The video camera in Mr. Arnolda's hand shook at the impact. And his widely-circulated recording of the incident prompted public concern.
Rampant dynamiting
But the cause of the underwater blast, just over a kilometer from their dive site, is not new to divers or fishermen. It's been going on for decades. Alarmingly, it is now "rampant" and points to a thriving underground trade in explosives and to other illegal practices that the authorities have failed to halt.
Banned blast fishing, the use of dynamite and ammonium nitrate to shock shoals of fish to death, now occurs "nearly every day", according to Hans-George Kehse, a German dive operator and entrepreneur who runs a Board of Investment company in Sri Lanka.
This indiscriminate form of fishing not only decimates precious reefs and the marine ecology, it threatens lucrative dive tourism which is just picking up. The pressure from the explosions takes out everything from fish to juveniles, larvae, corals and spawn. It also harms dolphins. And it is endangering the many shipwrecks that are magnets to international high-paying dive tourists.
Mr. Arnolda says his guests were initially shaken and that, while he made light of it when undersea, he later explained to them what had happened. It was fortunate he hadn't selected a second dive site closer to where the explosives were dropped, he reflected.
Environmental destruction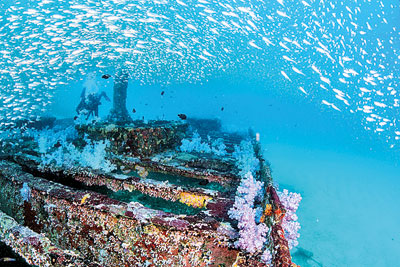 A majority of Mr Kehse's customers (he has businesses in the South and in the East) are foreigners who pay in foreign currency. He is concerned about the impact blast fishing will have on the environment and on his work. It happens in areas such as Nilaveli and Pulmoddai, Kalpitiya, Pasikuda, Mullaitivu and parts of the South.
"Depending on how deep the dynamite is put into the water, you can even see dead fishes on the beach," Mr Kehse said, including Moray eels stuck between the rocks. Small fish that swim among the reefs or wrecks are also killed by the shockwaves.
"I heard that, two weeks ago, towards Pulmoddai, they caught around 600 to 1,000 kilos of trevally," he reported. "We know that the bigger the catch, the higher their profit. But what they are doing means your children will not see anything in the water anymore. It destroys marine life, not for one year, but for 30 years. It has a very big effect."
The Pigeon Island National Park is one of two marine sanctuaries in the country. At US$ 40 per person, the entrance fee is steep. Blast fishers are in action even within or close to this area, Mr Kehse said. The explosions could harm the hearing of divers or cause a more severe accident.
"When I brought it up with the Department of Wildlife Conservation, they said they have no resources to combat this," he continued. "Personally, I think it's a big crime involving corruption. Everyone earns money from top down. That's why this works as a mafia."
Could destroy fledgling marine tourism efforts
Dharshana Jayawardena, underwater explorer, author and dive tour operator, first experienced blast fishing around 20 years ago in Nilaveli. "I thought one of my tanks had exploded," he said. "It was scary. Today, this practice has really intensified to the extent that it's done daily."
Mr Jayawardena is now part of a tourism steering committee and intends to highlight how Sri Lanka–with over 120 documented and scores more of undiscovered shipwrecks–is sitting on"US$ 200-300mn annual revenue in dive tourism". This country, he says, has more potential than Malaysia, Philippines, India, Maldives and Thailand, which already have huge indirect and direct dive tourism economies.
"None of them has as many shipwrecks as we do," he said. "We are perched on a tourism goldmine but we cannot exploit it if these wrecks are destroyed through blast fishing. And notwithstanding the wrecks, this is severely damaging the marine environment."
Blast fishing is lucrative and meticulously organised. On the ground, there is widespread local knowledge of who does it and how. For instance, Irakkandy in Trincomalee has a group of dynamite fishers. Mobile phone technology has greatly assisted the perpetrators.
Typically, a boat would go out and drop the dynamite into a shoal of fish. It causes a shockwave that ruptures the fishes' vital organs. They either float or drop to the seabed.
The first boat followed by one or more that scoop up the floating fish or carry divers who gather the dead fish from the seabed into bags. All this happens in quick succession. Even when a tip is given, it is difficult for the Navy or Coastguard to apprehend the dynamiters because they scoot off after setting of the explosion. In the event of arrests, the suspects are bailed out for "a measly sum".
Unseen crime
"Unfortunately, this crime doesn't reverberate because it's unseen, has no consequence to anyone and people don't seem to care," Mr. Jayawardena said.
Fishermen engaged in legal practices like line and net fishing don't like dynamite fishermen but are afraid to challenge them, multiple sources told the Sunday Times. That's because the latter were "like thugs". Comparatively, however, the wrongdoers were a much smaller group.
Local sources said blast fishing eased up "a lot" after the Easter bombings of 2019 because it was "the only time" the military took action on explosives owing to a terrorism scare.
Nishan Perera, marine biologist and Director of the Coral Reef Programme, said there was no quantitative information on blast fishing so he could not say how many episodes were recorded. "But I will confidently state that it continues and that, overall, much action hasn't been taken against it," he affirmed. "You can see the physical destruction of corals and reefs."
Dynamite fishing isn't the only destructive fishing method in Sri Lanka, Mr. Perera said, but it's the "single biggest contributory factor in coastal areas". It is worse in areas like Trincomalee and Mannar. And everyone knows it is happening. Periodically, arrests are carried out before it is forgotten about again.
Stop at the source
"The biggest issue is that everyone is focused on catching people in the act of dynamite fishing," Mr. Perera reflected. "That is very, very difficult. The ocean is a large place, there are thousands of boats and it's not feasible to be patrolling the sea for dynamite fishing." (Others said that, even if a boat was caught, they could evade arrest by dropping the explosives into the sea).
The answer was to stop the perpetrators for obtaining, transport, storing, etc., the explosives. While the popular narrative was that the dynamite came from quarries, the quantities point to a bigger trade. And it was illegal and dangerous for this to be going on so freely. Both the police and national intelligence must act.
"No fisherman should be in possession of explosives," Mr. Perera emphasised. "Even in quarries, they are meant to be tightly controlled and regulated. You can't just bring them and keep them in your house. How are they being smuggled out?"
It is not as complicated to be solved as people make it out to be," he pointed out. "It's not simple but there is a relatively easy solution that can achieve results. Everyone knows on the ground where the hotspots are."
The sources we spoke with all alleged that corruption was a factor–that "obviously, someone pays someone". And there is no coordinated institutionalised mechanism to stop the crime.
Arjan Rajasuriya, an International Union for Conservation of Nature marine scientist formerly attached to Sri Lanka's National Aquatic Resources Agency (NARA), also said it was difficult to quantify blast fishing as it was sometimes not done in coral reefs but in open water. Therefore, there was no way to measure the damage. Reefs and shipwrecks were popular sites because large shoals of fish aggregate therein.
At NARA, he was tasked with surveying coral reefs. While diving, he had heard blasts "many, many times, sometimes really close, like 300-400m away".
Calls for a crackdown
"Unfortunately, the way the authorities try to stop this practice is wrong," he said, echoing Mr. Perera. "They are trying to stop it at sea. That doesn't work. There are thousands of fishing boats and you don't know which one carries the dynamite. It is done in an organised way and there could be four or five other boats linked to it, although only one has the dynamite."
"Dynamite is stored, transported and traded on land," he continued. "Why don't we attack it on land?" Two well-known locations where dynamiters operate are Pallimunai and Parangakottu in Mannar, he said. There have been reports of explosives arriving from India, too.
"It's not all from quarries," he said. "It's an organised operation. With the amount of dynamite they have, the Navy must be more vigilant. Even if it is from quarries, the owners are not licensed to transfer their dynamite. The army was very efficient in stopping LTTE pistol gangs using their intelligence network. Why isn't the same machinery used in this situation?"
Many sources complained that there was "little to no support" from the Sri Lanka Tourism Development Authority (SLTDA) to eliminate a very real threat to marine tourism.
A marine tourism master plan
Priantha Fernando, SLTDA Chairman, said the complaint has been taken up with authorities even in the past. But it was not easy for the Authority to control as there were multiple agencies under whose purview the subject was.
"We have to rely on other line agencies and ministries to get things done," he said, adding that the Navy and Coast Conservation Department were also relevant.
However, the SLTDA is now working with the Asian Development Bank (ADB) on a marine tourism master plan for Sri Lanka. A consultant will arrive in this regard on June 2.
"This is one area we will focus on as we depend on underwater assets and cannot afford to lose what we have," he said. "There will be major consequences if they are ruined. A committee has been formed locally with experts. We will come up with guidelines." For those who have fought long battles against blast fishing, however, platitudes won't suffice. If action isn't taken, it will be too late.
The best way to say that you found the home of your dreams is by finding it on Hitad.lk. We have listings for apartments for sale or rent in Sri Lanka, no matter what locale you're looking for! Whether you live in Colombo, Galle, Kandy, Matara, Jaffna and more - we've got them all!