Uncertainty over power, polls campaigns hover over exams
View(s):

By Senuka Jayakody  

Exams authorities are to discuss with the District Secretariats about measures to limit election campaigning during the Advanced Level examinations which begin tomorrow.

Commissioner General of the Department of Examinations, Amith Jayasundara, said he had been informed that elections would not be held during the exams. He said he had specially requested that campaigning be limited.

The A/L examination 2022 (2023) will continue for 22 days until February 17, excluding Sundays and Government holidays.

Mr Jayasundara told a press conference that 278,196 school candidates will sit for the examinations, while 53,513 will be private candidates. There are 331,709 candidates in all.

He said discussions were held with the Sri Lanka Transport Board, and Department of Railways, as well as health authorities.

Despite the paper crisis, invigilators have been advised to provide students with enough paper to write as well as for making notes.

He requested people to be considerate and not hinder A/L candidates.

There have been positive responses on continuous power supply during the exams, he said.

Public Utilities Commission Chairman Janaka Ratnayake recommended to the Ceylon Electricity Board not to cut power during exams, as well as after 7pm.

However, Minister of Transport, Highways and Media Bandula Gunawardena, said at the weekly Cabinet decisions briefing on Tuesday that Rs 357 million per day and Rs 5 billion would be needed for providing continuous power supply.

This is after a "long discussion", with Minister of Power and Energy Kanchana Wijesekara, who had been requested by the Ministry of Education to ensure uninterrupted power.

Tuition classes for candidates were prohibited from midnight on Tuesday and school holidays were declared on Friday.

Secretary of the Sri Lanka National Principals Union, Mohan Parakrama Weerasinghe does not trust the Government to ensure uninterrupted power during the exams. "The rulers should be role models first. They spend money on security and transport, but expect different from the people. The people do not have trust in the Government as a whole,'' he said.

He said election campaigning will definitely be "an obstacle" for candidates. Local elections should not be postponed because of the exams, but "certain restrictions" should be imposed. "Students are ready for the exam. They were ready before the postponement, and they are ready now as well.''

Secretary of the Ceylon Teachers Union, Joseph Stalin, said he does not trust the Government to provide power to homes without interruption.

He said candidates are not adequately prepared, but, "forced to sit for the exam under pressure". A further postponement could worsen problems for them.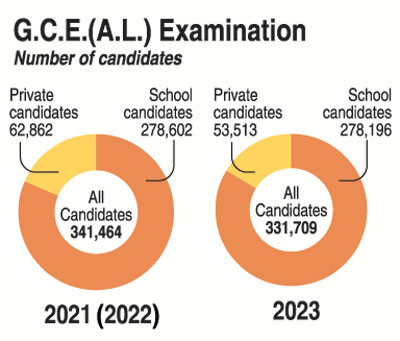 He said politicians should not disturb exam candidates. "Politicians do not have any ethics regarding election campaigning. During 2019 Advanced Levels, students in two schools in Anuradhapura were disturbed by election campaigning,'' Mr Stalin said.
President of the All Island Professional Lecturers Association, Ravindra Bandara believes the Government will not be able to ensure continuous power supply.
"There is no electricity for students to study for this important exam in the country,'' he said.
As for likely election campaigning, he said the Government is disorganised and not prepared. "This is a democratic country and elections are a part of the functioning process of the country. But, elections should be scheduled considering other matters.'' He also said that A/L candidates are ready for the exam.
The best way to say that you found the home of your dreams is by finding it on Hitad.lk. We have listings for apartments for sale or rent in Sri Lanka, no matter what locale you're looking for! Whether you live in Colombo, Galle, Kandy, Matara, Jaffna and more - we've got them all!