'Don't drink untested home remedies for dengue, as it leads to unwanted complications'
View(s):



Doctors decry gulping of papaya-leaf juice, jak water or monara-kudumbiya
By Kumudini Hettiarachchi 
Do not resort to so-called untested solutions to battle dengue, when infected by this mosquito-borne disease, as these could lead to unnecessary complications.
These were the strong words of caution from senior doctors treating dengue patients, as case numbers kept rising.
"Dengue is treatable and the most important thing is to seek medical advice and treatment from trusted hospitals," stressed senior Consultant Physician, Dr Ananda Wijewickrama who is attached to the National Institute of Infectious Diseases (NIID), Angoda.
Pointing out that all sorts of pseudo-treatments are being touted on social media, he said that one such is to boil young jak fruit whole and drink the liquid. Another is to swallow papaya-leaf juice. Such unwarranted action causes unwanted complications. These are not recommended even under the ayurvedic system.
"Come to hospital, if you have a high fever for more than two days, as it could be one of many illnesses doing the rounds now including dengue, Covid-19
and influenza," said Dr Wijewickrama.
Adding his voice to concerns about untested home remedies which could create serious issues and send patients into unnecessary complications, senior Consultant Physician, Dr Upul Dissanayake of the National Hospital of Sri Lanka (NHSL) said he had come across some patients who had been gulping down monara-kudumbiya kenda. People are going in search of monara-kudumbiya to far-off places, which is also unnecessary.
"We have observed in such patients who drink this type of stuff an 'artificial' increase in their platelets and white blood cells. This hinders our monitoring of the progression of illness through natural counts and would mislead us. Then doctors may inappropriately discharge these patients thinking that they are well on the path to recovery," said Dr Dissanayake, adding that such patients could easily descend into Dengue Haemorrhagic Fever (DHF) and even face death.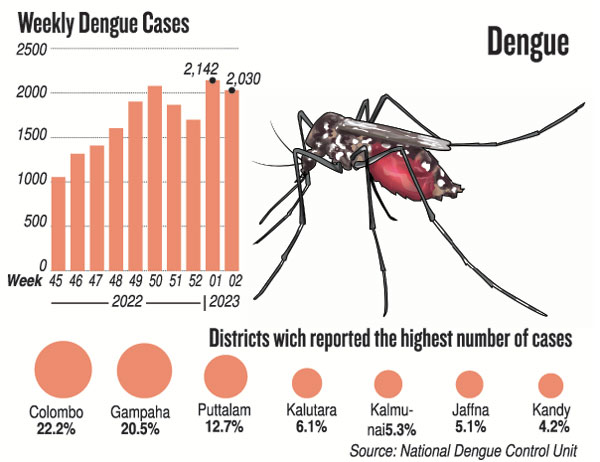 It's AH1N1 which is predominant now

With regard to the flu which is circulating now, Consultant Medical Virologist Dr Jude Jayamaha of the Department of Virology, Medical Research Institute (MRI) says the predominant strain is Influenza A and sub-type H1N1.

Pointing out that this sub-type has been in circulation since 2009, he said that in November last year, a large number of expectant mothers got affected by the flu.

In the past four weeks, the MRI has tested around 200 samples from across the country and some of them were positive for this sub-variant, it is learnt.

"We have reactivated the very sensitive surveillance that we carry out at Outpatient Departments (OPDs) of hospitals in such places as Kurunegala and Polonnaruwa. As such, we have a good idea of which viruses that cause respiratory illnesses are circulating in Sri Lanka," said Dr Jayamaha, explaining that even around the world, in cities like New York, what is peaking is Influenza A. At different times, it is either Influenza A or B which dominates.

Comparing the Covid-19 virus and the flu virus, he said that, unlike the Covid-19 virus, the flu virus is usually not highly mutable. It does mutate but not as rapidly as the Covid-19 virus.

Dr Jayamaha advised vulnerable groups such as the elderly and expectant mothers to seek medical advice if they are feeling unwell and fluish.

 
The best way to say that you found the home of your dreams is by finding it on Hitad.lk. We have listings for apartments for sale or rent in Sri Lanka, no matter what locale you're looking for! Whether you live in Colombo, Galle, Kandy, Matara, Jaffna and more - we've got them all!