Rice plant diseases likely to destroy 10 percent of Maha harvest
View(s):

By Yoshitha Perera


The Maha paddy harvest could drop by 10 percent due to the yellowing disease affecting rice plants, a senior official from the Department of Agriculture said.

The Ministry of Agriculture and the Department of Agriculture are now focusing on diseases affecting paddy cultivations, including the yellowing of plants, yellow spot disease, insect infestations, and nematode disease.

The Department of Agriculture has assigned staff from the Rice Research and Development Institute (RRDI) to each district.

"We have taken samples of soil and plants from different paddy lands across the country," said Rohana Thilakasiri, a paddy expert at the RRDI. The RRDI has identified a number of reasons for the yellowing of rice plants.

Nutrient deficiency is one big reason, Mr. Thilakasiri said. Due to the lack of triple super phosphate (TSP), or 'mud' fertiliser, and muriate of potash (MOP), there is a significant reduction in the harvest this season, he said.

Chemical fertilisers such as TSP, urea, and MOP were not applied properly to the fields over the past three cultivation seasons. As a result, the amount of nitrogen, phosphorus, and potassium in the soil is low. This nutrient deficiency has caused rice plants to turn yellow.  The total volume of MOP sold by Commercial Fertiliser Company and Ceylon Fertiliser Company is only 1,800 metric tonnes, according to Department of Agriculture data.

The department had recommended applying 70 percent chemical fertilisers and 30 percent organic fertilisers for paddy cultivation in this Maha season. But some farmers have neglected this recommendation, the department said. The root-knot nematodes, or roundworms, have also been identified as one of the main reasons for the yellowing disease. The nematodes swell within roots, causing the root cortex to split.

Root damage caused by nematodes can make rice plants more susceptible to secondary infections. Infection results in stunted, deformed, and necrotic root systems, with potentially high yield loss.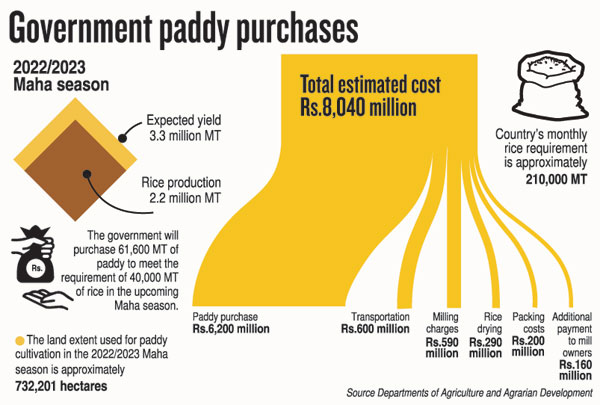 "What the nematodes do is get to the root of the plant and block the uptake of fertilisers and nutrients by the roots. As a result, there has been a nutrient deficiency in the plant," Mr. Thilakasiri said.
According to the RRDI observations, only about 10% of the total yellowing disease is caused by the nematodes, he said. Mr. Thilakasiri also identified the yellowing of plants as a result of the increased amount of dust particles from air pollution reaching Sri Lanka from India, as well as the extreme cold resulting from the recent cyclone.
"Crops planted after November 15 have mostly turned yellow. The effect of bad weather, a drop in temperature, and natural light have all had an impact," he said.
H.M. Kumari, the secretary of the Number 09 Farmers Association, Melsiripura, Kurunegala, has sown nearly five acres of paddy in the Maha season. However, the yellowing disease has now affected an acre of land.
"Agrarian officers did not come to inspect our crop. I spent Rs. 10,000 per acre and this time I have got only urea. MOP and TSP are really costly, so we couldn't apply them to the entire land,'' she said.
According to Department of Agriculture statistics, the Kurunegala District needed 3,200 MT of MOP but only about 1,600 MT were provided to farmers. Only 160 farmers had bought MOP. The department said that in the district alone, not even 5 percent of the total requirement of MOP had been met.
Palugama, Melsiripura farmer R M Ranasinghe, said input costs have increased.
"We had to spend nearly Rs. 25,000 an acre for harvesting and more than Rs. 45,000 for fertiliser. Paddy prices have come down. Now we give a kilo of paddy for Rs.80, or Rs 85," he said.
The best way to say that you found the home of your dreams is by finding it on Hitad.lk. We have listings for apartments for sale or rent in Sri Lanka, no matter what locale you're looking for! Whether you live in Colombo, Galle, Kandy, Matara, Jaffna and more - we've got them all!