Study Engineering at Kyoto University of Advanced Science in Japan
View(s):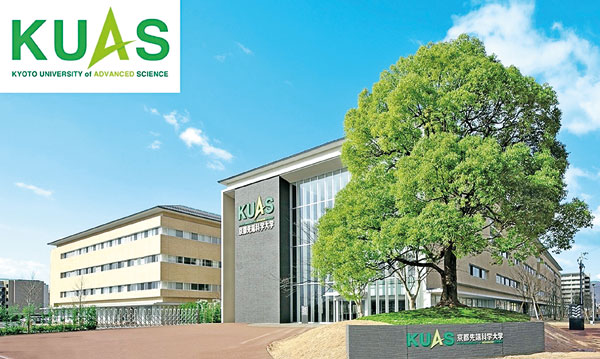 Kyoto University of Advanced Science (KUAS) is an accredited private university located in Kyoto, Japan, one of the most technology-driven country. KUAS is offering an innovative Engineering programme in English language to meet the global demand for street-smart engineers. KUAS ensures that all its graduates will be ready for career opportunities not only in Japan but also internationally.
Does KUAS offer scholarships?
KUAS is offering various scholarship programmes for international students ranging from 30% to a 100% full scholarship (KUAS-E scholarship). KUAS also offers 100% full scholarship with living allowance for students with outstanding performance (Super KUAS-E Scholarship). This enables international students to obtain quality education in Japan with minimum worry of affordability. We are proud to announce the awarding of 10 scholarships to our very own Sri Lankan students for the programmes starting in 2021 September as follows.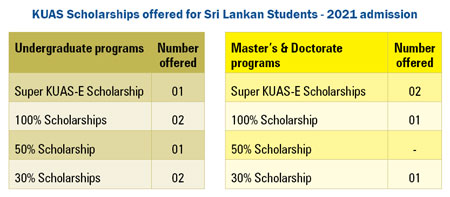 Can the student work in Japan upon graduation?
KUAS offers multidisciplinary engineering classes, team-based project works and capstone programmes that uniquely prepare students to be successful in real world industry. It is to solve real problems and engineering issues proposed by more than 50 partner companies in Japan. KUAS's aim is for the students to have the smoothest transition possible upon graduation to work at world-renowned companies and institutions in Japan and beyond.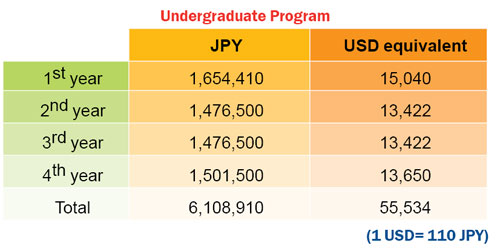 What are the facilities available in KUAS?
KUAS is equipped with the workshops and laboratories with state-of-art machineries and equipment, including thermal desorption analyzer, CNC machines, wire EDM machine, fiber laser cutters, 3D printers, for examples.
The newly established furnished and comfortable dormitories await the first-year undergraduate students enrolling to KUAS! Don't worry about the meals. You will be provided breakfast and dinner at the dorm.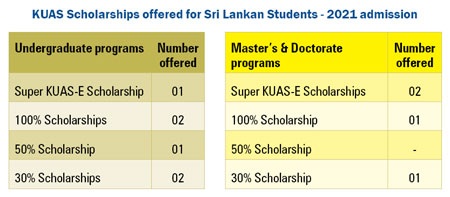 What are the main subjects KUAS offers?
KUAS's professors come from different parts of the world bringing along with them the very best in their fields. Their specialties are, robotics, mechanical, electrical, mechatronics, material, and computer engineering, for example.  Under their guidance and mentoring you will engage in research and learning with an experience that will last a lifetime!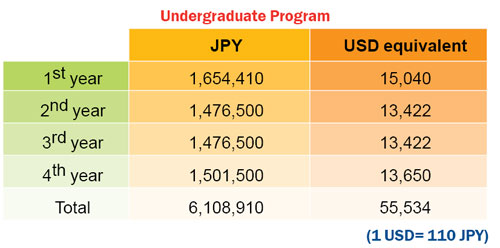 What is the standard procedure for visa application?
KUAS will apply a COE (Certificate of Eligibility) to the Japanese Immigration on behalf of the students once they are selected and confirmed the offer.
The applicants will have to submit all necessary documents to KUAS, including academic related certificates, and documents to show affordability of the tuition fees and living expenses in Japan. KUAS will issue a certificate of scholarship if any.  Once the COE is issued and sent to the applicants, they will submit it to the visa centre in Colombo for obtaining a visa.
How much will the tuition fees of KUAS?
As shown below, tuition fees of KUAS is less expensive compared with most of the engineering faculties of the universities in England, Australia and US.
Living expenses, including accommodation, food, and personal expenses for a student in Japan would be around USD1,000 per month for example. Students can engage in part-time jobs up to 28 hours per week.
Is the university conducting classes and functioning physically? Will students be able to go to Japan to commence the program?
Yes, as of now, Japan is one of the few countries in the world accepting international students for entering the country. KUAS is conducting classes at their campus with precautionary measures. You would be surprised to find robots in the corridors doing their jobs of sanitizing the university premises to keep the students safe!
One of our students of 2020 intake is safe and happy in KUAS and pursuing his masters studies in the university. We expect that things will stay the same, and Sri Lankan students will go to Japan to commence their study program for the next intake as well!
Can I know more details?
Please feel free to contact KMC Lanka Education Service for more details. We are the official representative of KUAS and providing assistance to Sri Lankan students free of charge.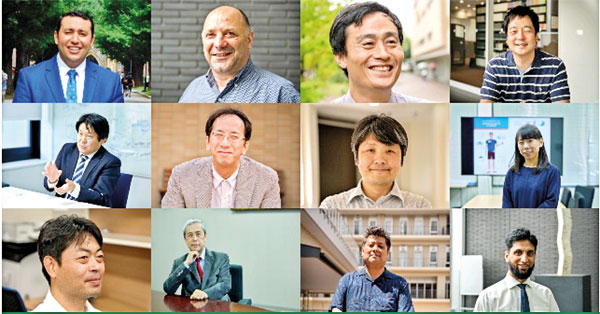 Please Contact:
Tel: 077 9800 344
E-mail: education@kmclanka.jpn.com
Professors of KUAS
Faculty of Engineering
Machine workshop
Electronic Workshop