REC Campus offers the lowest fee for foreign medical degrees in Sri Lanka
View(s):

It is no secret that the majority of the parents waited for the A/L cut off marks of the eligibility of studying Medicine in a Sri Lankan government university. A gap of a single mark can fade the dream of becoming a medical practitioner and if not the only option available is entering a foreign medical university. In this situation, if the parents are not acknowledged the correct facts and information, the child's future will be a failure as many profit oriented education agents prevail in the foreign education industry in Sri Lanka.

Hereby is an extract of the discussion held with a representative of REC Campus which is the pioneer in foreign medical education in Sri Lanka with more than 25 years of excellent service.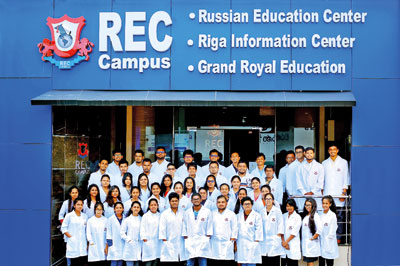 Q: How long has REC Campus been serving the nation?
It has already been 25 years.
Q: Then a large number of graduates must have been produced?
Yes. I am happy to announce that thousands of graduates currently work as medical practitioners in Sri Lanka as well as in other countries such as Australia, USA and UK. REC proudly mentions that more than 1000 students currently studying in representing universities and REC is the only place that recruits the majority of
Sri Lankan students.
Q: Why many students register with REC?
The word of mouth has become the main component of student recruitment as 25 years of service has created a strong network of passed out graduates, parents and students. The main reason behind getting the majority of students can be identified as the excellent service, lower cost and the recognition of the representative universities.
Q: What is the minimum requirement to study Medicine?
2 credit passes and 1 simple pass from Bio Science stream is the minimum requirement and we expect students to get higher marks than that and we give special offers for the best performers.
Q: How can a student select a university?
It is a good question. We are the representative for many state medical universities which are recognised by WHO, SLMC and other medical bodies. It is vital to select a university according to the affordability of the parents.
 Q: Is it true to believe that a higher cost gives a higher quality education and a lower cost gives a low quality education?
The best factor is to consider the ERPM passing rate and if it is higher, then it is the component which shows the quality of the education in the university. And the other ailment is the current position of the passed out graduates and their success of being medical professionals worldwide such as scientists, consultants, surgeons, professors and doctors and therefore, it is not believed that the notion of higher cost always gives higher quality.
Q: Can the students gain working opportunities in other countries such as USA, UK and Australia?
Definitely yes.  REC guides students to face PLAB (UK), USMLE (USA) and AMC (Australia) which becomes the main platform of entering the countries as professionals.
Q: Is there a duration of time to register in a foreign university?
The intakes are September and February so students have to register before 3 months prior the intake. Due to COVID 19 pandemic, still there is a limited number of opportunities to enroll for this year 2021.
Q: Why students should register prior 3 months?
It is highly recommended to register early as possible to grant the special offers and fringe benefits given by REC Campus and the universities.
Q: What are the offers given to the registered students?
Special Scholarship offers are provided for the students who performed significantly well in A/L exams. Special gifts are offered to motivate the students and registered students can join the FREE Pre medical and Language programme conducted by REC, that enables and prepares the students for foreign medical education.
Q: How long do you conduct the Free Pre medical and language programme?
From the date of registration till the departure.
Q: How is the guarantee assured for students' security?
The REC Campus branch in representative countries assist our students 24/7 and ensure the students have a conducive studying and living atmosphere in the university.
Q: Does REC offer any benefits for the registered students for this intake?
yes. Students will receive a remarkable discount if register before 22nd of November 2021. Students who are willing to get this offer for February intake 2022 can now call the hotline 0711-101010 and reserve the seat.
Q: Some social media platforms highlighted that foreign education providers charge a higher price so what is the real situation behind this?
That is a good question. There are many profit oriented institutions in
Sri Lanka that charges higher fee and parents should be acknowledged by the real situation without getting misled and after comparing each place, a correct decision can be taken considering the history, affordability, given services, student network of that educational provider. REC is the only foreign medical education provider in Sri Lanka which provides foreign medical education for the lowest fee in Sri Lanka. The negative marketing campaigns can be published by anyone saying various things but parents should wisely consider the real facts without any quick judgements.
Q: What is the message you have to give for A/L students?
We advise students to study hard and try to enter medical faculty in Sri Lankan government universities and if anyone is interested to study abroad we welcome all the students to be a part of REC family which is an educational institution that enables you to gain foreign education in different study areas in different countries and make your higher education dream a reality.