Mexico's Epidemic of Femicide: A Wake Up Call for Enhanced Litigation Protecting Women
View(s):

Approximately 12 women are murdered each day in Mexico.

Gender-based violence against women has been a phenomenon prevalent in the country for years – more often than not, by brutal means of drowning, suffocating, strangling, and hanging. In addition to this, the onset of national lockdowns amidst the COVID-19 pandemic has driven surges in domestic violence cases.

Between 2015 and 2020, femicide rates in the country surged by an appalling 145%.

The situation is hard to even read about. But whilst women in Mexico, subject to gender-based hate crimes, endure the unspeakable — effective litigation measures remain unseen. In fact, in 2018, 93% of femicide cases went unreported and uninvestigated – a product of longstanding systemic impunity. Other cases, though reported, are generally not followed through to completion. A lack of perceiving perpetrators of gender-based hate crimes as reprehensible through the eyes of Mexico's justice system is a key factor enabling malefactors of femicide to evade consequences and roam free. The severity of femicide is downplayed by the absence of sufficient legal action against it.

For instance, Valeria Jimenez Murillo, a young woman aged 24, experienced ruthless assault, then was shot and killed in Mexico in June 2019.

Valeria's mother, Norma Murillo, feared her daughter's killer would not be sentenced deservingly. She gave a statement in accordance with the lenient retributions placed on perpetrators of femicide: "We need tougher penalties. You kill a woman here and nothing happens."

In the meantime, women in Mexico made it clear that change is long overdue.

"The Day of the Dead" on November 2nd 2020, a Mexican celebration in remembrance of loved ones who have passed away, gave way to a women's march the following day, against violence that targets Mexico's female population demographic.

November 3rd saw "The Day of the Dead Women."

The streets of Mexico City were scattered with purple crosses, each engraved with the name of a victim of gender-based violence. Large posters displayed demands for justice and photographs of those missing and murdered. International media was captivated by the event, gaining the march global attention.

It was truly a sight to behold. It was solidarity against a common enemy.

The march was coordinated by "Voices of Absence", a movement led by Frida Guerrera, an activist and journalist with a hunger to shed light on women's issues in Mexico and investigate cases of femicide herself.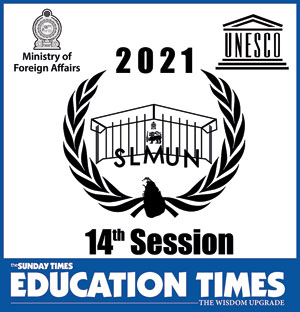 Moreover, Security Minister Rosa Icela Rodriguez recently stated that 73 government-sponsored women's justice centres have been established across the country, with the aim of enhancing the legal protection of women as well as emphasising accountability and adequate penalties for perpetrators of crimes against women.
The ineffectiveness of litigation creates an atmosphere of impunity that only sets a precedent for further femicide. The fight against gender-based violence is one that can be carried out on multiple levels, including grass root activism. But with ample tangible measures taken by the Mexican government to eradicate impunity for brutal crimes, investigate cases of femicide further, and set policies safeguarding the welfare of the country's girls and women into stone – gender-based hate crimes against women and femicide rates will hopefully undergo rapid decline.
Session XIV of SLMUN will be held on the 22nd and 23rd of January 2022 at the Bandaranaike Memorial International Conference Hall (BMICH), Colombo, Sri Lanka. Registrations for delegates, admins and IPC delegates are now open until the 30th November 2021.
- By Malaika Sequeira (News and Media Team 2021)
For further details, head on over to our website on www.slmun.org , or please contact us via:
Email – cda@slmun.org /
pr@slmun.org
Telephone – +94 71 801 3722 /
+94 71 444 9694 / +94 76 898 9763