AOD & Making of the 21st Century Designer
Join AODs New Design Movement after A/L or O/L
View(s):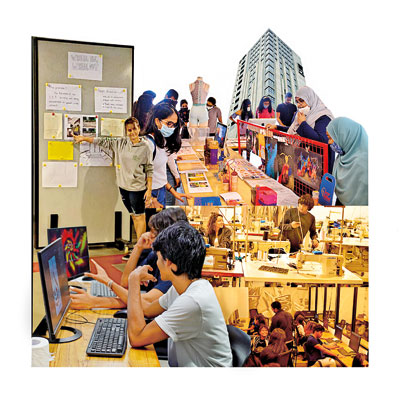 Design has come to be synonymous with the visual arts and aesthetics. The term is often assumed to be constricted to fashion or interiors, and even within those disciples narrowed down to merely garment design or home furnishing.
While yes, design does base its foundations on the principles of art and beauty, the act of designing has evolved over the years into a more strategic one; working closer with diverse stakeholders to create solutions for business and community challenges.
With every passing year, the world is changing at a faster pace, and designers now find themselves playing an increasingly larger role in not only designing solutions, but also impacting decisions that affect organisations, societal, and even national policies. So, as new challenges emerge, systems of design education have to keep up with the new demands of the 21st century.
So what does it take to harness local creative talent and shape them into the next generation of world-class designers as change makers? Those radical creative thinkers with a passion to utilize their capacity to influence the direction of our collective future?
The Academy of Design with innovation at its core, aims to disrupt the traditional design educational model with one always with its sights set on the future. As Sri Lanka's pioneering design institution, AOD is no stranger to change, but embraces challenges in favour of progression. The university's ground-breaking interdisciplinary approach to education converges design thinking, business know-how, and technological expertise, to produce intelligent creatives coveted by some of the leading brands in the industry.
International partnerships
A decade ago, AOD became the first campus in Sri Lanka to award completely internal design degrees from an internationally-ranked British university.
All of AOD's undergraduate programmes -BA (Hons) Design degrees in Fashion & Textile Design, Fashion Design & Marketing, Graphics & Visual Communication Design, Motion Graphics and Animation Design and Interior Design are affiliated with the UK's Northumbria University, the syllabus for each set and overseen by the prestigious and globally-recognised educational institution. With an international faculty validated by Northumbria UK and assessments directly by the university, this powerful collaboration secures for its students an award-winning international curriculum, teaching excellence, and quality standards, all from the AOD campus right here in Sri Lanka.
In line with the design school's vision of securing for its students a superior international curriculum, AOD's graduate programmes too are designed in partnership with another leading British university in the field of art and design. Students enrolled in an MA in Design Innovation, Design Management and Entrepreneurship, or Contour Fashion Innovation programme will be given the opportunity to learn from De Montfort University (DMU), which will offer a distinctive combination of outstanding academic research and teaching, innovative programmes, traditional values and social and cultural diversity – with the comfort and security of being closer to home.
Faculty
Behind every successful creative, is an inspiring educator. AOD takes pride in their diverse global faculty, with professional experience ranging from a fascinating array of design fields and disciples. Be it full-time, visiting, or adjunct lecturers, each is uniquely placed –but equally driven- to provide exemplary academic and developmental advisory when it comes to helping students harness their own individual brand of design to further their development as thinkers and creators. As accomplished designers, architects, entrepreneurs, and academics, AOD's faculty collectively nurture and continually stimulate the university's culture of design innovation, while showing immense dedication to teaching and mentoring their students.
Location, Facilities & Infrastructure
A contemporary design institution's student body requires the constant presence of inspiration and creative stimulation in order to function consistently at its peak. Strategically located at the Colombo Innovation Tower (CIT), AOD's students get to study at the beating heart of South Asia's design epicentre; a creative incubator giving the exclusive opportunity to bump shoulders with a cross-disciplinary mix of brands, industry luminaries, exciting startups, and veteran educators – all being brought together to create a community of international and local professionals looking at cross-industry collaborations.
Additionally, aside from housing the largest design library in the country, AOD boasts state-of-the-art learning facilities including fully equipped design studios, digital laboratories, fashion making and styling studios, and screen printing facilities.
Industry Collaborations
To produce professionally skilled designers of the future who are able to challenge conventions and develop innovative approaches to tackling contemporary design challenges, creative aspirants need more than merely an academic education.  As part of the Design Corp Group of Companies –the largest business ecosystem in Sri Lanka focused on design-led innovation- AOD is able to provide its students with unique exposure to the creative industry and its leaders -be it through immersive workshops, access to guest lecturers, site visits, etc. – and also opportunities for recognition and future employment opportunities.
Events & Platforms
To propel talent into the limelight they deserve, design institutions need platforms. Over the years, AOD has extended its patronage for prestigious showcases on the design event calendar, such as the Mercedes Benz Fashion Week, Design Katha, Reveal, and the Sri Lanka Design Forum, and has forged collaborations with designer brands and retail businesses Fashion Market LK and Urban Island.
The good news is that more and more industries are starting to understand the importance of good design. Cohesive design approach, with the cutting-edge facilities of the academy's exceptional educational model has positioned students at the gates of some of most prestigious universities and firms.  Where students are.
Students graduate with not just with a Bachelor of Arts degree but also a deep disciplinary knowledge, strong critical thinking skills, and the agility to problem-solve across a wide range of fields.
AOD invites Sri Lanka's young design aspirants who have just completed their O/Ls and A/Ls to learn more about the Design Foundation and Degree programmes offered at the university, and of how an immersive UK-accredited degree can open up endless doors of opportunities.
For more information and registrations call 077 572 7772, follow us on Instagram @aod_design or hit AOD.LK