ANC Education Successfully Conducted Webinars on Post Pandemic Opportunities in Sri Lanka and Psychological effects of the Pandemic on Children, Teenagers and Young Adults
View(s):

Timely and relevant conversations play an important role in enlightening and educating people of all ages. In line with the current climate of a post pandemic, ANC Education hosted two webinars with an eminent panel of speakers who shared their knowledge and insightful perspectives, and shed light on pressing concerns on the topics: Post Pandemic Opportunities in Sri Lanka; and Parenting in the pandemic – Psychological Effects of the Pandemic on Children, Teenagers & Young Adults. It attracted a large audience of youngsters, professionals, entrepreneurs, young mothers and students from across the island who were eager to listen and engage during the live webinar discussion.

Dr. Indrajit Coomaraswamy, former Governor of the Central Bank of Sri Lanka in conversation with Savithri Rodrigo (moderator) spoke on avenues for young people in terms of growth and opportunities in a post pandemic Sri Lanka, and what advantages we have in Sri Lanka compared to other countries.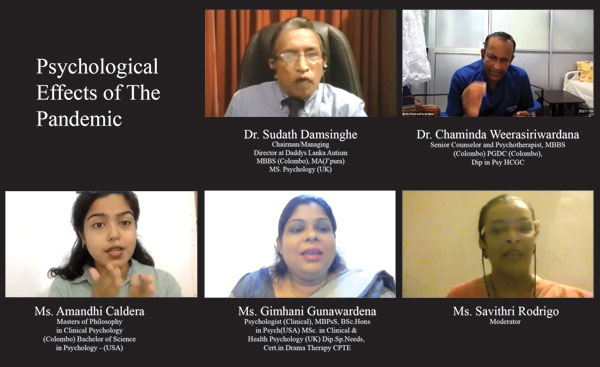 While the present economic crisis is serious and severe, he stated that there are options to get through it, and that we will come out of it, and the strengths and opportunities such as our strategic location in Asia, our neighboring countries India  and China with the fastest growing economies in the world offer numerous opportunities that we can capitalise on.
He touched on how young people need to get themselves equipped and upskilled for the age of digitalisation, AI and IoT where a lot of opportunities exist are transforming sectors even the agricultural sector. And with technology accelerating exponentially the world will be a different place in 10 years; young people need to gear up to the new economy being created around the world and they need to create it in Sri Lanka.
The panelists for the webinar on Parenting in the pandemic consisted of a list of eminent speakers in the industry who have expert knowledge in the field of Psychology; Chairman/ Managing Director at Daddys Lanka Autism Dr. Sudath Damsinghe, Senior Counselor and Psychotherapist Dr. Chaminda Weerasiriwardana, Psychologist and Founder of Miracle Minds Ms. Gimhani Gunawardena and Psychologist and lecturer Ms. Amandhi Caldera.
The discussion addressed the important role mental health plays in our lives and how the best way to deal with effects of the pandemic is to establish structure and clear routine for children. Having daily activities and setting daily targets provide a comfortable and secure feeling for both parents, children and young adults.  Teaching your kids to set their own boundaries is important. Parents have to balance the use of devices and screen time by setting time limits and being role models themselves, like no phones during dinner time. Control over cyber bullying and restricting use of social media means being knowledgeable about the devices and technology kids are using.
Moreover, how to handle kids is by developing a good relationship with your kids. Better connection with children is essential to build trust and develop better communication channels as without good communication 70% of what you communicate in your message will be lost. With schools reopening it is important to discuss with your kids the transitioning part from online school to physically going back to school. Both teachers and parents have to be alert, observe and monitor their children's behaviors until they get fully adjusted back into the school system.
ANC Education will be sharing the recorded version of the webinars on our social media platforms for youngsters and adults to take advantage of this opportunity and gain valuable learnings from this educational session and in-depth knowledge and information to improve one's life for the future.
ANC offers the full spectrum of educational programmes from HND to Undergraduate and Postgraduate education and transfer pathways to U.S, Canada, UK and Australia. ANC School of Postgraduate Education offers the General MBA, MBA for CIMA/ACCA/CA, MSc in Clinical and Health Psychology and LLM in Business and Commercial Law. 
For more information call
077-395-7070 to book a counseling session online. Or visit www.ancedu.com or follow us on Facebook:
https://www.facebook.com/ANCpostgraduate/and
"ANC_Education" on Instagram.