View(s):

"Education Meeting Knowledge Economy- 21st Century Expectation" is the most recent book published by Dr. Upali Sedere, who is a renowned scholar and educator with extensive national and international experience. As always, Dr. Sedere offers innovative and critical thinking in relation to education and development educational systems, and it's a pleasure to review his work, especially since this book advocates "authentic instruction, learning and assessment", a concept close to my heart.

The principal goal of education is to create men who are capable of doing new things, not simply repeating what other generations have done – men who are creative, inventive and discoverers.

This noteworthy quote from Jean Piaget, highlighted at the beginning of the book, provides a meaningful base to discuss the contents of this book, especially, in the context of educational demands of the 21st century.

The much-used term "21st Century Learning Skills" often raises the concern, aren't' these human capacities (such as critical thinking, collaborative, creative and communication skills…etc.) have always been there…? Of course, these are not "new" skills, and we all are well-aware of it. Yet, a critical re-examination of such skills in terms of their transferability to the contemporary "world of work", signifies the need for a strategic approach to develop and assess such transferable skills in learners, to meet the demands of the 21st century.

This book explores these issues with an in-depth presentation of content in thirteen chapters organized under three main parts – "Understanding the Change", "Taxonomies of Educational Objectives & Classification of Skills", and "Reforming Education to meet the knowledge economy and the 21st century expectations".

The changing nature of knowledge required for a knowledge economy in the 21st century is the focus of Part 1. A critical examination of various forms of knowledge including tacit/ implicit/ and explicit knowledge, and different types of thinking such as convergent/ divergent/ lateral/ critical/ and creative thinking, as well as their relationships, provide important implications for 'human capital development' in a knowledge economy. This means developing individuals with knowledge and employable skills, who are also innovative and creative, resulting in a workforce with heterogenous skills.

In an attempt to understand the changes in the expected learning outcomes to meet the demands of the 21st century and knowledge economy, the author identifies some essential constructs for validation of learning outcomes in terms of changing nature of knowledge, knowledge economy, and 21st century learning skills, based on numerous views, guiding principles, frameworks, and classifications. His main argument is that, the expected changing learning outcomes of the 21st century in meeting the knowledge economy are not being met, due to the unchanging conventional teaching models of the 20th century, continuously being adopted in the formal education systems, and this requires a drastic change.

The revolutionary changes that have happened during the past few decades in the nature of knowledge and its utilization has resulted in the "Knowledge Economy" – an economy in which growth is dependent on the quantity, quality, and accessibility of the information available, rather than the means of production, which has a greater reliance on intellectual capital rather than physical inputs. For instance, the rapid technological advancements, or the "digital revolution", requires specific sets of competencies for efficiency in the workforce performances. In this scenario, the role of education becomes vital in developing the human capacities and preparing individuals to meet the challenging requirements of the current workforce. However, the critical question remains, whether, and to what extent, our education systems have changed to cater to these demands.

Dr. Sedere attempts to uncover this, through a comprehensive review of a wide variety of taxonomies of educational objectives presented over the years, in Part II of his book. The strengths, as well as shortfalls of these diverse taxonomies to meet the challenges in the development of 'transferable skills' raises the issue, whether these are adequate to enhance the human capital for performance in a knowledge economy. As a solution, a practical model for a 'Skills-based Classification System' is proposed by the author, integrating cognitive, emotional and performance dimensions in the learner.

His perspective offers us an alternative, yet a critical lens, to look at the current discourses, discussions and debates in educational reforms. While there is a general understanding and agreement that learners need competency development in all these areas, often they are being considered in a compartmentalized manner, rather than holistically. A shared arrangement of such performance skills will enhance the development of Generic Skills which are transferable across the domains, regardless of content. Such a "skills-oriented" nature will facilitate knowledge to be transferred to skills required to meet the human capital demand of the knowledge economy.

Highlighting the fact that formal educational systems remain heavily exam-oriented, stereotyped and teacher-dominated with very little diversity, flexibility and authenticity in the instructional systems, the author argues that,

Unless instructional and assessment system is performance-oriented and authenticated, formal school learning will fail to produce the type of human capital for the knowledge economy and the 21st century demands (p. 206).

Authentic Learning, is all about creating meaningful learning experiences for the learners. This essentially requires a major shift from the heavily content-centric instructional approaches to a more context-centric and real life, practice-based approaches. Such a shift requires, facilitating gradual changes in thinking and practices of both teachers and learners. Designing authentic learning experiences including authentic instruction, learning and assessment, is a creative process which needs careful thinking and planning. It has been clearly demonstrated that authentic learning enhances developing generic skills for the 21st century. Based on our own experiences in adopting innovative authentic learning approaches such as "Scenario-based learning" being implemented at the Faculty of Education at the Open University of Sri Lanka over a decade and a half, I am very confident about the possibilities and their effectiveness in real-life competency development of individuals.

However, converting a conventional curriculum to an authentic instructional and assessment system is a very challenging task. The author has met this challenge by proposing a comprehensive "Skills-Oriented Thematic Authentic Curriculum", in the Part III of the book. This is a notable deviation from the familiar, and conventional "Subject-based Curriculum" implemented in formal education systems. The major features of the proposed SOAT curriculum are: Skills-oriented learning outcomes; Authenticated learning, instructional and assessment system; and Theme-based learning at Macro and Micro levels.

According to the author, this novel framework provides the learners with a greater flexibility and variety in learning which is "skills-oriented", thus facilitating knowledge to be transferred to skills required to meet the human capital demand of the current knowledge economy.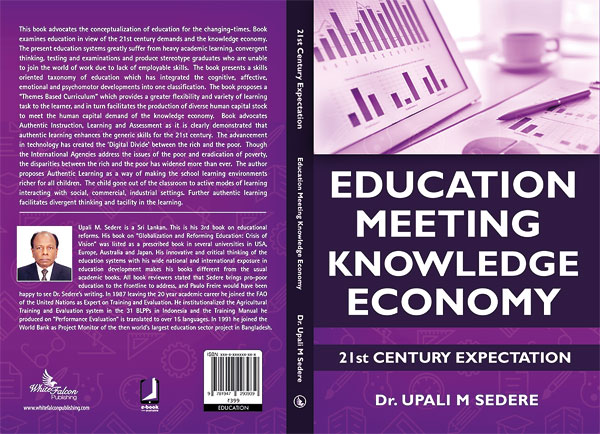 But the challenge in convincing and upskilling teachers and academic staff is not only getting on with this task as the author suggests, but believing in it! Are we up to it yet, I wonder…? We do have small improvements, or "pockets of innovations" being reported, such as the example I mentioned about "Scenario-based learning" at the Faculty of Education. But these, by no means are widespread. Why is it not? Is it because we are unconvinced? Or is it too hard? Or we do not know how to?
The author further elaborates that,
Educational reforms need to concentrate more on the learning environment and mindset of the learner to leave room for self-learning, room for exploring, space for experiencing, liberty to roam with ideas, accept tacit and implicit knowledge than fixed answers. This can be done only through the change of the instructional and assessment system. Making it more and more authentic, opposed to the conventional (p.208).
This implies the significant role of teachers in making such a difference, or a 'change', as a 'change agent'. And the same sort of a skills-set and a mind-set would be required from the teachers as well, which would be even a bigger challenge to address!
One may also wonder, haven't all these issues been discussed and addressed in the various educational reforms that have taken place over several decades in our country? True, as we all know, these issues have been continually debated, and many reforms have been proposed and implemented over the years.
For instance, reports of the National Education Commission of Sri Lanka have continuously mentioned that, the classrooms were "highly stereotyped and monotonous" with little activities dominated by "rather dull talk sessions" by teachers" (NEC, 1992, p.66); that the education system is "heavily weighted in favor of book learning and memorizing facts to pass examinations, rather than acquiring knowledge, skills and attitudes necessary for successful living" (NEC, 1997, p. i); and that limited use of up-to-date instructional materials and lack of engagement in innovative pedagogical approaches by teachers are often observed in the general schooling system (NEC, 2016), and recommendations have also been made to improve this situation. However, despite several policy reforms that have taken place in the Sri Lankan general education sector, its observed that the practical implementation of all these good thinking has been very challenging, due to various issues.
"Change is a journey, not a blueprint", as Fullan (1993) has pointed out. Accordingly, every stakeholder in the educational change is a change agent, and it is only by individuals acting to alter their own environments that there is any chance for a deep change.
I believe, that this book is one such attempt towards change. It makes a significant contribution, especially at a time when major educational reforms are taking place in our country, and vibrant discussions are ongoing around re-designing curricula to match with the 21st century needs. It provides many useful insights for educators as well as policy-makers to consider, in making a desirable change to meet the needs of a knowledge economy.
In a nutshell: the knowledge economy demands transferable generic skills from the learners; The general education system needs a gradual shift to include such skills, and translate cognitive subject matter to real life practices, through authenticated instructional and assessment methods. Its proposed to achieve these through a "Skills-Oriented Thematic Authentic Curriculum" in the formal educational systems. This is what this book is all about, and it provides "food for thought" for all stakeholders.
I enjoyed reading this book, which is very informative with a comprehensive review of existing literature around all relevant aspects. The author has extracted the essence of all those viewpoints and integrated them with the key focus of this book, to build up his argument in a most engaging and a meaningful manner. These thoughts of mine offered only a glimpse of the insightful ideas emerging from this book. I invite you all, to explore it in-depth, and engage in a meaningful academic discourse. -Dr. Upali M. Sedere
Shironica P. Karunanayaka
Professor in Educational Technology
Dean/Faculty of Education
The Open University of Sri Lanka
18th July 2019