UCL Foundation leads to Business & IT Degrees from uk
View(s):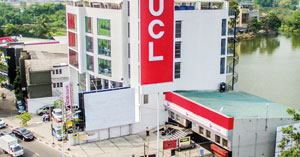 Established with the vision of providing guaranteed pathways for Sri Lankan students to enter into globally ranked top universities, Universal College Lanka (UCL) has a proven track-record with its internationally recognised Foundation programmes for students after O/L's (local or Edexcel/ Cambridge) who wish to fast track to a degree programme locally or internationally.
Upon successful completion of the UCL International Foundation Year (UIFY) programme, students aspiring to pursue their higher education dreams right here in Sri Lanka can follow 4-year British Degree programmes from the University of Central Lancashire (UCLan) or study overseas in other universities in UK, Ireland, USA, Canada and Australia.
Speaking about the rationale and prospects of a Foundation Programme, Dr. Dhananjay Kulkarni, Dean – UCL stated, "Modern communication technologies have collapsed distance and time, while Globalisation has condensed the barriers and borders. World has changed its ways where the speed has been adopted into each of our lifestyles, and to every activity. In a world with such fast-pace lifestyles, one's success depends on how you set yourself apart, start early and equip yourself with the skills needed in the industry.
Expanding the opportunities for Sri Lankan students to gain international exposure and be qualified with a globally recognised Degree programme, UCL has exclusively partnered with the University of Central Lancashire (UCLan)  which is the 8th largest university in the UK having  helped over 100,000 students from all walks of life to make the most of their potential and succeed in their life ambitions. In terms of overall student numbers, UCLan rests comfortably within the UK's top 10 modern universities. The University has students and researchers from over 100 countries and has successfully established partnerships with 125 international institutions.
Speaking about the pathway for students completing the programme, Mr. Thepul Ginige – Programme Coordinator for UIFY said "Our International Foundation Year is a globally recognized qualification, and  provides the pathway for students to develop the skills and knowledge required to commence their undergraduate studies in selected disciplines at UCL – Business and Software Engineering. With the successful completion of  UIFY, students can directly enter to the 1st year of a Degree programme offered by the University of Central Lancashire, UK. The students will be able to pursue and complete all four years of the degree at our modern campus in Rajagiriya".
The programme emphasizes on developing competencies in the English Language & Communication Skills with the focus of preparing students for higher studies in specialized disciplines such as Computing and Business.
English Language Skills- The module aims to improve skills in reading, writing, listening and speaking, enabling the student to acquire a broad range of knowledge which can be used to confidently and effectively communicate in English.
Communication Skills- Equips the student with the essential skills needed in studying for a degree programme that include skills necessary to carry out independent research, write academic papers, and to present their work in a formal setting.
Analytical & Problem Solving Skills-Builds upon the existing knowledge of the student in the area of mathematics whilst introducing new topics appropriate across a range of academic disciplines.
Subject specific Skills (Electives based on chosen stream)These modules will form the basis for the destination degree. The UIFY offers specialization subjects in Computing and Business
Explaining the delivery model, Mr Thepul Ginige stated, "A University Foundation, as the name itself implies is a pre-university qualification which is ideally suitable for students wanting to begin and speed up their higher education with the O/L qualification. It is a stepping stone which provides the basis needed to succeed in university education, especially, for students who have already identified their education and career aspirations early in consultation with their parents and mentors."
Mr. Gihan Silva CEO of UCL added, "UIFY is the only internationally recognised UK Foundation programme offered in Sri Lanka providing a wide choice of pathways to universities internationally as well as in Sri Lanka. Upon successful completion, students may enter the 1st year of the BSc (Hons) in Software Engineering or BA (Hons) in International Business of the University of Central Lancashire at UCL. Students may also transfer credits to other universities in UK, Ireland, USA, Canada and Australia that recognizes the UIFY curriculum which has been prepared to meet international standards".
For further information visit the UCL campus  located at 503, Sri Jayewardenepura Mawatha, Rajagiriya or
contact  0774 110 000