Professionals commend studying CIM at SLIM for their academic and career success
View(s):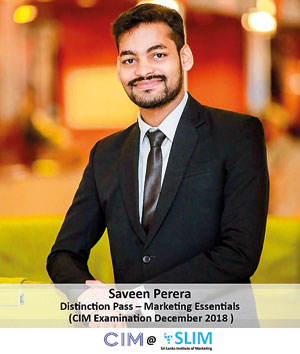 Marketing is part and parcel of today's world, which is driven by customer needs and wants. Each element of a business is interwoven within the scope of marketing, and thus even non-marketers tend to study the subject in order to groom themselves to excel in their chosen professions.
The Postgraduate Diploma in Professional Marketing offered by the Chartered Institute of Marketing (CIM) UK, is the ideal path for aspiring marketers who wish to embark on a thriving career with globally recognized qualification. This professional qualification adds immense value to both your professional and personal development, to amateurs as well as the experiences in the industry.
The Sri Lanka Institute of Marketing (SLIM) being the apex body for Marketing in Sri Lanka, is certified by ISO 9001:2015 certification in recognition of SLIM's superior quality management system and ISO 29990:2010 for Learning Service Provider (LSP), providing non-formal education and training services. SLIM is the longest standing accredited study centre in the country for CIM studies. SLIM conducts CIM classes in Colombo and Kandy. The institute is synonymous in Sri Lanka for bringing out the best in students through its focused and experienced panel of expert lecturers.
The world prizes claimed by CIM students at SLIM, are a testament to the excellence of the Education delivery. Such achievements not only add further credibility to CIM studies at SLIM, but also reaffirm the dedication of the institute to support its students for their success.
Saveen Udhashan Perera of SLIM scored a distinction for Marketing Essentials, which is a subject that takes a diploma student deep into the key marketing concepts and underlying principles. A tech-savvy marketer, he presently serves as the Project Consultant of TDSL Holdings and also holds a Diploma in Computer Networks and Systems from the Youth Service Council, Sri Lanka.
"Since my job role was related to sales and marketing, I wanted to follow a university degree in marketing to enhance my knowledge. However, I got to know about CIM, which is a globally recognized professional qualification", commented Saveen.
"Though I started my career as a Product Executive at TSL Property, I was able to move up the career ladder and become a Sales Manager at the same company. Next, I took up another challenging role at TDSL Holdings. It was a fast-track journey, and the knowledge I gained through CIM at SLIM helped me advance in my career as a true professional," he added.
"Since SLIM is well-supported by a vibrant panel of lecturers and staff and with its reputation built over the years as true mentor for Marketing education, I decided to follow CIM at SLIM. Starting from the real professional classroom experiences, assignment learning, and individual attention for the assignment, opportunity to listen to the industry experts through Action Learning Marketing programmes and more, the institute takes many steps during the course to keep a student on track," Saveen mentioned.
Speaking of his remarkable achievement, Saveen commented on the support and guidance he received from SLIM, which enabled him to excel in the subject. "I was able to score high for this subject due to two main reasons. The support and guidance I received from the veteran marketing panel of lecturers at SLIM was indeed the main reason behind my accomplishment. Further SLIM is truly committed to provide us with a unique learning experience, which encouraged me to put in my best effort for studies," he said.
The lecturing panel of SLIM is represented by successful corporate leaders who bring with them many decades of experience and expertise to the classroom.The institute has a top-notch track record in providing a superior learning experience, which include the library facility from the Philip Kotler Library and opportunity to engage with national level projects like NASCO, Brand Excellence, Toast Masters etc.
Saveen's advice to budding marketers is to follow CIM at SLIM and choose the right modules that would add value to enhance your career path. Also, he advised: "Don't rush into completing each and every subject at once. Take your time and focus on grasping the essence of the subject you've chosen".