Will baby jumbos snatched from the wild find justice?
By Malaka Rodrigo
View(s):
Wildlife Conservation Director-General H.D. Ratnayake has directed his officials to work speedily with the CID to capture dozens of elephants caught illegally from the wild and kept captive in private hands following a stern order by the Colombo Chief Magistrate.
Environmentalists say as many as 47 elephants have been caught from the wild illegally, Twenty of them were recently taken into the custody of the Department of Wildlife Conservation (DWC) and are currently quartered at the Pinnawela Elephant Orphanage.
Mr. Ratnayake said a new facility to keep confiscated elephants would be set up at Udawalawe.
He gave this information when asked by the Sunday Times to comment on the recent ruling by the Colombo Chief Magistrate who ordered the CID to complete investigations into the whereabouts of more than 21 elephants snatched from the wild, reportedly warning that if results were not delivered in time the 20 formerly captive elephants now safe at Pinnawela could be returned to their owners on payment of a bond.
The 20 elephants were taken as babies from the jungle on the orders of a suspect known as "Ali Roshan".
Ali Roshan's lawyers, reportedly claiming that these elephants, now in the custody of the Wildlife Department, are being badly fed, have requested the magistrate to entrust the elephants to the owners from whom they were taken.
In the midst of this a group of monks gathered at DWC headquarters demanding an end to confiscations of elephants in private hands. They say elephants are used traditionally for Buddhist events and temples need tamed elephants to perform these tasks.
The group threatened to bring more monks to protest if the raids did not stop.
Responding strongly to the issue, the Minister of Wildlife, Gamini Jayawickrema Perera, said he would not hesitate to take into custody anybody keeping an illegally caught elephant, irrespective of their position. He said only those who have involved in wrongdoing will be affected and others need not panic.
Debunking the claim that elephant calves need to be caught from the wild to take part in cultural activities, environmentalist Sajeewa Chamikara says the Pinnawela Elephant Orphanage provides elephant calves to fill the void left by the deaths annually of three or four kept in captivity.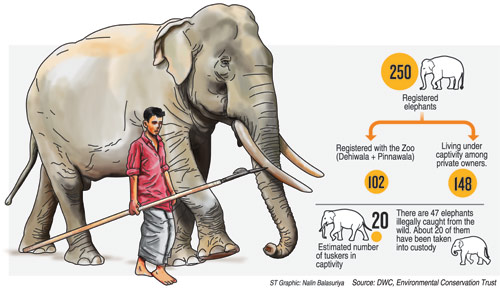 He blames the owners' failure to look after the captive elephants as the main reason for the early deaths of so many tamed elephants.
Mr. Chamikara said it appeared from data at the elephant registry that from 2006-2009 as many as 95 tamed elephants died. Conservationists doubt the authenticity of register entries purporting to state that the mothers of many calf elephants in captivity had died.
They believe these false entries were made to support claims that baby elephants in private hands had not been illegally taken from the wild but had been born to animals owned legally.
If indeed such a large number of elephants in captivity had died, Mr. Chamikara said, the fatality rate could be due to the elephants not being fed properly, not being treated for illnesses, cruelty and overwork. He called for an investigation.
He also alleged that elephants released to the temples from Pinnawela are, in fact, being used for non-ceremonial purposes such as carrying tourists or dragging logs.
The government banned the capture of wild elephants in the 1970s, and after that the Pinnawela orphanage became the main source of providing tamed elephants, mainly for temples.
If there is a captive elephant aged under 45 years that has not been released from Pinnawela, it is an illegally caught elephant.
Raids have at times resulted in elephant calves being taken into custody but because high-ranking people are behind the captive baby elephant racket investigations have stagnated despite environmentalists publishing a list of owners of suspect elephant calves.
It is mandatory to register captured elephants with the DWC but it is believed bogus licences were created with assistance of internal sources, making seizure of the captive elephants difficult.
Following the change of government, however, then then deputy minister Wasantha Senanayake led the capture of several illegally kept elephants, some in temple premises.
One argument given by the captive elephant owners is that the elephants are part of Buddhist and cultural events. But many people point out that true Buddhism does not encourage animal cruelty and that particularly during the training period the elephants suffer stress.
While the current initiative to capture illegally-held elephants is a very good first step it is pointless unless the root cause of the issue is addressed pointed out an elephant conservationist who wished to remain anonymous.
All the illegal captures occurred because the perpetrators were confident of getting "permits" for them or did not consider it a problem to keep an elephant without a permit.
Those who issued fraudulent permits have to be brought to book and all illegally captured elephants should be confiscated, he added. It is also important that those who held such elephants should be penalised.
A transparent and strict permits system is vital. No amount of regulation will be effective if people engage in fraud. Even DNA typing of elephants would not help as it was open to abuse and there cannot be any public oversight of it, the expert said.
He suggested that public viewing access to the permit system would prevent it being abused. A publicly accessible website could have details such as name of owner, history of ownership, age and height of elephant, with pictures of the elephant.
This would be easy to set up as there are only a few hundred elephants in captivity, the conservationist said.
Do Buddhist rituals need captive elephants?
Although a compassionate religion such as Buddhism would not promote animal cruelty in any form, Sri Lanka has a rich cultural history in which where elephants – especially tuskers – are used for cultural events.
A tusker is used to carry the sacred casket in pageants, so many elephant owners trying to justify the need of captive elephants name this practice in their arguments.
A disastrous mooted solution was to train rogue elephants to take part in cultural events, the justification being that these elephants would be killed soon anyway while raiding crops and settlements.
As an experiment, two rogue elephants were captured from the wild for rehabilitation. One was given to the Pinnawela Elephant Orphanage while the other was handed over to temple authorities.
This brought disastrous results. The elephant given to the Maligawa to be trained tried to escape, suffering severe cuts from his chains as a consequence.
It died following months of suffering. The other elephant spent nine years chained at Pinnawela with no training attempted.
A former director of the Zoological Gardens and the Pinnawela Elephant Orphanage, Brigadier. H.A.N.T. Perera, suggested training a unit of elephants kept at Pinnawela to perform in cultural events.
In that way, the unit would be trained centrally and looked after well at Pinnawela, making monitoring easier. Unfortunately, this innovative proposal was stifled.
Environmentalist Sajeewa Chamikara points out that there is a lack of trained mahouts to look after captive elephants in private hands and that because of this elephants are often subject to unnecessary beatings and other cruel treatment which increases their stress and ultimately shortens their lives.
This would make the creation of a team of elephants kept under a single roof at Pinnawela even more logical as the establishment had trained mahouts, environmentalists point out.
The seizure of the 20 captive elephants could provide another opportunity to try out this idea.