Fed up with rudeness and cheating on buses
By Kasun Warakapitiya
View(s):
The conductor who spat at a passenger who asked for his change is typical of a large percentage of bus conductors and drivers whose behaviour is being condemned by the public and senior transport officials.
Many conductors are only in the job for a short time and do not bother to deal ethically with passengers, the National Transport Commission Director General, Vijitha Weerasinghe said.
Lack of education, no long-term job prospects and poor working conditions lead them to look for other jobs as soon as possible.
"Conductors are mostly people who join for an interim period and remain in service until they find a better job. Therefore they don't follow guidelines," Ms Weerasinghe said.
Increasing complaints from passengers about drivers and conductors has prompted the Western Province Transport Authority (WPTA) to set up a complaints hotline.
A survey carried out over 12 months ending last August found there were 1,540 complaints about passengers being abused and 1,190 relating to non-payment of balance money for tickets. A total of 2,776 more complaints had been received in the first nine months of this year, Ms. Weerasinghe said.
One in five bus drivers and conductors were misbehaving, the Chairman of the Western Province Transport Authority (WPTA), Ivan Sanath said.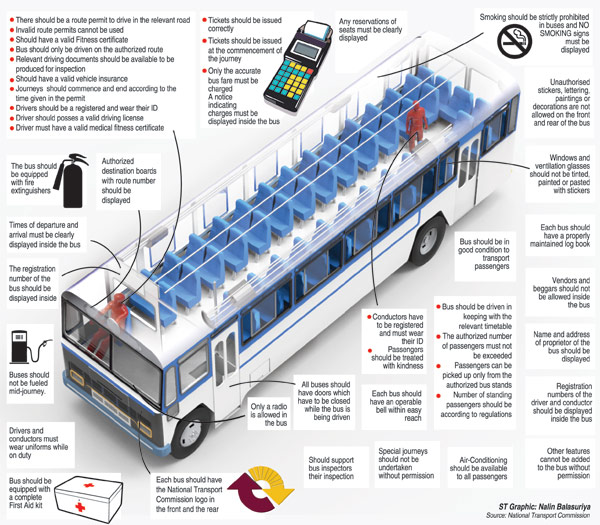 On average, there are 20 complaints a day from Western Province travellers over lack of bus fare balance, pushing people into overcrowded buses, speaking harshly to travellers and starting fights, Mr. Sanath said.
Complaints against state-run bus employees were fewer, the Sri Lanka Transport Board Chairman Ramal Siriwardena said, adding that misbehaviour by private bus line drivers were a result of recruiting people without a reasonable education.
He acknowledged there were complaints about SLTB bus drivers and conductors too, and said most instances involved employees brought into the service through political favour.
Mr. Siriwardena said the SLTB recruited conductors only if they had GCE O/L qualifications while a driver needs to have studied to Grade 8. SLTB conductors received 15 days of training and bus drivers undergo training for 30 days.
Among commuters who have been badly treated in buses is Chamara Amarasinghe, 42, who lodged a report with the WPTA that while travelling from Mount Lavinia to Kollupitiya he had been pushed out of a bus and been spat at by the conductor after demanding the balance of the money he had paid for his fare.
The conductor had claimed to be short of change and did not return the balance. Mr. Amarasinghe said he had been roughly treated and spoken to in degrading language.
"The penalty is very lenient," he said. "They imposed a fine of Rs. 720 on the conductor and sent him for training for two days."
Commuter Ranjith Gunasekera, who runs a clothing shop, has turned to other modes of transportation such as the train and trishaws due to bad experiences in buses.
"Conductors and drivers chase me away when I take along big bags of clothing material," he said.
An elderly employee at a private company, Piyasena Sevapanna, said he was disgusted with conductors at his workplace. He said the conductor of his usual bus dresses in an unwashed uniform and asks rudely for fares.
"They get the money but we do not get a ticket and the change," he said. "They do not know how to treat a 70-year-old man," he added.
Priyani Pathirana, a regular commuter said bus drivers take off soon as the passengers step onto the footboard, endangering their safety, and when drivers raced other buses the passengers suffered a jolting ride.
Private Bus Owners Association Chairman, Gemunu Wijeratna, claimed most private drivers raced rival buses due to lack of a timetable that gave everyone equal earning opportunity.
He said that the government should prepare an evenly spaced out timetable to prevent state buses and private buses clashing.
W.W.G. Dhanasiri, a conductor of a Colombo-Kandy SLTB bus, said people do not give change yet asked for change from conductors."When they want change someone else loses the chance to get coins from us," he argued.
Western Province Transport Minister Lalith Wanigaratne said he planned to issue a new bus timetable and training programme for drivers.
Meanwhile, the Sunday Times learned that time keepers (runners) charge Rs.. 50 from each bus making two-minute stops near the Floating Market in Pettah to collect passengers.
Hotline: The Western Province Transport Authority has set up a hotline for complaints: 0115559595