Lankans high on road rage
By Kumudini Hettiarachchi
View(s):
There is high prevalence of 'road rage' in Sri Lanka.This conclusion has not been arrived at from scenes beheld oft on the road — provocative gestures among road users, verbal abuse and sometimes even fisticuffs – but by a research study in three districts.
This is the first-ever study on road rage in Sri Lanka and only the 3rd in Asia (the others were in India and China). It was conducted by a team from the Ragama Medical Faculty of the Kelaniya University.
With road traffic accidents on the rise, recording a death toll of 2,413 last year, the findings of this hereto "unconsidered" factor of road rage are an eye-opener. (See graphic for data)
- 98.8% were victims of road rage in the few months before the study.
- 85.3% were also perpetrators of road rage themselves.
-The picture, however, is not totally dark. The silver-lining is:
- Only 0.8% reported actual physical assault.
-Only 2.5% reported damage to vehicles.
- 52.5% from Colombo and Gampaha Districts and 68.7% from Ratnapura District found driving to be a pleasant experience.
The study was conducted among motorists in the Colombo and Gampaha Districts which have the highest population and traffic densities and the more rural Ratnapura District.
Among the 238 motorists surveyed, 198 were males and 40 females all of an average age of 38 and with an average driving experience of 13.5 years.
The research team comprising lead member, Consultant Psychiatrist Dr. Asiri Rodrigo, and Dr. D. Perera, Dr. V.P. Eranga, Dr. M.U.P.K. Peris and Dr. A. Pathmeswaran, armed with questionnaires visited clusters of three-wheeler stands, bus stands, container yards and workplaces to catch as many motorists as possible last year.
The motorists included drivers of buses/coaches, lorries, light vehicles (cars, sports utility vehicles, dual purpose vehicles and vans), three-wheelers and motorcycles.
A stereotypical 'victim' and 'perpetrator' of road rage also emerged – pointing towards a young male, either driving a three-wheeler or bus, with increased traffic density adding to the problem.
Psychiatric distress was also associated with being a victim of road rage.
Defining 'road rage' as "driving behaviour intentionally endangering others, both physically and psychologically", Dr. Rodrigo said they were prodded into conducting the study as around the world what has come to the forefront is that reckless and aggressive driving which results in accidents is closely related to road rage.
The incidence of road rage in the United States of America has increased by 7% per year in the 1990s.
Those are the findings which prompted the team to look closer home and the research results have been published in the September issue of the Ceylon Medical Journal.
"Most people did not engage in 'bad' road rage, but had been party to rude gestures or shouting at other road users, tooting vehicle horns in anger or speeding close to others and screechingly applying the brakes," said Dr. Rodrigo.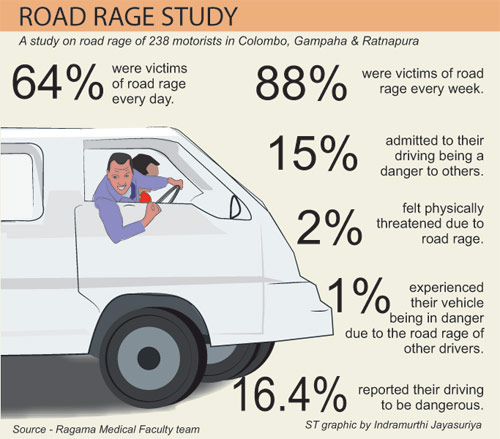 Analysing their findings, he is quick to point out that both the perpetrators and victims of road rage had higher psychological distress than others. So there was a clear co-relation between psychological distress and road rage.
Coping with strategies included listening to music or the radio, talking to someone and using relaxation techniques.
He stresses that road rage is a public topic elsewhere in the world. In other countries, whenever road rage is spotted, having identified it as a larger psychiatric phenomenon, the authorities send the perpetrators for rehabilitation.
This includes anger management, impulse control and correcting mood instability
The relaxation techniques to reduce anger, should piggyback on awareness, is Dr. Rodrigo's view.
Ways to calm your nerves
It is just not research the team has done but also given answers on how to reduce road rage.
There are many ways to lessen psychological stress, says Dr. Rodrigo, explaining that listening to music or radio chat shows could calm the nerves.