CID to fight cyber crime with Hi-tech Crime Investigation Units
By Damith Wickramasekera
View(s):
The Criminal Investigation Department (CID) has introduced a Hi-tech Crime Investigation Unit (HCIU) in SSP divisions to fight cyber crime, a senior officer of the CID said.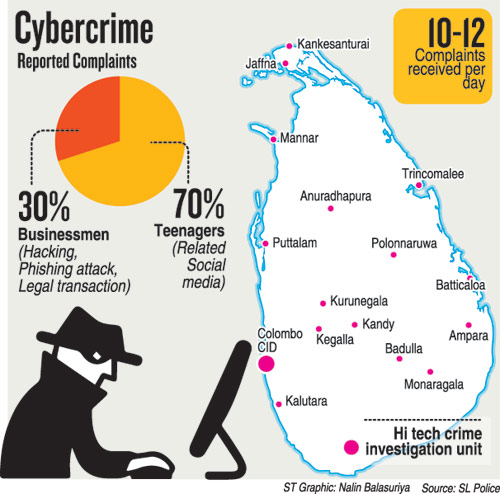 The new unit will tackle the increasing internet related crimes taking place in villages and other districts, besides Colombo.
"When these units are set up in all divisions cyber crime victim can complain to their nearest SSP division than come to Colombo. This will save time and ensure prompt action," the source said.HCIUs were launched in 15 SSP divisions so far.
They are in Jaffna, Batticaloa, Trincomalee, Polonnaruwa, Moneragala, Kandy, Puttalam, Kurunegala, Anuradhapura, Badulla and Mannar. This month (November) these units will be introduced to 43 more divisions, the Sunday Times was told.
"Daily, the CID receives 10-12 cyber crime complaints, which amounts to over 400 cases per month. As the team at the CID is small solving these cases will be delayed," the senior CID officer said, adding that, to minimise the harm, IGP N.K.Illangakoon has urged the CID to start up the islandwide programme.
Officials Specially trained by the CID will be deployed in these HCIUs.
The team will focus on sexual harassment of women via social media, threats to children and even crimes against businessmen who fall prey to financial frauds.
Official explained that, when a student falls victim to a cyber crime, he/she had to come to Colombo to lodge a complaint. In addition to that, Court cases take several weeks that would hinder his educational work.
Through the new programme, students will not have to miss school, a senior official said.
He added that, in the event of a major crime, the CID will take over the case, while minor cases will be handled by the HCIUs.