Ear-splitting noise of the new age alarm health experts
By Aanya Wipulasena
View(s):
Noise pollution is increasing, with people largely unaware of the consequences of being exposed to loud noise over the long term, and concerned officials are reviewing laws to ease the public's pain.
Continuous exposure to loud noises can cause stress, increased blood pressure, speech communication interference, mental distress, disturbed sleep, heart-related diseases and hearing impairment.
Some sources of noise pollution that exist today are transportation such as public buses and trains, commercial and industrial activities and social events.
Mobile bakery sellers, buyers of papers and iron who make loud announcements and even flower pot sellers using loudspeakers to announce their products while visiting residential areas in trucks and tractors have added to the forms of noises people are exposed to.
Although the country has enough regulations to tackle noise pollution they are not implemented, according to the Programme Manager of Sri Lanka Green Movement, Banduranga Kariyawasam.
"The relevant authorities do not even have the necessary systems to check noise pollution in Sri Lanka. They also do not constantly monitor noise pollutants. This is why people are bombarded by continuous loud noises wherever they go," Mr. Kariyawasam said.
He said action is not being taken against small-scale businesses such as mobile bakeries, factories and reception halls in residential areas that emit high levels of sound through musical horns, machinery and loud music.
"People tolerate or ignore noise pollution because they are not aware of its consequences and do not know who they should complain to," he said, adding that the government must take the matter seriously.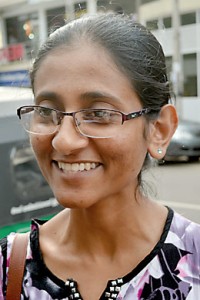 Consultant pediatrician Surantha Perera said high levels of sounds could affect health and development of babies and children from childhood.
An infant's first exposure to loud noises can come when babies with health complications are admitted as newborns to the neonatal intensive care unit.
"Babies will be exposed to continuous sounds from different sophisticated machines for a prolonged time at the unit. Research supports that exposure to high levels of noise can impair their hearing later," Dr. Perera said, urging health and education authorities to strengthen laws recognising sound pollution and its effects.
Sleep can be disturbed at a sound level of 20-30 decibels, which is equivalent a whisper, according to the World Health Organisation. Sound levels of 60-70 decibels such as ongoing traffic cause serious annoyance and exposure to100-120 decibels equivalent to industrial noise for one hour daily can cause hearing impairment.
Sixty-eight-year-old G. Marasinghe, who works in Boralesgamuwa, said he had not given thought until now to the effects of noise pollution.
"Noise, especially in the town areas, is very loud almost all the time. I did not think about how it affects me because I'm used to it now," he said adding that he did find the noise stressful.
Thilini Piyumali and Subhashini Prasadhika, both in their mid-twenties, said they were exposed to high levels of noise every day. "We take the bus all the time. Noise inside buses is intolerable. Bus drivers and conductors play loud music, and in addition to that people talk over the sound," Piyumali said.
Mobile food sellers such as vendors selling bakery products from three-wheelers that blare repeated recordings and music annoy 15-year-old Thamira Weerakoon from Nugegoda who is sitting for the GCE O/L examination next year.
"In the mornings, when I'm focused on my studies, these three-wheelers go past my house. The sound is put so loud that I find it hard to focus in my work, and on the other hand when I study into the night and try to catch up some sleep the loud music wakes me up early in the morning," Thamira grumbled.
Deputy Director of Air Quality Division at the Central Environment Authority (CEA), R.M. Kulasena, said continual loud noise causes stress and increased blood pressure. The CEA regulates vehicular noises and vehicle horn noise, industrial noises and community noises.
Mr. Kulasena said a human can take up to 80 decibels. CEA regulations were set based on this standard. But a person who is exposed to this sound level for over an hour could suffer hearing impairment.
Mr. Kulasena said the CEA recognise that current noise regulations, dating from 1996, needed to be amended to be appropriate to modern development, and, in fact, industrial noise regulations would be clarified and amended this year.
The CEA is also working on introducing new regulations for vehicular noise – including for loud music in buses.
CEA Chairman Professor Lal Dharmasiri said that the country does not have enough sound regulation policies to tackle noises in and by vehicles.
Prof. Dharmasiri said research to measure noise in public transportation in underway. "We are hoping to introduce them by next year," he said.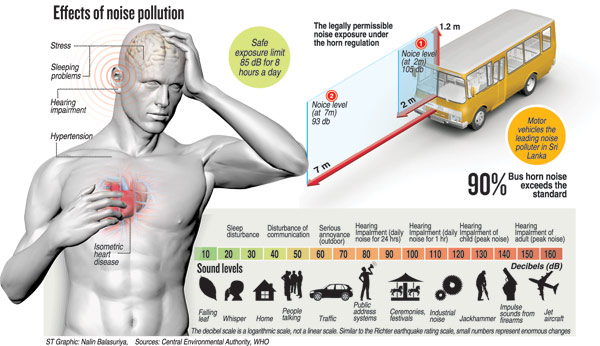 Research carried out in 2013 into noise levels of buses and lorries, in which horns in 216 vehicles in the Malabe, Koswatta and Katubedda areas were monitored, showed that more than 80 per cent exceeded the noise standard.
Regulations for community noise relating to music or announcements are played over loudspeakers and sound amplification instruments will also be introduced next year.
Current laws governing community noise, according to the police Environmental Production Division (EPD), is that no loud sound can be played after 11pm.
EPD Director ASP D.W.W. Rajapakse said that people have the right to live in a pleasant environment and if they are affected by pollution they could take action by informing authorities.
EPD also checks vehicles for modifications that create excessive noise. "We can take action against individuals who tamper with their vehicles, such as adding beat exhaust sound to motorbikes."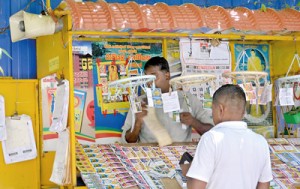 The EPD will commence a programme to examine sound levels of vehicles in Colombo city before the end of this year and continue to the other parts of the country. "If found guilty, people will be taken to court," ASP Rajapakse said.
Complaints about irritatingly loud noise can be made to the EPD on 011 258 7124 and 011 3040 562 or by email to dir.environment@gmail.com