Maldives awaits foreign intelligence reports on attempt on President
By Chandani Kirinde
Assistant Police Commissioner and Foreign Minister here to brief Colombo-based diplomats
View(s):
Maldivian authorities are awaiting reports from two foreign intelligence agencies assisting in the investigation into the attempted assassination of the country's President Abdulla Yameen, a senior police official said.
Assistant Police Commissioner of the Maldives, Abdul Manna Yoosuf who was in Colombo this week, said the reports from the U.S. FBI and the Saudi Arabian intelligence agency would help shed more light on who was responsible for the blast aboard the speedboat carrying President Yameen on September 28, in which several people including the President's wife were injured, while the President was unhurt.
Sri Lanka, along with Australia, USA and Saudi Arabia, has assisted the Maldives with forensic and technical assistance in the investigation. Initial investigations confirm the blast was caused to either assassinate the President or incapacitate him.
Assistant Police Commissioner Yoosuf who made a presentation with graphic details of the blast site, said the explosion had taken place right under the seat where the first lady was seated, thus causing serious injuries to her.
She is in hospital receiving treatment, he said. The President's Personal Security Officer (PSO) too, was seriously injured.
Among those arrested in connection with the blast are the country's Vice President Ahmed Adheeb along with two civilians and three military officials.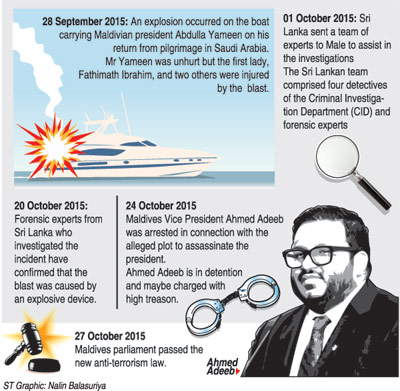 Maldives Foreign Minister Dunya Maumoon was also in Colombo this week to brief Colombo-based diplomats, concurrently accredited to the Maldives, on developments in the country, particularly the reasons for the Vice President's arrest.
She said his arrest was based on credible information obtained following a thorough investigation, and assured the Vice President would be afforded all rights under the country's constitution and Maldivian procedural law.
"The government remains committed to ensure that the investigation is conducted swiftly and transparently," she said.
Vice President Adheeb was arrested on Saturday upon return from an official visit to China, and impeachment proceedings have begun against him.
The vote on the impeachment motion will be taken in mid-November. Maldivian law requires the Vice President be given 14 days' notice before the vote.
Meanwhile, President Yameen this week appointed Adam Shareef as the country's new Minister of Defence and National Security, replacing retired Major General Moosa Ali Jaleel, who was sacked in the wake of the blast.
Moosa Zameer was appointed Minister of Tourism, which was earlier overseen by Vice President Adeeb.