Pasarell's legacy in Indiana-Wells
View(s):

Indiana-Wells is an old Tennis event in the USA. Its present stadium and management matches any Grand-Slam event and attracts mega sponsors. It is the brainchild Charles Pasarell, a former top US player best known for playing the longest Tennis match in the history of the game against Puncho Gonzales in Wimbledon. Indiana-Wells was the first major ATP Men's outdoor Tennis event in the 2014 ATP calendar on US soil. It was immensely exciting.

Dolgopolov of Ukraine beats Nadal

These months are lean for men's events in the calendar. It made the players look fresh and all peaked to show the grandeur of Tennis. When it came to upsets there was more than a handful. The draw of 128 had all the Big-Guns. The eleven day long tournament created many upsets. The Top quarter of the draw produced the biggest upset when 31st ranked Alex Dolgopolov of Ukraine beat number one seed Rafael Nadal in the pre-quarters. Dolgopolov was seeded 28 in the tournament and reached the semi finals after that feat. He lost to maestro Roger Federer respectfully. Federer knew the danger he would face from Dolgopolov's ability. With near zero errors Federer played a tight game with pace and won to reach the finals. The scores of 6/3, 6/1 really do not do justice to the game Dolgopolov produced to thrill the spectators in the semi finals.

Raonic of Canada beats Andy Murray

In the same quarter of the draw, Milos Raonic produced another upset beating Andy Murray. Returning from surgery Murray is yet to show his form which gave him the Wimbledon crown. Andy Murray is also announced the ending of his coaching partnership with Ivan Lendl. All of Murrays matches went to three sets. Raonic a six foot and five inch player on his part played a smart game to beat Murray. Dolgopolov stopped Raonic's advance in the next round.

Anderson of South Africa beats Wawrinka

The upset in the second quarter of the draw will echo throughout this year whenever Kevin Anderson appears to play. In another major upset Anderson beat the Australian-Open winner Stanislas Wawrinka of Switzerland. It was the most unexpected and a warning to the top guns that there are no safe grounds in the ATP tour of 2014. Anderson a 27 year old South African ranked 18 in ATP has bought the African continent into the international Tennis perspective again. It has been a while since Cliff Drysdale and Frew McMillian were on the Tennis stage in the 70s representing the 'springboks'. Anderson lost to Roger Fererer 7/5, 6/1. In this match Federer showed a strong net game which is from his new additional coach Stefan Edberg of Sweden.

John Isner of USA; 238 pound player

The third quarter-finals slot should have gone to Thomas Berdych of Czech Republic according to the seeding, but he went out of the draw without winning any matches. Isner a 6 foot 10 inch American weighing 238 pounds beat Fernando Vadasco of Spain to gain that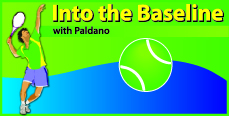 quarter finals slot. Isner's physical build and weight gives great advantage in the serve and reach but curtails him badly to react quickly. In the history of the game very few with such built have come this far. As far as USA is concerned, at the moment, he is the last man standing with a respectable ATP ranking.
Djokovic of Serbia wins first 2014 title
Hungry for a win Djokovic took the Indiana-Wells as his first 2014 title. Up to the finals he was shaken once by his own countryman Marin Cilic. In the finals Federer took the first set from Djokovic and it looked like Federer's day. Throughout the tournament Djokovic was able to sustain long rallies at a punishing pace. This wore down all his opponents. He did the same to Fererer in the second and third sets. Federer now in his thirties had to play six matches to reach the finals. As to why Federer did not use the net game in the second set against Djokovic is a mystery. It would have shortened the rallies to his advantage. It was a very close match in which only the score showed the difference. This will keep Djokovic up in the ranking. Federer winning Dubai-Open and reaching Indiana-wells finals will put him into the top five in the world.
'Hall of Fame' for Charlie Pasarell
Charles Pasarell, a Puerto Rico American played his best Tennis in the late sixties and early seventies. He was the tournament director of Indiana–Wells from 1981 for 30 years, managing partner and owner of the BNP Paribas-Open. His contributions to Tennis has spanned at all levels of the sport for more than 40 years. Pasarell was a co-founder of ATP and the National Junior Tennis League. In recognition of his immense contributions, Pasarell was awarded the highest honor from the International Tennis Hall-of-Fame. He received the Hall-of-Fame ring in the center court of Indiana-Wells surrounded by many of his playing mates including the last man to win the 'Grand-Slam' Rod Laver of Australia. Indiana-Wells will be always remembered as Charlie Pasarell's tournament.
-George Paldano, former international player; Accredited Coach of Germany, ITF and USPTR; National, Davis Cup and Federation Cup Coach–gptennis.ceylon@gmail.com-