Rugby must be administered, taught and provided, for the good of those who play it
View(s):

The much awaited schools rugby season kicked off on Thursday with two contrasting performances. Minnows of A Division rugby D.S. Senanayake were steamrolled by Trinity College. In Colombo Kingswood who led 14-7 at halftime were held to a draw by St. Peter's with scores of 14-all. Despite a close game and a close call rugby was not stunning as one would have expected with this score line. Indiscipline and unforced errors were the order of the day. Kingswood having received two yellow cards and holding St. Peter's in Colombo is an indication what more you could expect from this team who run well and tackle hard. It was probably the folly of individual play that made St. Peter's not to win this match when the opponents were down to thirteen at one stage.

As usual the first thing that comes up after the match is the issue of protests claiming your opponents played a non eligible player. Inside sources of schools rugby who is knowledgeable claimed that these are allegations without a foundation. It is understood that a number of schools had acquired services of talented players. Some have been released by their school while some have not been. Those who have been released have been given the green light while those who have not been released are waiting at the crossing till the light turns green.

With the games spread from Thursday to Sunday the spectators have more school rugby to see. Hopefully this trend will continue and one will not see five matches on a Saturday as the schedules suggest.

Today we will see arch rivals Isipathana taking on Royal at the CR grounds. This game will be taken to the wire as both teams play for a win whenever they meet. It is also a prestige battle for veteran Sanath Martis who is coaching Royal and young coach Nilfer Ibrahim who is the coach of Isipathana.

The Science College vs St. Anthony's Kandy in Mount Lavinia will be another battle that will be interesting. In Bogambara last year's League champs will play S. Thomas' who have returned to the A Division.

The school section, at a recent media briefing was confident that this year the tournament will be interesting in keeping with the new format. The President of the schools section Ranjith Chandrasekra announced that there will be a bag of awards with a view to clean the game and introduce sportsmanship. He emphasised to all concerned the value of observing fair play and sporting spirit. The schools governing body for rugby hopes to recognise the most Disciplined Player, Team, Master-in-Charge, Coach and the supporters too will be taken into account. A team may start with 100 points but will have points reduced for yellow cards, red cards etc; in determining the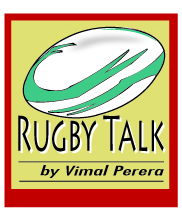 most disciplined team. In addition they are in the process of improving the judiciary so that action will be taken as required and not leave room for various interested interpretations. A model similar to the SLRFU where there is a disciplinary committee and judicial committee is being thought of. Possibly we may see citing too being introduced.
What is important is the avoidance of conflict between all forms of officials and players involved in schools rugby. The President of the schools section also announced that efforts are being made to have a dialog between the referees, coaches, masters-in-charge and the captains. The first meeting was somewhat disappointing with some of the coaches' from the teams in the A group not attending the meeting. The importance is to have the dialog and keep it going. One area that was not been adhered to was; the scrum engagement call, as I saw at the recent schools sevens.
Singer the sponsors looked very happy to continue the association with the schools and there is an increased sponsorship though the amount was not disclosed. The schools section also disclosed that they will help emerging schools, financially, to keep them in the game.
What is that one would expect from rugby as a parent who encourages his children to play and the schools that take pride in themselves being participants of the game? What do the supporters and past pupils who are active in the promotion of rugby in their school want? Summarising the situation they will want to maintain the elements of enjoyment and satisfaction in Rugby. For which adults must be aware that young people play to satisfy themselves and not necessarily to satisfy adults or members of their own peer group, that they play to improve the physical fitness and can be nurtured by encouraging participation in rugby by making it attractive, safe and enjoyable. It should always be in the minds of the administrators, coaches, teachers, referees and parents that Rugby must be administered, taught and provided, for the good of those young people who wish to play the game.
Rugby has always been a game that prides itself on fair play and enjoyment for all so that is what has to be achieved with each game and with each week that passes.
Vimal Perera is a former Rugby Referee, coach and Accredited Referees Evaluator IRB